'I want my vote to count'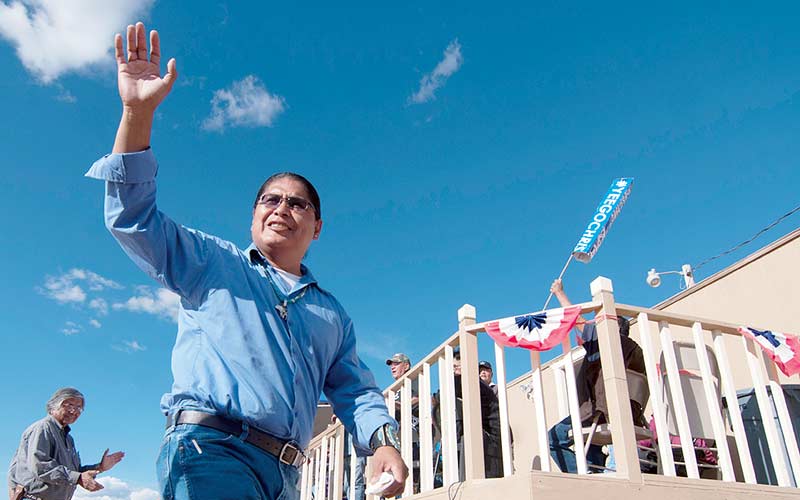 ABOVE: Chris Deschene, waves to his supporters on Wednesday after making a brief stop at his campaign headquarters in Window Rock. Deschene reiterated that his name was still on the ballot and to continue voting. (Times photo – Donovan Quintero)
---
Voters head to polls to ensure their voices are heard
By Bill Donovan and Donovan Quintero
Special to the Times
WINDOW ROCK
There was hope early this week that there would be a final decision by the time this issue of the Navajo Times went to press on all matters dealing with the upcoming election for Navajo Nation president.
But with rumors flying about whether or not the embattled Marine Corps vet was off the ballot or not, voters were just as confused about what was going to happen on Nov. 4 as they have been throughout this whole debate over whether Chris Deschene should be allowed to run for president.
On Wednesday, voters filled the hallways of election offices and cast their vote for Deschene despite the Office of Hearings and Appeals had entered a default judgment against him on Oct. 9. OHA later wrote their ruling and stated it "expected" the election office to take his name off the ballot and replace him with the candidate with the third highest vote – Russell Begaye.
During a gathering at Deschene's headquarters on Wednesday afternoon, he told a crowd of about 150, "For now, this is the decision. But we will ask for consideration again. we can present the full story as well. The Council will have to make this decision. That's where we're at shik'ée dóó shidiné'é."