Page edges Monument Valley for 3A North title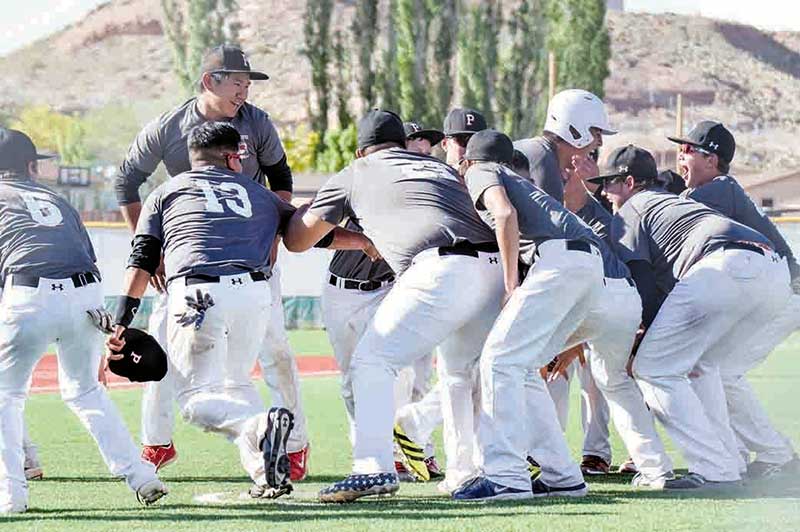 TUBA CITY
Page took an early lead and held off Monument Valley as the Sand Devils edged the Mustangs, 5-4, to win the Class 3A North Region baseball championship in Tuba City last Saturday.
Page head coach Ernest Rivers said it was a good win. He said the Sand Devils played hard.
"The kids worked hard," Rivers said. "We scored three runs in the first inning and one run in the second inning. That put us in good position.
"We got key hits," he said. "Patrick St. Germaine hit a home run out of the park that was eventually the game winner. We played solid defense. Our defense did a good job."
Monument Valley head coach Fred Todachine said a slow start hurt the Mustangs.
"We were sluggish at the beginning of the game," Todachine said. "The kids did a good job of coming back in the sixth inning. In the first inning, our top three batters all got hits and we loaded the bases, but we could get one run. We got some hits in the sixth inning."
Monument Valley leadoff batter Royce Charley lined a triple into the right centerfield power alley to begin the game. Charley eventually crossed the plate on a passed ball. Page put the fire out, limiting the Mustangs to one run.
In the bottom half of the first inning, Page's leadoff batter, Jakob Crank, stroked a single into centerfield. Crank crossed the plate on Alec Runyan's sacrifice fly to left field. Morgan Axlund reached first base on an error. Axlund scored on Christian White's ground rule double.
Page tallied its final run of the inning when Patrick St. Germaine drove home White with a two-bagger. Page held a 3-1 lead.
Monument Valley could not muster any offense through the fifth inning. The Sand Devils added one run in the bottom half of the second inning.
Colin Whitehorse stroked a one-out double into left centerfield. Whitehorse crossed the plate on a sacrifice fly for a 4-1 advantage.
---