Page enjoying success on softball field: Lady Sand Devils take 2nd at Epic Tourneys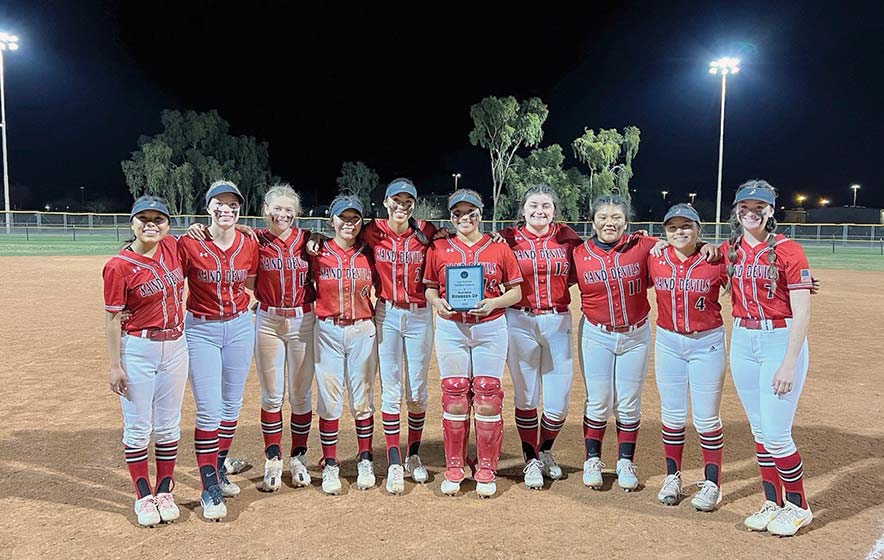 WINDOW ROCK
The Arizona Interscholastic Association released its first statewide polls for softball and baseball on Tuesday.
The Page Lady Sand Devils garnered the No. 8 slot in the 3A division under the direction of sixth-year coach Sunni Crank.
"A lot of our success comes from the girls themselves," she said. "They have the mindset of playing from start to finish.
"They've been practicing a lot on making the hitting adjustments as we go along," she added. "Defensively, they're backing each other up, making the plays when they're needed and, you know, supporting one another."
With a veteran squad of six seniors the Sand Devils have compiled a 12-2 overall record, which includes a 3-0 mark in 3A North Region play.
"I feel like we have a good squad," Crank said. "We're continuing to get better each game and right now we're looking pretty good in the region."
Page is coming off a top finish at the Epic Tourneys Softball Classic last week with the Sand Devils garnering the second-place trophy in the Platinum bracket.
Page defeated St. David (11-0), Morenci (1-0) and Poston Butte (13-4) before coming up short to Empire (13-0) in the finals.
"We played some good games to make that championship game," Crank said. "But to be honest, I felt like we didn't play Sand Devil softball when we played Empire."
The Page coach said her squad took themselves out mentally knowing that Empire entered the tournament with an undefeated record, which includes winning the Wrangler Softball Classic in Wickenburg, Arizona.
"We knew they were going to be a good team and mentally we didn't prepare ourselves enough for that," she said. "But Empire is a good program. I mean, they were on point. They were solid defensively, offensively. They went out there and they played their game. They did their jobs, and we just couldn't find our rhythm."
Crank said the lost to Empire was very humbling, but they're using it as a way to grow.
"We're looking at it as a learning lesson," she said. "Every game whether we win or lose, we hope the girls learned something from it, so that we can make ourselves better for the next game."
At 17-0, Empire earned the state's No. 3 ranking in Tuesday's poll. Crank said that squad is the real deal.
"With a team like Empire, it definitely served as a wakeup call for us," she said. "Those are the type of teams we're going to face during the postseason."
Through 14 games, Page has run-ruled seven opponents while posting three shutout wins thanks to the pitching staff headed by senior Grace Jump.
"She has been kind of the backbone when it comes to pitching," Crank said. "She's thrown some phenomenal games and she's put up some great stats."
The Sand Devils have also utilized junior Kylee Sam and freshman Leah Bigthump inside the circle with the former pitching a few innings against Empire.
"Grace pitched a lot of games for us and she had shutout wins against St. David and Morenci," Crank said. "She started to feel fatigued in that Empire game. Luckily, we have multiple pitchers that can come in and start when its needed."
The Page coach said Sam plays mostly shortstop while Bigthump has been coming on strong this year.
"She's pitched some good games for us," the Page coach said of Bigthumb. "Our pitching is pretty good right now."
Offensively, Crank said her entire lineup is pretty solid as the Sand Devils have hit 16 home runs heading into yesterday's doubleheader with Tuba City.
"Our team is doing really well," she said. "We have some big hitters on the team. Tessa Cummings has come out and hit some home runs."
The biggest surprise, Crank said, is the production coming from freshman Shanelle Tallsalt.
"She put up three home runs against Ganado in one game," Crank said, while adding that Cummings and Tallsalt are leading the team with five homers this season.
At the rate they're going, Crank is hoping to hit 25 homers by season's end.
"I'm pretty sure they can get nine more dingers," she said. "Right now, they're seeing the ball really well. They have the patience to connect and hit the ball solid.
"And they're hitting the ball really hard," she added. "Even if they're not getting the home runs, you see a lot of line drives and a lot of hard down balls, so they definitely hitting the ball hard to put it in play."
---