'We're one big family': NM Pack teams finish 1-2 in Inter-Tribal 12U tournament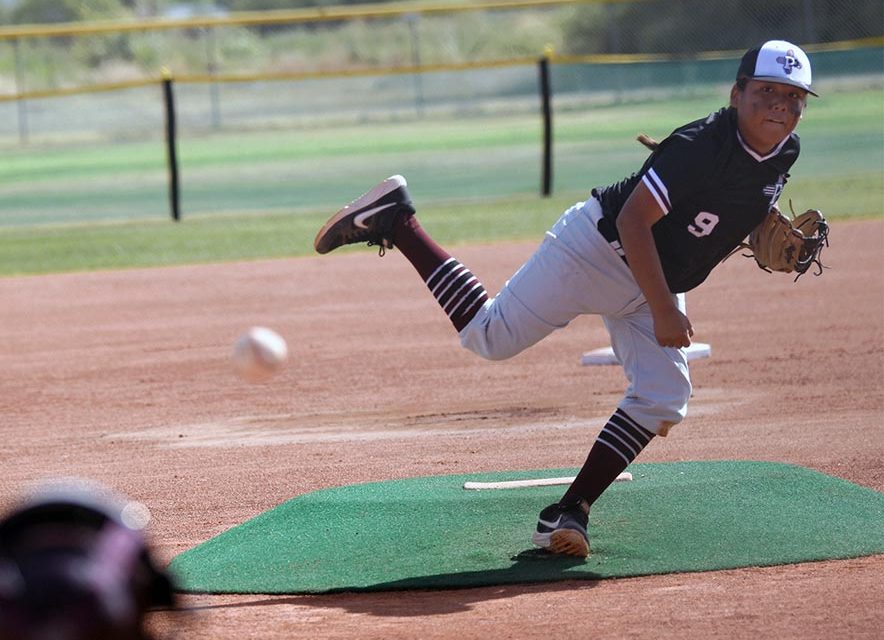 SCOTTSDALE, Ariz.
It was an all-NM Pack affair in the Single A title game of the Arizona Diamondbacks' Inter-Tribal baseball tournament.
The 12U group bested the 11U team by a 19-8 count as the older kids scored 13 unanswered runs in the fourth, fifth and sixth inning to claim this year's title.
"Our 11U boys put up a good fight," 12U coach Patrick Aspaas said. "They actually came out swinging."
Patrick's older brother, Vance Sr., coached the younger group with the NM Pack Maroon team going a perfect 3-0 in pool play action, outscoring its opponents 42-3.
As one of the pool play winners, the Vance-coached team earned an automatic spot in the four-team bracket and they reached the title game with an 11-0 win over Rezilient, a White Mountain Apache squad.
"We're one big family and we came out here to compete and have fun," Vance said. "This is a big-time tournament and it was a big game for both squads. We came into this tournament wanting to win a championship and as a program we accomplished that."
With 28 kids on both squads, Lance and Keishaun Aspaas also coached the NM Pack team.
"We started this program to get these kids opportunities," Vance said. "We want to see more Native kids compete at the collegiate level. That's our goal, and we're showing them that there is more to youth baseball, and we want them to use sports to further their education.
"That is what we're all about," he added. "We're starting them young, and we want to steer them in the right direction.
"We want to keep them together and we want them to go to college and play sports. We're setting them on a good path to move onto to high school baseball and then into college."
As the second oldest of the Aspaas family, Vance played four seasons for the University of New Mexico football under then-coach Rocky Long in the late 2000s.
"I got recruited as a quarterback and I moved to wide receiver," he said. "I did my four years and I came back and I started to coach the high school kids."
His focus switched to coaching the youth and with the help of his siblings the NM Pack team is staple in the Farmington Amateur Baseball of Congress.
"This is our first year here in this tournament, but we've been working with this group of three years," Patrick said. "When we first had them a lot of the kids were not familiar with baseball, but they've work through it and they picked up a lot of things."
Within the FABC, Patrick said his 12U group is one of the top 5 teams in the league, which has over 20 teams that includes teams from neighboring Colorado towns of Durango, Cortez and Bayfield.
"It's pretty competitive," he said. "We got some good competition, and we're actually one of the top teams."
With the same group of kids, Patrick said they know how to play with each other.
"They feel comfortable with one another," he said. "They have that bond and that's good to have on the team."
And while the NM Pack Maroon team earned an automatic bid to the bracket portion of the tournament, Patrick's team, the NM Pack Black, had to earn a wildcard entry after dropping its first game to the Arizona Hype in a 5-4 setback.
"I think it was nerves," Patrick said of losing the first game. "The kids didn't know what to expect. They didn't know how the kids played down here."
Nonetheless, the NM Pack Black coach gave credit to the AZ Hype for stifling his squad in the opening game.
"They had some good pitchers who were throwing fast," he said. "I think that caught (my team) off guard and after that we had to work our way to get that wildcard spot."
After that 5-4 setback to the AZ Hype, Patrick-coached team won its next two pool games by a combined score of 24-4 over the Salt River Banditos and the Windtalkers Baseball team to make the bracket tournament.
The NM Pack Black team got a rematch with the AZ Hype in the first round game and this time they came out ahead with a 3-1 win.
In the finals, the Patrick-coached team outhit its counterpart 21-5 with centerfielder Alex Deswood and shortstop Chance Aspaas hitting four hits each.
"Alex is our leadoff batter and he started it off," Patrick said. "Chance is our four-hole batter. He was hitting clean with them and he was on fire that night. I don't know if it was just the hype of playing with our 11U group.
On the mound, the NM Pack Black team used four pitchers in the championship game with Deswood coming up with six strikeouts in three innings of work.
"We made a switch with Alex and he came out throwing strikes," Patrick said.
At the conclusion of the tournament, Chance Aspaas was named the MVP.
"Chance is an all-around player," Patrick said of his nephew. "He came out swinging in the first game when we played against AZ Hype; he hit a home run in that game to give a run right away.
"He was consistent with hitting throughout the tournament," he added. "His fielding and pitching helped him get the MVP. He pitched for us in that first game against AZ Hype and then we ended up bringing him in again to close them out in the second game."
The NM Pack Black team also got Logan Yazzie and Deswood in the all-tournament team.
For the NM Pack Maroon team, Vance Aspaas Jr. and Brady Yazzie also made the all-tournament team.
---