Young Farmington team playing beyond its years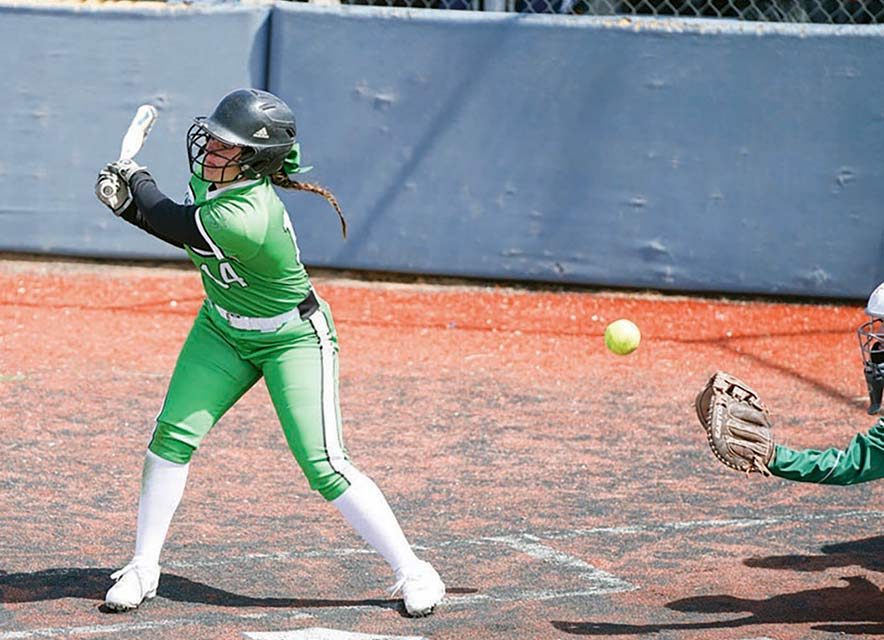 RIO RANCHO, N.M.
A drop in experience and skill level is not showing for the Farmington Lady Scorpion softball team.
Despite having a young squad head coach Tim Trotter is pleased with the progress of his battled-tested team.
At last week's Kristin Griego Memorial Tournament, Farmington went 4-1 and finished fifth overall at the Rio Rancho 20-team invite.
Two weeks ago, the Scorps went 3-1 at the West Valley Softball Invitational in Arizona, losing its only game to Glendale Mountain Ridge by an 8-0 count.
"I feel like we're doing pretty good," Trotter said. "We're really young this year. I really didn't know at the beginning of the year how we would do, but the girls have really stepped up."
The Scorps are 10-4 overall and Trotter said the team's losses have been to really good squads.
"We've lost to good teams like Artesia, Albuquerque High, Alamogordo and a team out of Arizona," he said. "All of those teams are gonna be in the top 10, so to be honest I feel really good about our team.
"We need to get a little more consistency, which I think will come with a little age and experience," he added, "but overall I'm happy with where we're at."
The Scorps has one senior on the team with Stephanie Waybenais starting at second base. The rest are a mixture of juniors, sophomores, freshmen and eighth graders.
"I have four returners and I got three eighth graders with us," Trotter said. "The pitcher and catcher are eighth graders so we're really young.
"We graduated seven or eight senior the last couple of year, so we've been pretty heavy loaded," he added. "And to see the young kids stepping up and taking on roles is a positive thing."
For the most part, Trotter said his junior group has been carrying the team which includes shortstop Vivianna Tucson and outfielders Jayden Jones and Legend Otero.
The two eighth graders that start are pitcher Ashlynn Sandoval and catcher Taelor Joe. The rest of the lineup includes a three sophomores in second baseman Hailey Curley, third baseman Amiah Declusin and left outfielder Aaliyah Archuleta.
With some experience under its belt, Trotter is hoping his squad can carry that over to the district season which starts on Saturday at Sandia High School. The Scorps will play a doubleheader with first pitch starting at noon.
"Our district is tough," Trotter said. "You know, we got La Cueva, PV and Sandia and they're loaded this year. West Mesa is coming along.
"I think it'll be a real challenge, but I think this is good experience for them going into that that."
During the three-day Rio Rancho tournament, the Scorps opened up with a 10-0 win over Espanola Valley and a 11-7 triumph over Las Vegas Robertson, the defending 3A state champs.
In the quarterfinals, Farmington dropped a 7-1 decision to Alamogordo, the eventual runner-up team.
"They're a good group and they have two really good arms," Trotter said of the Lady Tigers. "The girl kept us off and we didn't score any runs. We struggled a little bit in making some plays.
"It was a tough loss, but they're a good group," he added.
The Trotter-coached team bounced back with a 10-6 win over Hobbs which pitted them against Los Alamos in the fifth-place game.
The Scorps rallied from a 5-2 deficit and plated three runs each in the fifth and sixth frame for an 8-6 win.
In the top of the fifth, Farmington put its first two runners on with Otero clearing the bases. The right outfielder eventually scored when Curley nailed a double in right field that tied the game at 5-all.
In the sixth, Waybenais started off with a single and she broke the tie with an RBI single from Jones. The Farmington leadoff hitter along with Otero gave the Scorps an 8-5 cushion following a two-scoring double from Sandoval.
"Our biggest thing has been our bats," Trotter said. "I gotta be honest, I wasn't too pumped with our bats in this game, so it was good to see them turning it around. They got going when we needed them, and they strung a few together."
Afterward, Trotter was asked to select one of his players to the all-tourney team, which he didn't want to do.
"It's a tough one, and I always hate individualizing one kid," he said. "This was definitely a group effort."
Trotter said he was leaning toward Sandoval, who came away with three wins inside the circle.
"She ended up being a good bat for us in several situations just like that last game we played," he said. "We put two more on to take the pressure off."
The Farmington coach was also looking at Joe, who caught all five games for the Scorps.
"I think she only had a couple of passed balls the whole tournament," he said. "She's been strong.
"My returning shortstop (Tucson) is doing everything right now," he added. "She's leading the team offensively with her on base percentage."
Trotter said his entire squad was split on who should get recognized.
"I hate picking one kid and its sounds like the entire group had a hard time picking one," he said. "We were all split, but I think that's a good problem to have.
"I think it has to be a group effort if we're going to have any success," he added.
---