1A state playoffs: No. 3 Melrose ends Alamo Navajo's season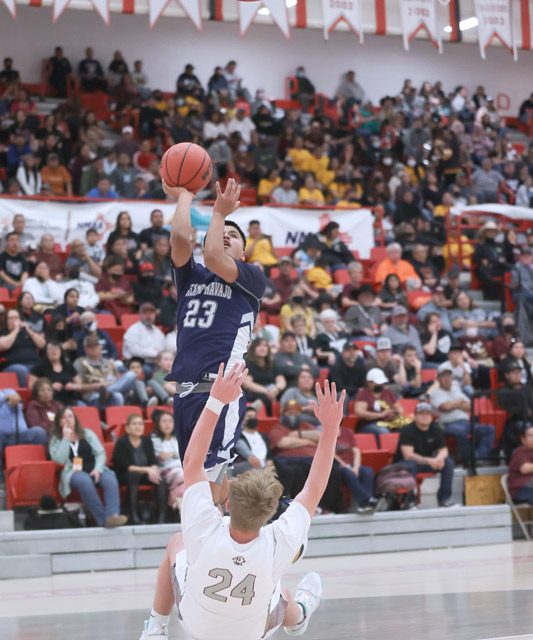 By Santiago Ramos Jr.
Special to the Times
BERNALILLO, N.M.
No. 6 seed Alamo Navajo could not match up with No. 3 seed Melrose during the Class 1A boys basketball state quarterfinal Wednesday afternoon at Bernalillo High School.
After trailing 15-12 in the first quarter, Alamo Navajo was outscored by Melrose 21 to 12 in the second quarter, falling 66-49.
Alamo Navajo coach Lemuel Guerro said that the 24-5 Cougars could not withstand the physicality of the 23-6 Buffaloes.
Alamo Navajo (24-5) was coming off a road upset over No. 6 Dora 58-55 Saturday in the Sweet 16 round. But Melrose denied Alamo Navajo's bid for another upset.
"It was hard to match up with Melrose," Guerro said. "Melrose is a good team. They're physically tough, and they have speed."
Alamo Navajo faced Melrose during the Reserve Invitational during the regular season. Guerro said they stayed with them for two quarters before the Buffaloes pulled away with a 72-35 win.
"They're a good team," Apachito said. "The rematch turned out to be a replay."
The Cougars had the lead briefly at the outset at 6-4 after a trey by junior point guard Jacob Apache, who was the District 3-1A Player of the Year. But the Buffaloes quickly retook the lead as junior guard Michael Cardonita, with 11 points, matched that from behind the arc.
Melrose would not trail the rest of the way.
The Buffaloes pushed the ball in the second quarter with a decisive 14-2 run to gain separation at 29-14. Freshman forward Jaxon Odum, who led the team with 16 points and four steals, tallied five points during the spurt.
Melrose grabbed its most significant lead at 27 points, 66-39, with 3:31 left.
Fueled by its large following that cheered the team until the buzzer, Alamo Navajo scored the final 10 points with baskets by Max Sena, Odum, and Dathan Yeary.
Apache and Monte, who came off the bench, finished with 13 points for Alamo Navajo.
"Mike Monte stepped up," Guerro said.
Melrose outmuscled Alamo Navajo on boards 43 to 36. In the paint, the Buffaloes outdid the Cougars 40 to 22, with an edge on putbacks 19 to 10.
From the field, Melrose also outshot Alamo Navajo 40 percent (26-of-65) to 31 percent (15-of-48).
Guerro said that this past season was historical, with the Cougars capturing their first-ever district basketball title in the school's history, along with the district tournament finals trophy.
"We had a great season," Guerro said. "We have a winning record, and going this far is a great accomplishment. I'm happy for these guys. I want to thank all the supporters, the fans that we have."
Alamo Navajo will lose four seniors with three starters.
"The key was to play hard," Guerro said. "We wanted to pass the first round. The kids, they wanted to do more. They wanted to pass the first round and keep going."
---