Navajo Prep boys earn Final Four berth, Crownpoint eliminated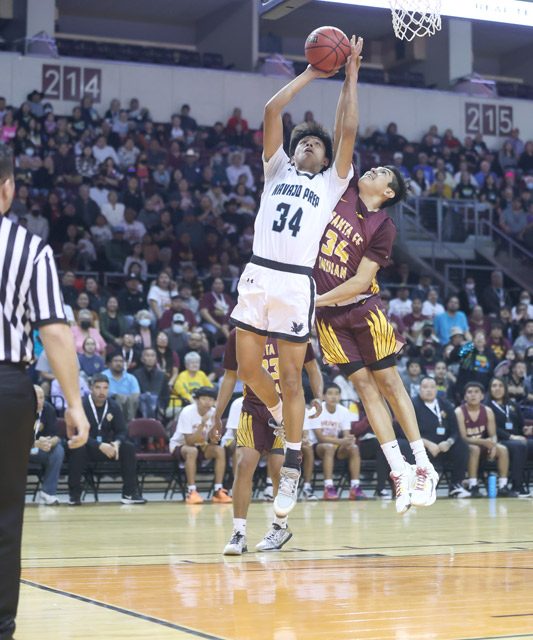 RIO RANCHO, N.M.
The top four seeds in Class 3A boys advanced Wednesday and earned the right to play in the famed Pit in Friday's semifinal rounds.
Headed by top seed Santa Fe St. Michael's, the other higher seeds extended its season, with Navajo Prep, Robertson, and Sandia Prep following suit.
The tournament's No. 2 seed, Navajo Prep, clamped down on the defensive end in the second half to post a 42-28 win over No. 7 Santa Fe Indian School at Rio Rancho Events Center in the late game.
The Eagles held SFIS to nine points in the last two quarters, erasing a 19-18 halftime deficit.
"It really came down to just clamping up on defense in the fourth quarter and finding a way to get some stops and knocking down free throws," Melvin said. "That was a tough one. It was a good effort on defense. The defense was outstanding in the second half."
Prep will play No. 3 seed Robertson at 1:15 p.m. Friday as the defending state champs topped No. 11 Ruidoso 67-44.
"That's all you ever dream about as a little kid going to play at the Pit for a high school championship representing the Navajo people," said Eagle point guard Jude Thomas, who finished with nine points.
"It's a dream come true, and we just got to make the most of it," he said.
Navajo Prep was led by junior post Orion King as he finished with a double-double with 15 points and 10 rebounds. He scored 10 points in the opening half as SFIS had no answer for his lengthy size at 6-foot-4.
"Coach was telling us to feed it to me to see if we can get some easy shots," King said.
The Eagles also got 11 points from sophomore Xavier Nez as he hit 5-of-6 free throws in the fourth quarter.
"That is what we work on every night at practice, free throws, free throws," Nez said. "Down to the last minute, it's going to come down to free throws."
In the top half of the bracket, the Crownpoint boys came up short to No. 4 Sandia Prep by a 38-37 count.
"It was a good game, and the boys played with a lot of heart," Crownpoint coach Thale Goodluck said. "They put everything they had. My seniors are hard-working. Anytime I had an open gym, they were there, and it's one of the reasons why we were one of the top contenders in the state."
Crownpoint trailed by as much as 11 points in the early going of the third, but they cut into the deficit behind the play of senior guard Tylon Tsosie who finished with a team-high 16 points.
Late in the fourth, Tsosie hit two consecutive baskets, with his second one drawing Crownpoint within 38-35 with 1:01 left on the clock.
The Eagles put Sandia Prep post Alex Jeffries at the free-throw line for a pair of one-and-one opportunities, and both times he missed.
And with three seconds left, Tsosie was fouled, and he hit both free throws as time ran out on the Eagles.
"I wasn't really aware of the time," Tsosie said. "Maybe if I knew the time, I would have just intentionally missed that last free throw so that we could get an offensive board, but I was just not aware of the time.
"I thought we had more clock left," he added.