After wins, Thoreau aims for district championship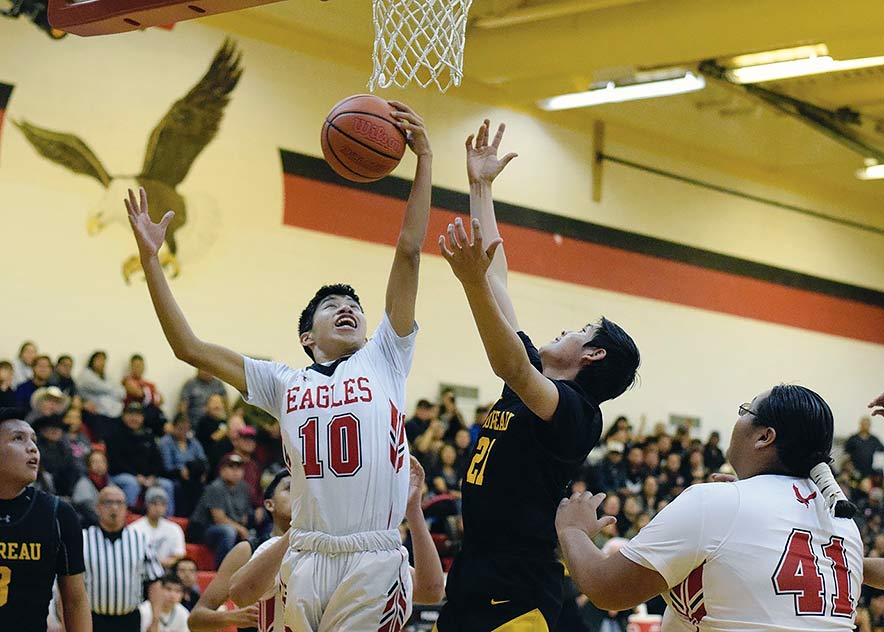 CROWNPOINT
Making the state tournament field last season came as a complete surprise for the Thoreau boys' basketball team.
The Hawks were not on anyone's radar to qualify for state but they came up with the goods during the District 1-3A tournament to earn the district's automatic bid after finishing fourth during the regular season.
But as the last team to make the field, Thoreau had to play top-seeded Santa Fe St. Michael's in the opening round.
Needless to say, the Hawks were eliminated.
To avoid the same fate, Hawks coach Andrew Gordon wants his team to start making some noise now that the district season has started.
"We have to start peaking right now," he said, while noting that they opened the district slate with a 64-63 setback to Tohatchi on Jan. 17.
"We should have won it because we were ahead by one point with 18 seconds to go," Gordon said.
Despite coming up short in that contest, Gordon said they would like to win the league as Thoreau has bounced back with two consecutive district wins over Crownpoint and Zuni to improve to 10-9 overall and 2-1 in league play.
"Our goal, which we can meet, is to be the district champs through the regular season," he said.
Thoreau would have played district leader Navajo Prep last night as the Eagles sport an 11-7 overall record and 3-0 in District 1-3A play. Results for that contest were not available at press time.
"Navajo Prep and Tohatchi are ahead of us right now," Gordon said. "We need to finish ahead of them so that we can be seeded higher than them for state."
With all but four players back, Gordon said this season's squad is just as good as last year's team.
"We've been playing a lot smaller this year but some of our big stocky guys that got injured during the football season are slowly coming back into the lineup," he said. "They've been part of the team but I couldn't run them until they got their doctor's release."
Cordell Platero currently leads the Hawks as the senior guard has been averaging over 20 ppg since the start of the district season.
"He's shooting at a higher percentage," Gordon said of his pupil. "He's peaking at the right time."
Platero, who led the Hawks with 26 points in their recent 72-43 win over Crownpoint, said he's starting to get his groove back after having knee surgery over the summer.
"When the season started I wasn't fully recovered," said Platero, who repaired meniscus tears in both of his knees. "It kind of slowed me down but I feel like I'm starting to find my form again."
And while his team displayed some rust early on, Platero torched Crownpoint with 11 points in the opening quarter as the Hawks stretched a 6-4 advantage into a 19-6 cushion.
The Thoreau senior hit three treys, including back-to-back trifectas to close out that initial quarter. The Hawks used some of that momentum to open a 33-14 halftime advantage.
After the break, the Eagles kept pace with Thoreau as they were outscored 14-13 in the third quarter but the Hawks finished the game by tallying 25 points in the last stanza.
"In the first quarter we were trying to find a rhythm," Gordon said of last Wednesday's contest.
As for Platero, Gordon said this is probably the best game he's played all season.
"He was making his shots," the Thoreau coach said.
Gordon was equally impressed with freshman post Cassius Burnside who finished with 13 points and 17 rebounds.
"He did his role and he did a good job," he said.
As a team, Thoreau finished with 39 rebounds, which was 13 more than Crownpoint.
"We got killed on the boards," Crownpoint coach Richard Galli said. "I have a young team and we had three freshmen out there a lot. We had some sophomores and juniors out there so this is a rebuilding type of year for us. It's going to take some time, maybe two or three years to get to where we need to be."
One of those underclassman, sophomore guard Kordell McMillian led the Eagles' attack with 18 points.
Galli said his team's passing needs a lot of work but more importantly he would like to see less dribbling for his team to be competitive.
"We need quality passing and our defense needs to solidify," he said. "We tried to play man-to-man earlier in the year but we just got killed. We're playing more of a zone but we sometimes get out of position a lot."
With the loss, the Eagles are 4-14 overall and 2-0 in district play as they played Zuni last night.
"These guys are young and they do get down but they get right back up," Galli said. "The thing about coaching these guys is I try to keep the spirit up."
---