'We feed off his energy'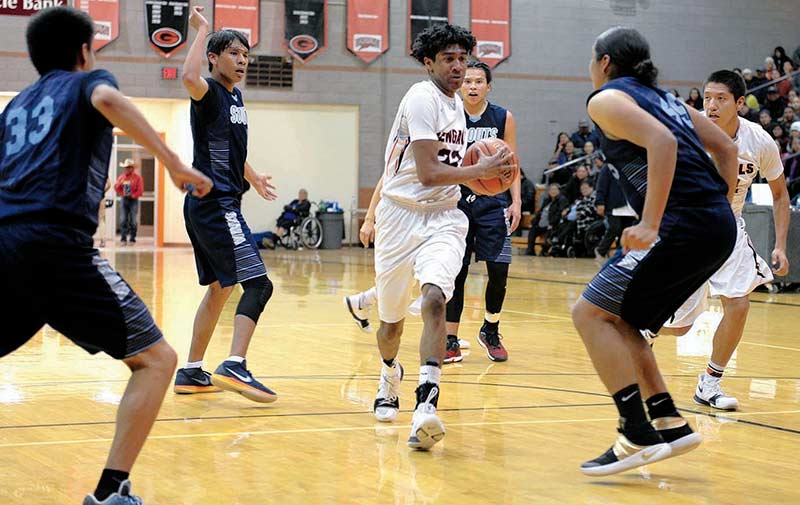 Bengal senior develops as team leader
GALLUP
Zakarri Fields was not always a leader.
The Gallup High School senior, who has worked his way up to the varsity team, has gradually taken on a leadership role.
During Gallup's home tournament, Fields showed how much effort he's put into leading the Bengals.
"He works hard and he's extremely athletic when he's in passing lane, he's getting steals and getting the ball out," Gallup head coach James Voight said. "We feed off his energy."
It's that hyper, enthusiastic energy that fuels Fields' ability to lead his team.
A guard for the team, the team looks to him to get things going. It's a job he said he takes seriously.
"I'm trying to become more of a leader," he said. "My coaches are really helping me become a leader, just by leading vocally in practice and by example in games."
Fields has played with the Bengals since he was a freshman, and moved up to the varsity level as a sophomore. But it wasn't until last season, as a junior, that he started to develop in the spotlight.
Voight, who took over the program last season, said this is only his second season with Fields, but he's noticed the improvement Fields has made.
He said Fields is a shining example of what the coaching staff looks for in their players.
"He's a great kid," Voight said. "He's always around, he does the right thing that we look for in our program, and what we're trying to instill in these kids."
Fields said the he has noticed the shift in his role on the team.
He said a lot of the transition is thanks to the off-season effort.
"I feel like I'm more of a presence from the outside to inside game. I try to look for my teammates more, try to move the ball around a lot more. My vision's gotten a lot better," Fields said. "It just came from my coaches and the summer practices."
---