Middle College gives students a jump on higher ed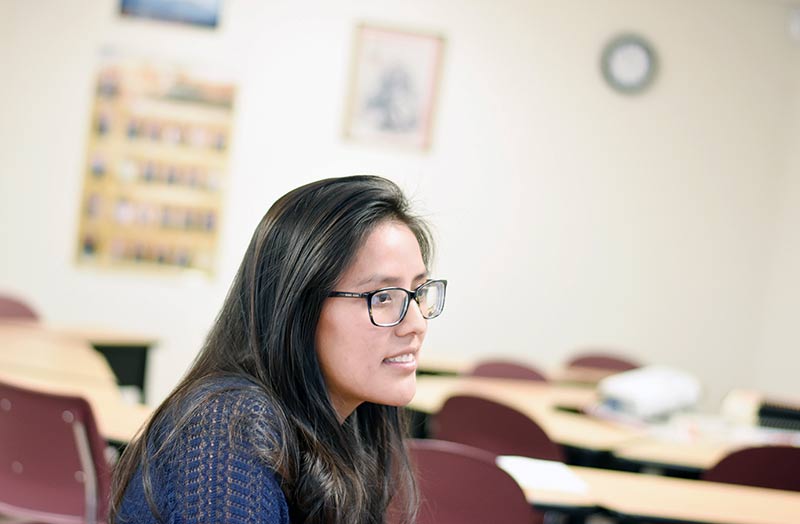 GALLUP
Robert Hunter started two years ago as the chief executive officer for Middle College High School, a charter school in Gallup.
As a resident of the area for over two decades, he was shocked to see the demographics of the high school were not reflective of the community.
"This was a huge concern of mine," Hunter said. "When I looked at our school, ethnically, our Native enrollment was the third largest enrollment. I thought, 'That can't be right. Our community doesn't look like this.'"
As a father of two Navajo children, it was important for him that the school have more Native American students as the community is predominantly Native American.
"I'm a bilágaana but my wife is not and my children are not," he said. "For me, it's wanting to see those opportunities expand to bring equity."
Since then, the enrollment of Native American students has doubled from 19 to 40 despite having a lottery system to attend the high school. In order to attend the Middle College, prospective students apply to the school, go on a waiting list and then get put into a lottery that will randomly pick students for admission.
Right now the school is tapped out at 100 students.
"I've worked really hard to boost our Native enrollment," Hunter said, "to provide opportunities for students that could really benefit, that they really need this, in order to make college a reality for them."
Middle College doesn't receive applications from many public school students. Most students come from either private, charter or home-schooling backgrounds, he said.
They come to the school because the Middle College offers something other high schools can't: real college experience. The high school is located on the University of New Mexico-Gallup campus. So students get firsthand experience of college in a supportive environment.
"To actually be on a college campus, to get the experience and to be taking some classes alongside regular UNM students, it allows the students to form some good habits of study," Hunter said. "By the time they get into their respective four-year campuses it's demystified."
Former Middle College student Tieley Tsosie appreciated having this experience as she started her first semester of college at the University of New Mexico-Main in Albuquerque.
"My friends right now, they panic about the littlest things in college," Tsosie said. "So I'm always the one they go to talk them through it."
She does this even though she's a year younger than her friends. Tsosie is technically a sophomore at UNM despite this being her first semester in college. Thanks to the middle college, she graduated from high school with her first year of college coursework complete and a career focus.
Tsosie is currently studying psychology, which she discovered was her passion after she took her first psychology class, which the Middle College paid for. They also gave her a personal laptop to use and paid for her college textbooks.
"I realized I want to come back after I get my degree and help Native Americans and the youth, especially with my psychology program," she said.
Tsosie had a great first semester at UNM and recently transferred to Northern Arizona University for this coming spring.
Tsosie chose to stay close to her family and community.
While this was an option for Tsosie, the Middle College isn't an option for a lot of students in the Gallup McKinley County School District. The program doesn't provide meals for students or transportation to and from the school. Both of these would fall onto families to provide for their student.
The Middle College High School encourages students to apply.
---