'It is not one-and-done': Gallup still optimistic after tough loss to PV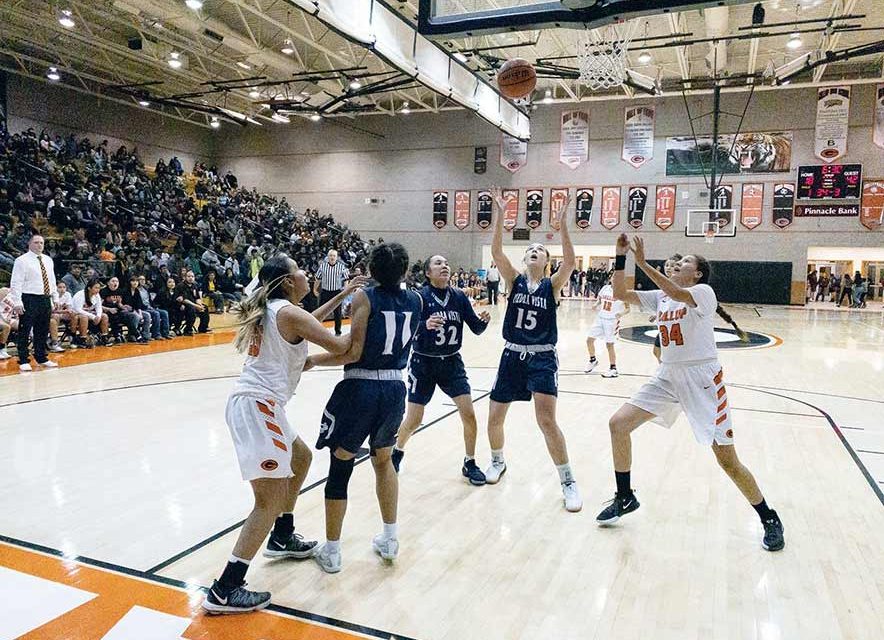 By Michael Peretti
Special to the Navajo Times
GALLUP
It was an early season match-up of top teams in the Gallup John Lomasney Invitational Saturday night, but after a tough 65-40 loss to Piedra Vista, the Gallup girls know some things that need to improve.
"We were very poor on the defensive end," Gallup head coach Todd McBroom said following the loss. "And we didn't rebound very well."
McBroom said the Lady Panthers are the top-ranked team in the state for a reason. Still, with this being only the third game of the year for Gallup, he said there is still plenty of time.
"It is not one-and-done yet," he said. "It is not March, and there's a very good chance that we will meet them again down the road."
Piedra Vista dominated from the start, taking a 17-6 lead after one, and leading 38-18 at the half.
The Lady Panthers continued to add to their lead in the third, and then were briefly able to get a running clock when they pushed their lead to 35 points early in the fourth.
Gallup closed out the fourth strong, scoring 14 of the last 18 points, but it was not enough to get them within striking distance.
"This is the best game we have played all year," Piedra Vista head coach Joe Reed said following the dominant win. "Our defensive energy was huge tonight, and we did not give them a lot of 3s and were able to keep this crowd out of the game."
He said that the Gallup Invite was big for PV, giving them good experience of playing in front of a loud fan base as they prepare for games later in the season, and the possibility of playing in The Pit at state.
"Any time you come to Gallup and play against Gallup it is going to help you," he said. "This crowd is great. Coach McBroom is lucky to be able to coach in front of this kind of crowd every night. For us, it gets us ready to play in the state tournament."
Piedra Vista was led by Lanae Billy with 22 points, while Abrianna Cortez put in 13. Elaine Watson added nine and Bailey Rasmussen scored eight.
For Gallup, no players reached double digits with Michaela McCurtain, Jordan Joe and Haley Long all scoring nine.
Third place
Tohatchi 50, Alamogordo 32
In the third-place game, Tohatchi pulled away with Krystal Benally scoring all 12 of her points in the second half to lead Tohatchi to the win.
Tohatchi led 11-8 after one, but at the half Alamogordo had pulled a 22-21 lead.
Benally took over in the third however, as Tohatchi outscored Alamogordo 13-6 and in the fourth the Lady Cougars had a 16-7 advantage to hold on to the win.
Benally scored 12 points to lead the way for Tohatchi, with Cameron Tsosie adding 11 and Gabrielle Thomas put in 10.
For Alamogordo Carleigh Carroll, Justyse Martin and Alicia Munoz all scored nine.
Fifth place
Navajo Prep 63, Silver 33
In the consolation bracket championship, Navajo Prep put things away early with a dominant, 63-33 win.
Prep jumped out to a 22-4 lead after one and were in control 31-20 at the half.
In the third the Lady Eagles' defense shut down Silver, holding them to just two points, as the Lady Eagles were in cruise control, on top 46-22.
TionTai Woods led Navajo Prep with 26 while Laila Charley added 17.
For Silver, Katelyn Limardo scored 16 and Alissa Jameson put in 10.
Seventh place
Miyamura 55, Shiprock 40
In the seventh-place game Miyamura got a big third quarter from Malia Ukestine to help overcome a big night by Shiprock's Evette Lansing.
Lansing scored 26 points in the game, but it was not enough, as the Lady Patriots got 18 from Ukestine and 13 from Katianna Toledo and pulled away in the second half for the win.
Miyamura led 11-10 after one and 26-23 at the half, but Ukestine put in 14 in the third quarter as Miyamura outscored Shiprock 19-10 to take a 45-33 lead into the fourth.
---