'One of the greatest feelings': Diné named to 6A All-Region team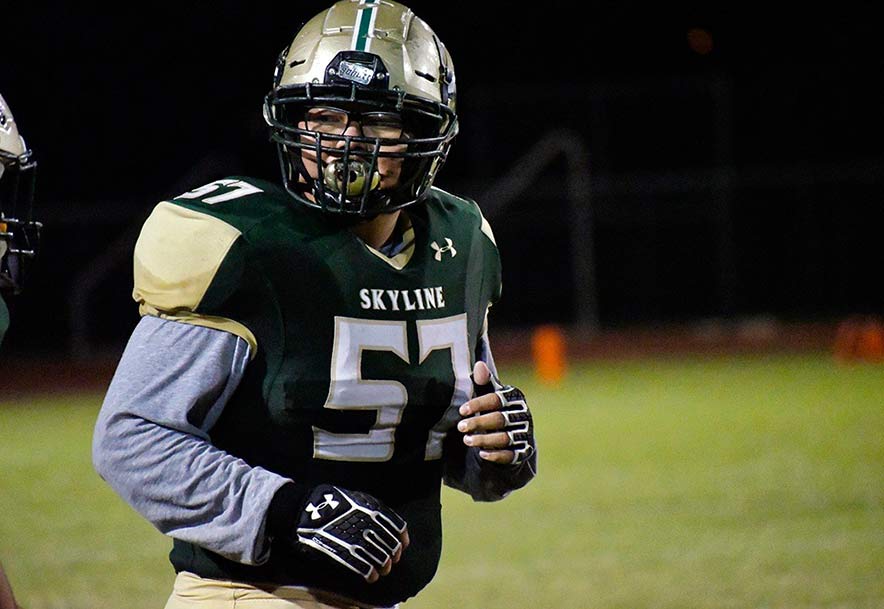 By Candace Begody
Special to the Times
MESA, Ariz.
Everything about Class 6A football is fierce – the players, the game, the competition, the training, and the mindset. Not only are players faster, stronger, and bigger, but many of them are coached by former NFL and college athletes.
But rising to the occasion is what Brandon Vincent Shirley has done in his first season as a starting left tackle and defensive left tackle for Skyline High's football team. His efforts were recently honored when he was named to Arizona's 6A 1st team All-Region and Skyline High's most valuable offensive lineman. Shirley, a junior at Skyline High in Mesa, Arizona, is originally from Tuba City. His parents are Vincent Shirley of Ganado and Evangeline Shirley of Tuba City.
Brandon has made a name for himself in his first football season at Skyline and that was especially evident during an October game against Mountain View High, the eventual state runner-up team.
"Mountain View team put their best defensive end on Brandon, who is one of the nation's top pass-rushers," Vincent said. "Brandon was right on him the whole game and kept him to zero sacks.
"The teams would bring in their bigger guys just to take him on," he added. "Every game he played, he had the best pass-rusher on the defensive side on him."
The Shirley family moved from Tuba City to Flagstaff to Mesa. Having played at Tuba City and Flagstaff, Shirley was not used to the coaching style or the level of competition he faced when he arrived at Skyline. When he joined 6A ranks, everything about his game and training had to change.
"He had to learn how to play the game differently," Vincent said. "The technique, the way the players block and tackle is far more advanced and technically challenging. He had to learn a different way of lifting weights and I saw why he had to do these things."
These improvements were made amidst challenges his family was facing. After leaving Flagstaff, the family struggled to find a home in the Phoenix area. They eventually settled in Chandler, Arizona, a 30- to 40-minute drive from Brandon's high school one way. When training started at 5:30 a.m., Brandon's parents were up making the trips to drop off and pick up Brandon.
Most training days were spent facing the things he wasn't good at.
"I didn't feel like I was ready to compete with these players," Brandon admitted. "But my coach wanted me to focus on my weaknesses. Every game we would come together talk about that, we'd watch film, talk about plays, and he'd tell me, 'This is what you need to work on.'"
Being recognized as part of the First-Team All-Region, especially in the largest and one of the most competitive regions in Arizona, is no easy feat.
"It means that the coaches in the region all voted that he was one of the best in the region at his position. These coaches have to recognize your play and agree that your play is worthy of recognition," said Skyline head coach George Hawthorne, who arrived at Skyline this past August to coach his first football season. "It is a pretty big honor."
Hawthorne certainly knows talent when he sees it. Having coached football for over 20 years, including at places like Mesa Community College and his alma mater the University of Iowa, in addition to various high schools across the Valley, he has seen the best and knows what it takes to be the best.
"The 6A conference is where the kids that go on to play college football come from," he said. "It is the biggest conference in Arizona and it's usually packed with the most talent. Other conferences have talent, but 6A has larger schools so it's a larger pool of talent overall."
Hawthorne also brought with him a wealth of experience, having played five years for the Cleveland Browns under then-head coach Bill Belichick, two years for the Arizona Rattlers under head coach Danny White, not to mention collegiate football at the University of Iowa.
Having seen Brandon develop throughout the years, Vincent said he and his wife are simply proud of their son's accomplishment and Brandon has come a long way since the day he first showed an interest in playing football.
"He's been playing since he was 12. I worked with him and he really started to love the game and started picking it up," Vincent said. "Since then, he's been building his skills and talents, weightlifting, running, and working on the fundamentals, and it's grown into a passion as a family."
With his sights on senior year and beyond, Brandon said he wants to stay on top of his grades and training, and he will be looked to for his leadership and experience.
"We need him to continue to lead, to be a positive light, and work hard," Hawthorne added of Brandon's final year. "He needs to continue to grow mentally, physically and spiritually from last season, and I am going to expect more from him in his senior year. I want to see more growth in his senior season because with growth comes recognition from university and colleges, I hope he'll get an opportunity to play beyond high school."
Brandon hopes to play college football and hopes to one day be a veterinarian.
When asked about advice he would give youth, Brandon said, "Have faith that it will get better and just keep pushing.
"There will be a lot of adversity, things that will keep pushing you down, but if you keep going, you'll find success. I did and it's one of the greatest feelings ever."
Brandon acknowledged those that have contributed to his success.
"I thank God for allowing me to do what I need to do and keeping me safe and strong. And being with me throughout all these issues," he said. "I also have to give credit to my coaches. They really taught me how to be a better football player and a better man."
Brandon's clans are the Many Goats Clan and the Coyote Pass Clan.
---