Sparking hope: Firefighter training helps vets transition to civilian life, launch careers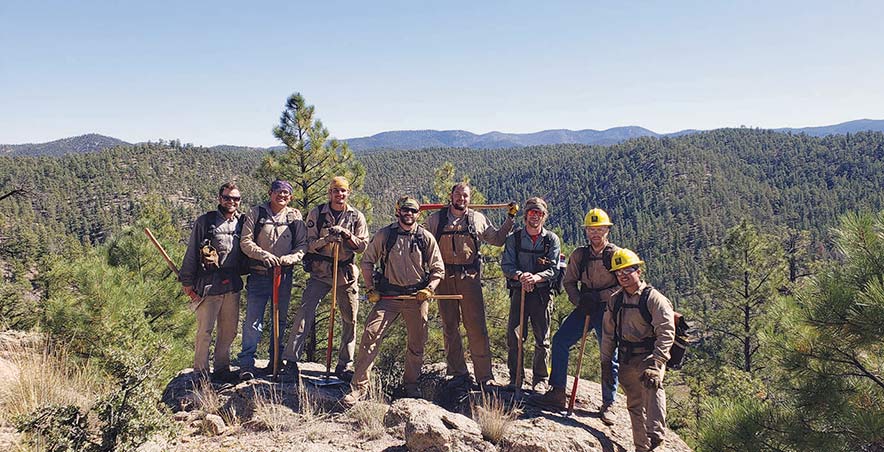 BOULDER, Colo.
Like many veterans, Justin Francisco found himself at loose ends after leaving the U.S. Marine Corps.
He managed to get a criminal justice degree, but, self-medicating his post-traumatic stress with drugs and alcohol, "I got in a little trouble with the law," he said, "which makes it difficult to get a job in that field."
After floating around for a bit, he got into a welding training program with the Wounded Warrior Project. His life was getting back on track, he was learning a useful skill, but welding wasn't exactly his dream job. After the excitement of serving in the military, it seemed pretty tame.
Scrolling through the Veterans Administration newsletter one day, Francisco saw something that caught his eye: an ad for a veterans' program under the nonprofit Southwest Conservation Corps.
He could get 12 weeks of wildland firefighting training, have three squares a day, collect a small stipend and, at the end, receive a small scholarship to the educational facility of his choice.
Francisco had never considered a career in firefighting, but when he thought about it, it offered all the things he liked about the military: physical fitness, camaraderie, being outdoors and working as a team.
"Plus I would get to be with other veterans who may be going through some of the same things as me," noted the 35-year-old from Prewitt, New Mexico.
"There really are a lot of commonalties between firefighting and serving in the military," agreed Jordan Burningham, program director at the SCC's Durango, Colorado, office.
"One of the main things we hear is that people who have spent several years serving their country want to continue that service," he said. "They're not just looking for any job, they're looking for a way to contribute to their country, and fighting fires is a great way to do that."
In fact, after the 12-week training, 70 to 80 percent of the graduates end up going into a firefighting as a career, Burningham estimated. Others become certified as emergency medical technicians and end up on rescue crews for fire departments or municipalities.
There are also opportunities within the program itself as crew leaders.
Francisco's cohort, based in Durango, included only three Native Americans including himself, but the SCC's Ancestral Lands Program runs wildland conservation training geared specifically for Natives who either are veterans or are interested in joining the military.
The first cohort of five started this past March.
As with the Durango-based Veterans' Firefighting Corps, participants get training, room and board (mostly tents pitched in the wilderness) and a scholarship of $1,500 or more upon finishing.
Participants may reapply for the program for up to four consecutive years if they need more time to make the transition into the civilian working world.
The program is funded by contracts with the National Park Service, Bureau of Indian Affairs and Bureau of Land Management that provide hands-on training for participants, explained Michellsey Benally, program director for the program's Gallup office, which caters to Navajo vets.
So far this year her crew has worked in Canyon de Chelly, the Grand Canyon and several places on the Navajo Nation to control invasive species and do a forest inventory.
The biggest difference between the Durango and Gallup programs, Benally explained, is that working exclusively with Native vets, "we get to incorporate a lot of our Native life ways."
Some projects, for example, are language-immersion experiences; all involve learning the Native history and culture associated with the locations the crews are working in.
The crews are separated by tribe — there are Hopi, Zuni and Acoma crews in addition to the Navajo crew, plus one for urban Natives in Albuquerque — so the trainees can get an experience unique to their own culture.
"As Indigenous people, we already have a relationship to the land," Benally pointed out. "By recognizing that within themselves, it helps the crew members regain their identity and to be proud of who they are."
As for Francisco, the training has helped him get his life back. He's fighting his addiction with exercise, keeping his newly fit firefighter body in training for half-marathons. He plans to make firefighting a career, and will use his scholarship to take EMT training at the University of New Mexico-Gallup.
And he's talking up the training to all his veteran friends.
"If you're a vet and you like being outside, it's a great opportunity," he said.
The program will start recruiting for the next cohort in March.
Information: sccorps.org.
---