KC boys extend winning streak to five games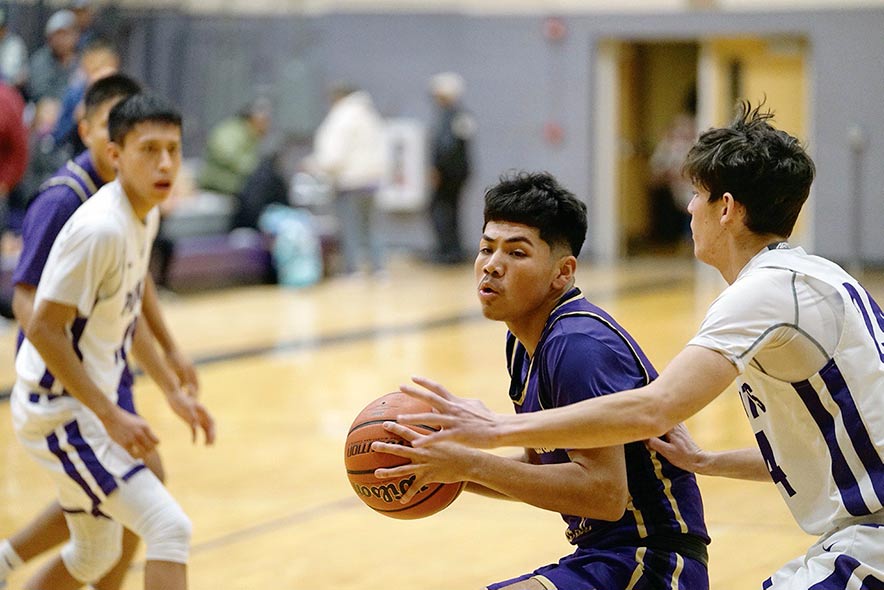 GALLUP
The Kirtland Central boys basketball team extended its winning streak to five games Tuesday night.
The Broncos defeated the Bloomfield Bobcats by a 58-50 count, and they're looking to keep that streak going.
On Wednesday, KC hosted Aztec in search of its sixth straight win. Results for that contest were not available as the paper went to press.
At 12-6 overall, longtime KC coach Brian Dowdy said his club needs to win 10 games straight to be considered for a playoff bid as they will host Gallup Friday night.
"I told the boys, we really need a 10-game winning streak here to solidify our spot," Dowdy said. "And if we get that, that means we have to get through Gallup."
KC missed the playoffs last season, as they posted a 12-15 mark, which includes a fourth-place finish in District 1-4A with a 3-7 record.
"We really stubbed our toe bad last year in district," Dowdy said. "We didn't perform last year, but we got seven seniors and they're a veteran group."
The KC coach said they didn't perform as well as they would have liked last season, but they are having better results.
We're responding in the right way," he said. "Practices have been amazing. We haven't had a bad practice.
"We don't always play the way we should, but to me that an indicator of how hungry they are because every day in practice they're getting after each other and it's very intense," he added. "And that comes from a veteran group. Those veterans are leading the way and it's great for those coming back because they're learning good habits."
With some schools in the district going in a new direction with first-year coaches, Dowdy said he has yet to scout all of the teams.
So far, the Broncos are 2-0 against those clubs as KC scored wins over Bloomfield and Miyamura. The Bobcats are coached by former Newcomb coach Dominique Richardson while Miyamura is under the direction of Robb Floco.
Last Thursday night, KC opened the district season with resounding 72-40 win over the Patriots.
"We didn't have as much time to scout these guys," Dowdy said of Miyamura. "We didn't know really what to expect, but I'm very happy. The effort was there.
"I felt the effort was there the entire game," he added. "We just stayed with it, and it felt like we wore them down. You know, we're pretty deep, and we kept using as many guys as we needed to."
In last week's win, KC had nine players register at least a point, headed by the 19 points from senior point guard Satchel Hogue.
The Broncos also got a dozen each from senior Andres Melendez and junior Elijah Grey while Devin Ramone added 10.
And although he led the team, Hogue said he likes to get his teammates involved.
"I like to give the ball to others and let them have good scoring nights," he said. "The way I think of it is if I get locked down, we can spread the ball and let my teammates pick up the scoring slack."
With his team leading 16-10 after one quarter, Hogue said they started to pick up the intensity in the next quarter as they led 32-21 at the break.
That intensity was more prevalent in the second half as the held the Patriots to only five field goals the rest of the way.
"We struggled there for a little bit going man," Hogue said. "But we have multiple defenses that our coach will throw out to opponents. If one defense is not working for us, we can throw in another one."
After playing a close first half, Miyamura assistant coach Brandon Wyaco said they played flat-footed in the second half, which led to KC instituting a running clock late in the fourth quarter.
"We weren't as aggressive as we wanted the guys to be," said Wyaco, who was filling in for Floco.
"Unfortunately, our light switch turned off, but we'll learn from this," he said. "Our guys just need to play all four quarters."
Like the Broncos, Miyamura had multiple players score as 10 reached the scoring column with seniors Chris Chavez and Blas Saucedo IV leading the way with six points.
The Patriots improved to 1-2 overall in the district race following Tuesday's 67-64 win over Shiprock.
Going into Friday's contest, KC and Gallup are leading the district with 2-0 records. Dowdy said the district crown is going to come down to his Broncos and Gallup.
"I've been saying all year," he said. "I still believe that after seeing everybody. There's a lot of young teams and new coaches, so really it's been us and Gallup every year that we've been in this district together.
"It has been with one of us winning every year, so it's usually us 1-2," he added. "That is what it's gonna be, and no disrespect to anybody else."
---