Stout defense spurs Monument Valley to 51-40 win over Lady Scouts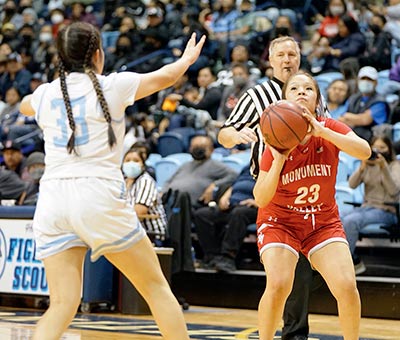 FORT DEFIANCE
The Monument Valley girls boasts one of the top defenses in the 3A North Region.
The second-ranked Lady Mustangs have allowed 47.6 points per game in league play, and on Saturday they held a good Window Rock team below its average as MV posted a 51-40 win for a complete sweep of the Lady Scouts.
"The girls have totally bought into defense travels," MV coach Jason Franklin said. "We weren't necessarily turning Window Rock over, but we were making them take tough shots."
And although they held Window Rock 10 below its average, the Scouts had a few opportunities to score. On several occasions, they were able to corral a few offensive boards.
"We were trying to limit their offensive rebounds," Franklin said. "They're a good offensive rebounding team, and I think in one possession they got like seven offensive rebounds in a row.
"Luckily for us," he added, "they couldn't knock one down."
The Mustangs got off to a fast start by opening up a 10-2 lead following a trey by senior guard Shyrai Shorty with under four minutes to go in the first stanza.
Behind a 3 from junior Jayme Tso, the Scouts tied the contest at 10-all at the start of the second. The two teams traded baskets as the game remained deadlock in a 17-17 tie midway through the quarter.
But at the 2:54 mark, a free throw from senior post Paris Littleben jumpstarted an 11-0 run for the Mustangs as MV led 28-17 at the break.
The Franklin-coached team then scored 12 of the first 16 points to start the second half for a 40-21 cushion with 1:33 remaining in the third.
"We had one run at the end of the second quarter and one in the middle of the third," Franklin said. "It all started on the defensive end."
Offensively, the Mustangs had seven players score at least a point with Littleben leading the way with 14 points.
Senior guard Kierra Johnson and junior post Kaleilanamaria Maiava added 10 each.
"I think we just came together as a team," Maiava said of the team's win on Saturday. "We've been working hard in practice and I think that carried over into this game. We all played well and we needed to come together to beat them."
For Window Rock, the Scouts got 13 points from junior Melecia Nelson and nine from junior reserve Jada Brown.
With the 11-point win, the Mustangs earned a little breathing room in the 3A North with a 6-2 record following Tuesday's 64-63 double overtime loss to Page.
"I'm super proud of the girls," Franklin said. "They played hard and they knew this was a big game. There was a lot of hype around it, but we've been kind of talking about 'let's keep everything with basketball inside.'"
Franklin said the more the team wins, the more attention they're going to get from the opposing team.
"If we can keep everything basketball inside and kind of block out everything around us, then we'll be a lot more successful," he said. "So far we've been doing that. We just got to keep it up."
When asked about the 6-2 start in the conference race, Franklin credited MV athletic director Jason Young for putting together a tough nonconference schedule.
"We've played in a lot of big games, and I think this one with Window Rock is another one in that process," the MV coach said. "It looks promising right now, but we still have some really tough opponents to play. We know that we still have a long way to go and we're just trying to keep the blinders on and stay focused."
---