Laguna-Acoma boys fall to Mesilla Valley in 3A finals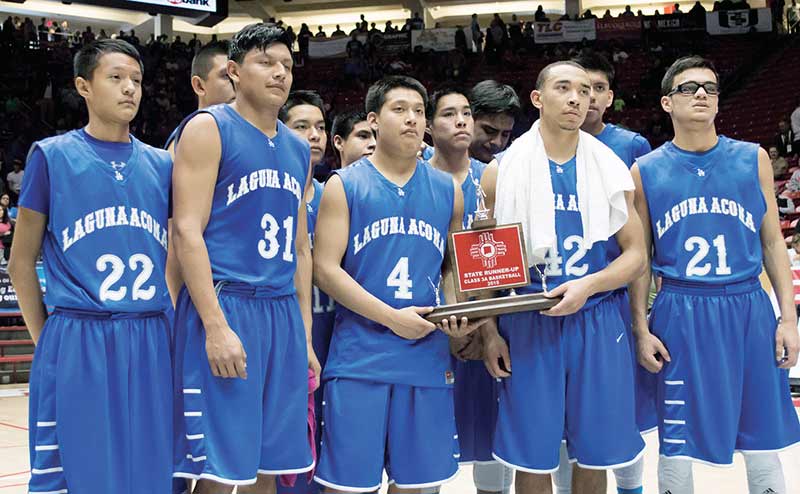 ALBUQUERQUE
The only thing the Laguna-Acoma boys basketball team lacked this year was size.
That facet became more apparent in the championship game of the New Mexico Class 3A state basketball tournament on Saturday morning. The Hawks dropped a 63-49 decision to the Mesilla Valley Christian SonBlazers at the Pit on the University of New Mexico campus.
Laguna-Acoma went toe-to-toe with the Las Cruces, N.M., private school for one half before the size difference shaped the outcome of the game.
With two post players listed at 6-6, the top-seeded SonBlazers slowed down the game in the third quarter and played a half-court game to stump Laguna-Acoma.
"We had a bad third quarter and we had a lot to overcome," Laguna-Acoma coach Ryan Peil said. "It's hard to make a game plan for height, good shooters and good guards."
"On top of that we had to execute offensively and we missed a lot of easy shots," he continued, "and that would have kept the game a lot closer."
With Mesilla Valley opting to go full court with Laguna-Acoma in the opening half, Peil said their press did not affect them since they were getting up the court just fine.
But after getting the ball across the court, the Hawks had a number of chances to add to their 7-5 cushion but those opportunities slipped away as they had trouble connecting with the basket.
Laguna-Acoma missed four baskets from pointblank range in the opening quarter. Nonetheless, they took a 17-16 lead heading into the second with junior Kameron Joe and senior Ryan Arkie combining for 13 points.
For Mesilla Valley, Jeff Adler and Dalton Rice scored five points each as the two post players paced the SonBlazers.
---