Last seconds deny Lady Cougars repeat title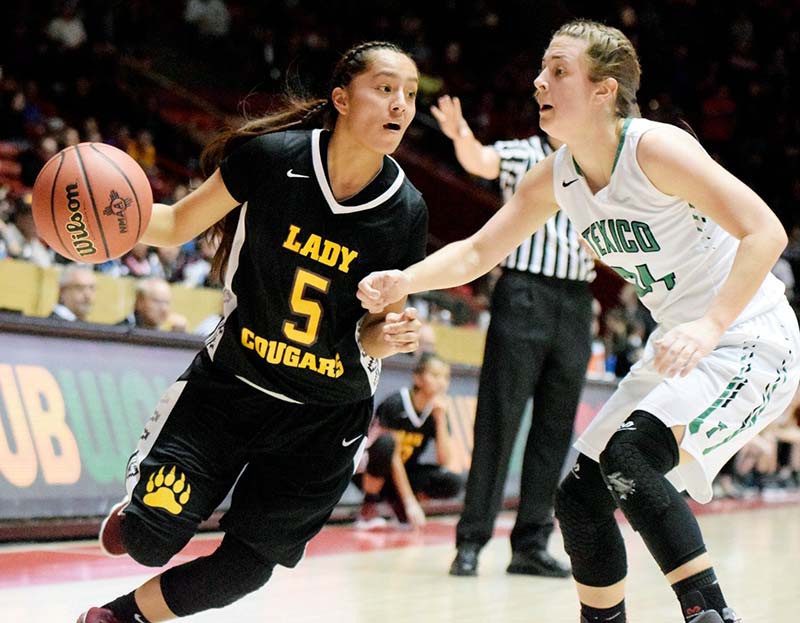 ALBUQUERQUE
The No. 2 Tohatchi Lady Cougars came up seconds short in the Class 3A state championship game against No. 1 Texico, falling 48-47.
Tohatchi head coach Tanisha Bitsoi said, "No one really knows how hard it is to win a state championship, but coming back I knew that we had the personnel, I knew we had what it takes to win it again.
"But it was just a matter of getting to this game," she said. "I am in no way disappointed in them. Every team out there that's not here dreams of this moment, that's all we could ask for, and I felt like they left it out on the floor."
Texico didn't make things easy from the get-go.
The Lady Cougars made a 6-0 run to start things off but Texico answered with a 7-0 run. Tohatchi had a 14-13 lead after the first quarter.
In the second, Tohatchi's Samantha Belone put up a three to give Tohatchi the 17-14 lead, which started a 7-0 run for the Lady Cougars. But Texico chipped away and Tohatchi led 23-20 going into the half.
Throughout the season, Tohatchi was known for putting up high numbers early in the game, but Bitsoi said her team made that difficult to do.
"I felt early on our pressure wasn't as intense as we would want it to be, so when they're able to control the pace of the game, and we talked about this, if it's in the 30s and 40s this game is going to be tough for us to win," she said.
---