Budding artists win trip to NYC school of art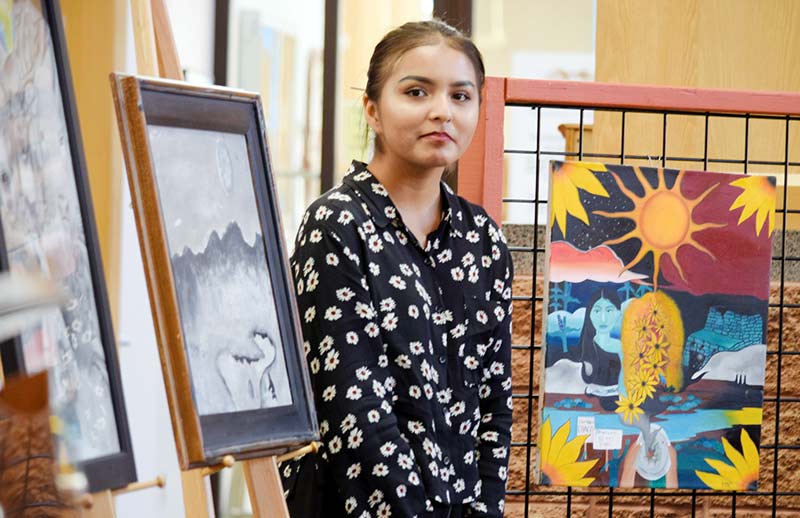 WINDOW ROCK
Maiyah King was just a toddler when she first started drawing with her grandmother.
"She always wanted me to draw elephants," said Lori Wilson, her grandmother. "I don't know how many thousands of elephants I drew. But as a two-year-old she got into drawing. We would draw for hours on end."
Today, Maiyah, 14, still draws but has moved from crayons to acrylic paint. Her artistic skills are now taking her to New York City for a weeklong artist in residency program at one of the most prestigious art schools in the country, New York University's Tisch School of the Arts.
This is thanks to her most recent, untitled painting that she entered in the Soul of Nations' 2018 Brea Foley Art Program. The theme for this year was "Honor the Earth."
"I really wanted to emphasize environmental justice," Maiyah said about her piece. "We see it every day here on Navajoland: How our land is exploited and as Indigenous people we often don't have a voice."
She was one of three selected to participate in the artist in residency program. This year the Soul of Nations received over 200 submissions from Native American students in New Mexico, Arizona and southern Colorado. From these, 13 finalists were selected, but the judges would only pick three to go to New York.
"I'm really excited," Maiyah said. "Going to such a big city and getting to go for such a cool type of program, I'm just excited to see all the different things there."
Maiyah has continued to grow in her artistic skills because art has brought her solace in times of adversity.
"It's therapeutic," Maiyah said. "Growing up as Native youth we often have our strengths and our troubles. It really helps me get out all of that. It's really gotten me through hard times."
She is currently a freshman at Sandia High School in Albuquerque. She is originally from Teec Nos Pos, Arizona. Alongside painting, she is also a spoken word poet and a long-distance runner.
This is the second competition for which the young artist has submitted a piece. In her last art competition, she earned a first-place ribbon.
Her skill as a painter comes as no surprise to her mother, Lyn Wilson-King, who has watched her daughter grow from drawing horizons with crayons to award-winning paintings.
"We kind of knew that eventually she would probably become an artist," Wilson-King said. "And here she is flourishing and blooming. We're very proud of her."
Wilson-King and her husband have always been supportive of their daughter's art.
"Just in general, our family is very artistic," she said. "In the way of musicians and artists."
So there was no hesitation when their daughter asked to have more art supplies. They make sure to keep her cupboard well stocked with whatever medium she is currently using.
"The biggest thing that makes me proud of her coming this far with her art is that she really brings attention to a lot of issues that she is seeing around her," Wilson-King said. "You'll notice in her painting that she's addressed the (Gold King) mine spill in Colorado."
The other two winners were Bailey Pete, from Miyamura High School in Gallup, and Christine Garcia from Captial High School in Santa Fe, New Mexico.
This is the third year that Soul of Nations has offered this opportunity.
Soul of Nations is a nonprofit dedicated to helping Native American youth through business creativity, academic excellence and engaging them through the arts.
Information: www.soulofnations.org
---