Like mother like daughter: Navajo girl breaking records in Georgia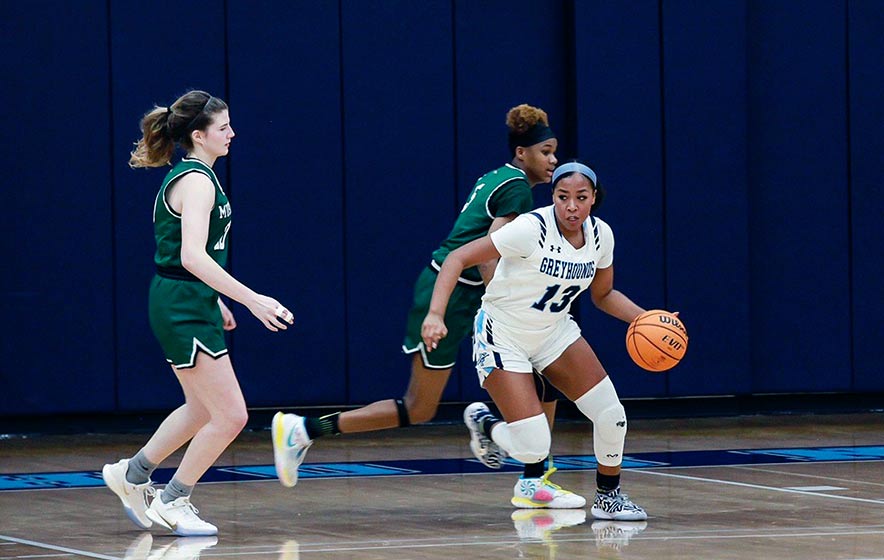 CHINLE
Back in the day, Erika Dale was a local legend in the Farmington area. Like her classmates, the high school basketball star went to college, got married and raised a family. Now, Erika Dale Holloman watches from the stands as her second-oldest daughter leaves her own mark on the court.
Cheyenne Holloman, Kinyaa'áanii born for Naakaii Lizhinni, is a senior going to school at Pope High School in Georgia. With the season wrapped up, she owns a long list of accomplishments.
Impressively, Holloman finished her basketball career having scored over 2,000 points, the first student to ever do so in Pope High's history. Scoring so many points is a rare achievement even among professional players.
She was named Georgia 6A Region #7 Player of the Year, 6A All-State 1st Team, All Country Team, and won 6A Best Passer Award in 2019. She has been named to four all-region teams during the four years she has been in high school.
Holloman downplays her accomplishments.
"Basketball is mainly just for fun," she said. "I wasn't really focused on the records. When I had 45 points, I thought I had 15. To be honest, I didn't even know I was close to that (scoring 45 pts). I didn't know I was going to break the Season 1 record or career; I didn't know I could do that."
Most of Holloman's family are athletes; her mother was a basketball player, her father was a football player, and her sister, Teya Holloman, is currently playing collegiate-level soccer. Seeing the talent that their daughters possess, their parents thought they would have a better chance at getting them exposure in Georgia, so they moved there just before Cheyenne's high school career.
"She was very active; she always had a very competitive side to her. It didn't matter who she played against. She would always give it her all," Erika said. "She is the kind of person who loves to win and hates to lose."
"My oldest daughter, Teya, is playing soccer at a D1 school in South Carolina. She plays for South Carolina State University," Erika said. "And Cheyenne is getting some offers from D2 and D1 schools … So yes, I think it was a good move for them so that they can keep playing the sport that they like and get their education."
Erika saw her daughters had athletic potential from a young age, but reminded them early on to be diligent.
"We found out with Cheyenne being a left-shooter, we started to see that passion really early, that she really liked basketball. Then we explained to them [her daughters], 'If you want to play there is a commitment, there is making sure you are on time, you need to listen to your associates, and if you are going to do it, do it the best you can.'"
Pope High's head girls' basketball coach, Bill Blythe, has been working with Cheyenne ever since she first came to Georgia and has seen her grow as a star athlete through the years.
"We both came in at the same time," Blythe said. "I took over the head coach position the year she came in as a freshman. I still remember her father approaching me after a parent meeting and asked if Cheyenne, who was an 8th grader, who I didn't know, could possibly join us (the high school team) for the summer workouts.
"I said, 'Well, I don't know her, but if you think she can handle it, then yeah, I would love to have her.'
Needless to say, she could handle it.
In almost every game, Cheyenne's skills stand out. She often races through her opponents and makes difficult shots. Whenever she makes a two- or three-pointer, the ball often drops through the hoop with a whoosh, nothing but net. She does all of this with her left hand, a subtle difference that nonetheless makes it difficult for her opponents to predict what she will do next.
But Cheyenne makes it a point that basketball is a team sport, and they win as a team. Cheyenne would make the leap to capture the ball and then pass it to her teammates. She clears the lane for them, often drawing the attention of three opponents, and rather than try to make an impossible shot, she'd expertly pass it on to a team member who would then make the winning score. She reads the court with a tactical mind, making fearless advances as she either shoots left-handed or passes the ball amongst her team.
Blythe believes that Cheyenne has more than one skill that makes her an efficient player.
"Well, number one is that most people see how physical and how aggressive of a scorer she is," Blythe said. "But I think if you were around her enough and around the game long enough, you begin to realize it's really her IQ, her basketball IQ. It is her ability to pass the ball, set people up, and put them in the right position. That is just the game skillset, but probably the leadership skills that she has matured with the past few years is probably a bigger asset than that."
For Cheyenne, the sport has an indescribable allure which drew her to it when she was still a kid in elementary school. She gave it a try knowing her mother was a basketball player, and ever since then has become fond of the sport and enjoys being on the court. She played varsity soccer until her sophomore year as she wanted to spend more time focusing on basketball.
"Basketball taught me a lot of good lessons," Cheyenne said. "Like how to be a leader, how to lead by example and things like that. Being able to create an opening, to get to the lane or to the shoot is my greatest strength."
She has been an integral part of her team since the beginning, and now she has the chance of taking those skills to the next level because of the hard work she has put in and the achievements she has made.
"Cheyenne has been made All-Region for four years, she has been Region Player of the Year once, she has been All-State her sophomore and junior year. I'm pretty sure she is going to be All-State again this year," Blythe said. "… Those records she has broken are pretty significant too, it is pretty telling that Cheyenne didn't really know that she was getting close to that point record, but she got it.
Blythe said he's four games behind on finalizing the stats because they've been busy with the tournament, but when the numbers are tallied it's likely Cheyenne will shine even more.
"She's going to have not only almost 2200 points but she is going to have well over 800 rebounds. She's going to have over 350 to 370 assists, probably 320 steals," he said.
"She is an all-around really good player, and she is going to top of the record board on a lot of things," he said. "I think I said all the highlights. There will be a big empty hole when she is gone."
She has received at least six invites from colleges, offering her a spot to play on their teams. She is still deciding which school would be the best fit for her, but Cheyenne wants to go somewhere where she can study political science so that one day, she can become a lawyer.
"My greatest inspiration is just to make my family proud," Cheyenne said.
Whichever school she chooses, it will be one where she can continue to play the sport that she loves while getting her education, much like her parents when they were collegiate student-athletes themselves.
"She's very hopeful, very competitive on offensive and defensive," Erika said. "When she steps on that court, she plays until the last second. No matter what the score is, what is going on, she is going to fight the entire time on that court.
"And I enjoy watching that because I feel like she created her own milestone, and a lot of her achievements I think has outpaced me when I was in high school, so I'm very proud of her."
---