NACA scores go-ahead basket to edge Crownpoint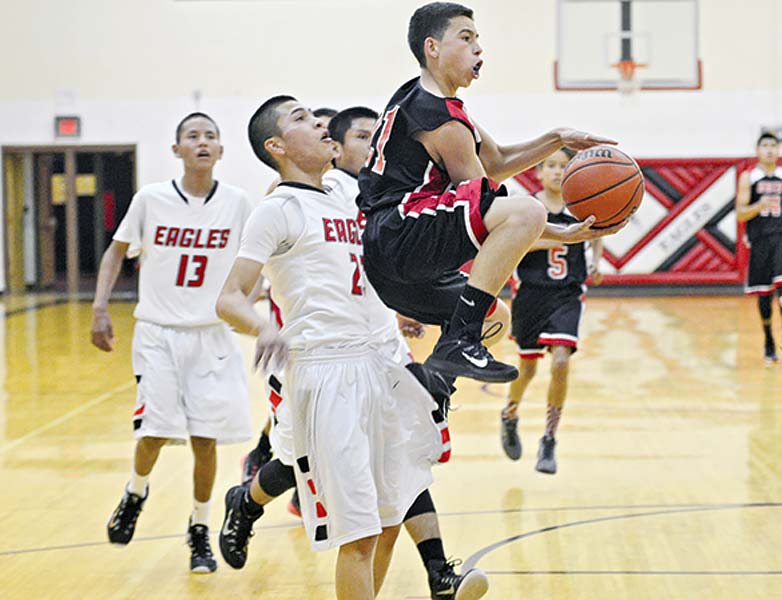 CROWNPOINT
What began as a mental collapse turned into teaching points for the Native American Community Academy boys' basketball team.
The visiting Eagles got a key steal from Aaron Lee with three seconds left in regulation as the senior guard scored the game-winning basket on Saturday against Crownpoint.
"We got bailed out there at the end," NACA coach Howard Humetewa said, following their exciting 40-39 win. "We got a few lucky bounces and the ball landed to the right person at the right time."
The go-ahead basket by Lee is what people will remember most, but with just over a minute left, Humetewa said they had a mental lapse. The young and inexperienced NACA team fouled Crownpoint's best free throw shooter.
The visiting Eagles did it twice, as senior forward Derrick Dixson was fouled while attempting a three-point shot and turned a three-point deficit into a 40-39 lead by nailing 4-of-6 shots at the charity line.
"We kind of hurt ourselves by fouling him," Humetewa said. "But at the end we didn't panic."
Crownpoint coach Gary Morrow said it was a tough loss, but he acknowledged that there were some bright spots.
"When we were down, I thought they handled that well," Morrow said. "They stayed focused and they played hard the whole game. They played tough mentally, and as a coach, that's all I can ask for."
He said it was comforting to see his players bounce back from their season opener against Thoreau as the Eagles dropped a 72-56 decision.
"They definitely improved from (last Friday's) game," he said, while adding that as a first-year coach, his kids are still learning his system.
"The offense is new, so you know there are going to be some mistakes," he said.
---