Navajo Prep plays Santa Fe Indian School Wednesday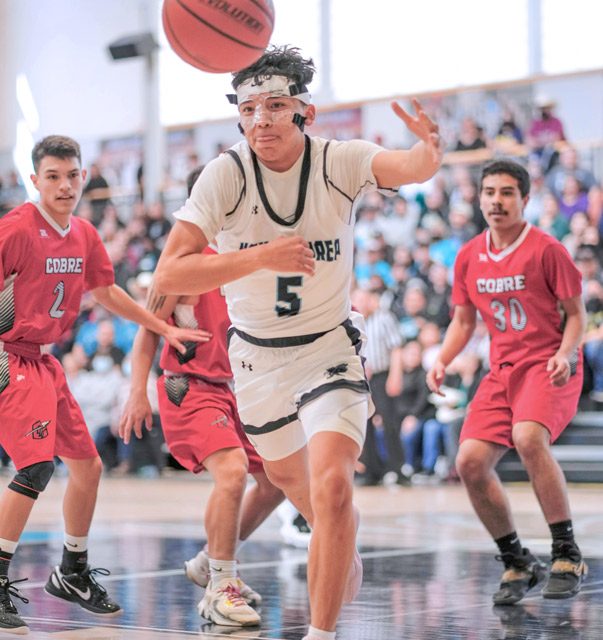 FARMINGTON
Critics might even agree — the Navajo Prep Eagles did OK Saturday during the New Mexico 3A playoff game in Farmington.
Aside from its near-perfect performance home game, the 25-2 Eagles dominated from start to finish.
Just about every player – starters and nonstarters – scored a point. Just about every player made a 3-pointer too.
Defensively, 'Prep made sure it let Cobre know how stingy it could be when playing a home game.
The key?
"For the last two weeks, we've played two games in fourteen days, so we've had a lot of practice — more practice, since probably New Year's, in the last two weeks," Navajo Prep head coach Matt Melvin said after the game.
Melvin added the team took advantage of their brief break and worked on their defensive game.
It paid off.
The Eagles didn't allow Cobre to score in the first few minutes of play while it racked up the points on their end of the court.
Xavier Nez and Jude Thomas contributed 10 points each and helped the Eagles end the first quarter with 26 points, while the stingy defense allowed Cobre to put four points on the board.
The second was much the same, but this time it was more about assists and great passes that allowed the team to end the quarter with a commanding 52-10 lead against the Bayard, New Mexico, team, which is about a six-and-a-half-hour drive from Navajo Preparatory School in Farmington.
In the game's final half, Navajo Prep slowed the game and scored 21 points. That doesn't mean the defense stopped being stingy, and they continued their pressure, didn't allow Cobre to take the momentum away, and kept them at 16 points total.
"The guys were just chomping at the bit to get the play somebody that we hadn't played two or three times in a month, get back to somebody we don't know and not beating up on each other," Melvin said.
The Eagles will face off against the 20-10 Santa Fe Indian School Braves Wednesday at 8:15 p.m. at the Rio Rancho Event Center in Rio Rancho, New Mexico.
---