Shiprock girls to battle Hope Christian for 4A title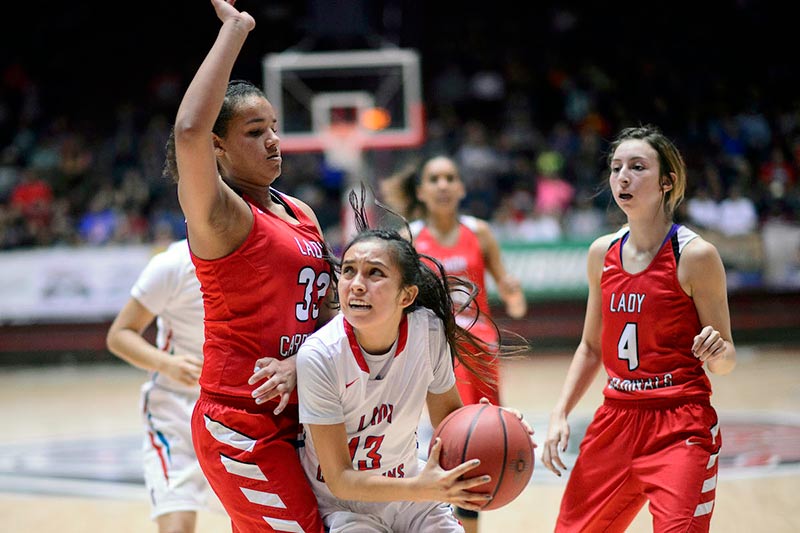 ALBUQUERQUE
The Shiprock Lady Chieftains didn't want to save the drama for their mamas.
In dramatic fashion, No. 2-seeded Shiprock defeated No. 3 Robertson in overtime 61-56 in the semifinals of the 4A state championships. They advance to the championship game tomorrow where they will meet No. 1 Hope Christian at 3:30 p.m. at WisePies Arena (aka the Pit).
Shiprock head coach Larenson Henderson said team didn't have the best shooting performance but the shots they were able to hit put them in position to win.
"We kind of stopped attacking but some big shots came in at the end," he said. "But I know the girls are capable of shooting the basketball. If we were going to have a shooting contest between both teams, I think we win regardless."
The Lady Chieftains took some time to warm up in the first quarter and trailed Robertson 16-12.
Shiprock took a positive turn in the second quarter and tied things up with Robertson before Shiprock senior Tanisha Begay put up a three-point basket at the buzzer to give them the 32-27 lead going in at halftime.
Both teams went back and forth in the third quarter before Shiprock gained a one-point advantage for a 41-40 edge. The final seconds of the quarter, Shiprock's Melanie Secody followed Begay's lead and sunk a three-point basket to close the third quarter with the 44-40 lead over Robertson.
Shiprock and Robertson went back and forth again in the fourth quarter before tying things up at 52-52 to end regulation.
With just over a minute left in overtime, Shiprock gained some leverage and led 58-54. With 44.6 left in the game, Robertson made it a two-point game and made some mistakes that Shiprock capitalized on.
The Lady Chieftains meet a familiar opponent in Hope Christian as they met them in the championship game last season and came up short, 51-48.
Henderson said it's sure to be a battle.
"We just got to get it done somehow. Hope's going to be tough," he said.  "As long as they have the heart, we get out there on the court and we're able to compete, I think anybody can take it."
---