Skyhawks remember themselves, claim the win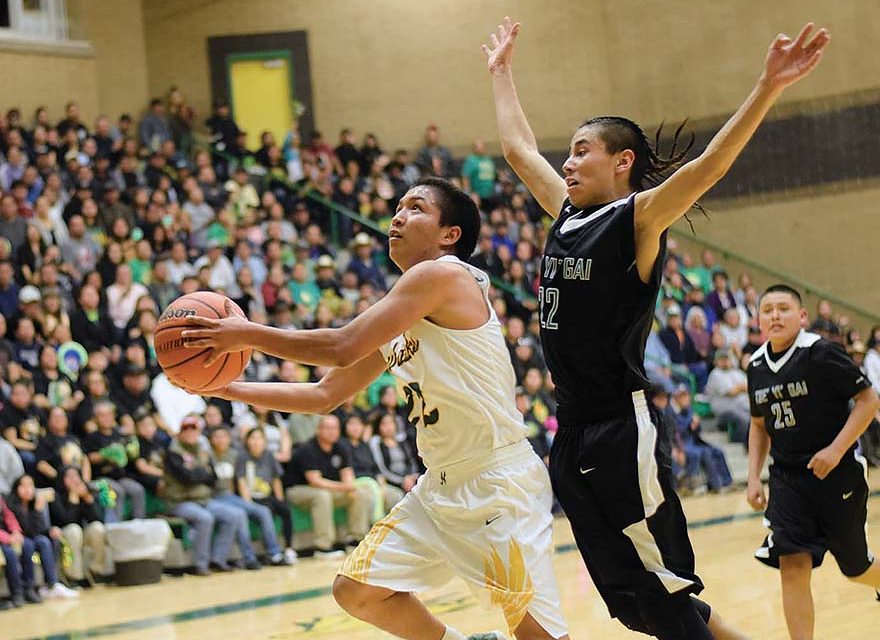 NEWCOMB
In order to survive and advance, the Newcomb High School Skyhawks had to remember to be themselves.
In a highly anticipated first-round state playoff game with district rivals No. 14 Tse Yi Gai, No. 3 Newcomb needed a little reminding of their identity to pull off the 67-43 victory over the Diné Warriors last Saturday.
Newcomb head coach Domonique Richardson said his team was a little to eager at the start of the home game but regrouped after a little reminder at the break.
"They were too pumped, they were playing quicker than they needed to do," he said. "I told them to calm down, and you can still play fast, under control, and that's what they did."
Both teams, who have a history of playing each other tough, came out with a somewhat even playing field.
Newcomb was quick to make some key runs that left them leading 18-7 after the first quarter.
But Tse Yi Gai made no plans to give in.
Newcomb continued to generate points but Tse Yi Gai's defense didn't exactly make it easy.
Richardson said his team was aware that their opponents might throw a wrench in their system, which they did,
"We knew they were kind of going to slow the tempo down. We were just going to try to get as many possessions they can get to execute," he said. "We just wanted to pressure the ball like we've been doing."
Both teams executed their plans into the half. Newcomb led 31-19 at the break.
Tse Yi Gai head coach Edwin Chiquito said their plan worked a little bit but shortly after the break, Newcomb responded the way Newcomb knows how.
"The game plan was just to slow them down a little bit," he said. "But we just played into their game; just turnovers and so forth."
The Diné Warriors put up three points to kick off the second half, but Newcomb went on a 21-0 run to extend their lead by playing the way they should have all along.
Newcomb closed the third quarter with the 57-24 lead.
The offensive strength continued for the Skyhawks as Tse Yi Gai chipped at their lead. Newcomb closed in for the 67-43 win.
Richardson said reminding the team of their roots helped them execute in the second half.
"The second half, I told the kids, just drive, attack, attack and eventually we'll get kicked out for threes," he said. "They finally realized we can still score close to 70 points a game even without the three ball there."
The win gave Newcomb a chance to return to the quarterfinals where they met No. 6 McCurdy on Wednesday night.
To prepare, Richardson said his team will need to continue to do what they do best and not forget who they are on the court.
"We're kind of familiar with McCurdy; we played them a couple years back. We're expecting a scrappy game; they got some kids that can shoot it," he said. "We just got to play like we did today and be ready for a game to be like in the 40s (this week)."
Chiquito said his team had hoped to be able to hold off Newcomb but they let their own downfalls get in the way.
He said they had hoped for a much closer game like the one they had played earlier in the season when Newcomb barely slipped away with a win by nine points.
"I didn't come in our favor. We just turned the ball over, they were quick; that's what costed us the game," he said. "We expected a little closer game, but what can you say?"
Chiquito said this was the second season in a row that his team has made the state playoffs. He said with a number of young players, they'll start working to make an even better return next season.
"Our program is up and coming," he said. "Next year we're going to try and make a run again."
Tse Yi Gai ended their season with a 17-9 overall record and 7-5 district record.
Other area teams that survived and advanced included Class 2A No. 8 Magdalena, who defeated No. 9 Estancia 59-50 and met No. 1 Pecos on Wednesday. In Class 3A, No. 4 Santa Fe Indian defeated No. 13 New Mexico Military Institute 57-40 in the first round. They played No. 5 Cuba on Wednesday.
---