A Native American in Paris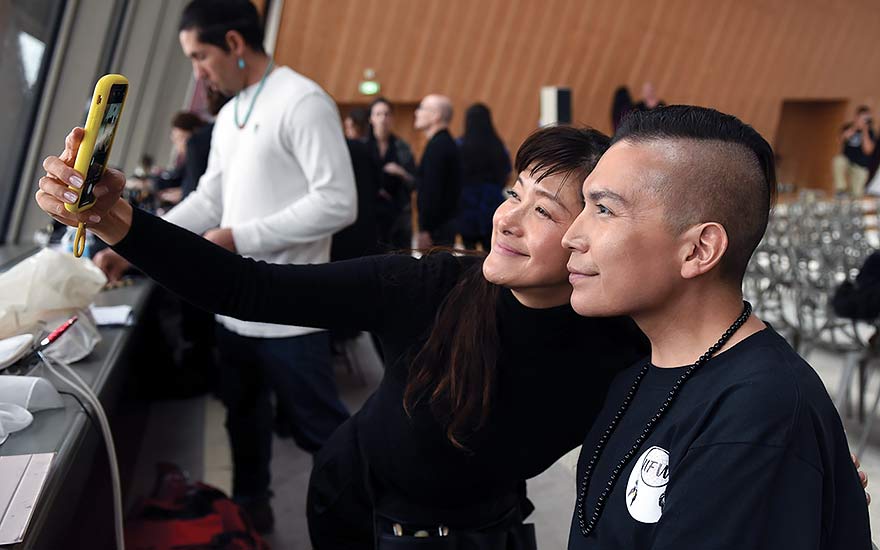 'Elegance' is theme for Goldtooth's French collection
By Ruth (Bazhnibah) Kawano
Special to the Times
PARIS
I am sitting with Jolonzo Goldtooth in a French café eating a casual late lunch of ham and cheese sandwiches, French fries and cokes – very American, you would say.
He had just finished another great international fashion show here in Paris, France. I ask him about his work and where he is headed in fashion designing.
Pondering his trip to the 2019 Indigenous Fashion Show here, the word "elegance" came to mind as he prepared.
Goldtooth, Diné from Huerfano, New Mexico, is no stranger to fashion design. Designing for him came in 2012 at 25 years young. He has been busy designing and creating since showing his collections for men and women at local and regional shows in the United States.
In the last four years, Jolonzo has also been showcasing his work in metropolitan cities such as New York City, Melbourne, and now Paris.
He brought to the show his colorful outfits popular with the younger generation. He is optimistic about his work and is happy to be here. We leave the restaurant to get back to our fashion shoots around Paris.
---