'The thing about my little guards is they can jump': Lady Warriors end Ganado's 20-game streak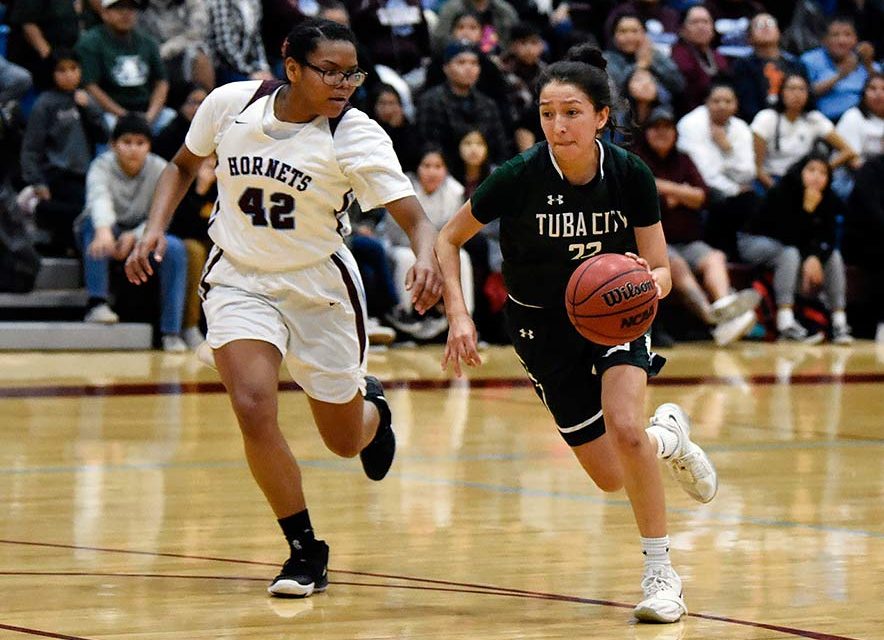 BURNSIDE, Ariz.
A three-game stretch last week was a tough one for the Tuba City girls' basketball team.
The Lady Warriors went 2-1 as they capped the week with a 43-37 win over conference leader Ganado inside the Hornet Pavilion on Saturday night.
"It was so hard to prepare for these games we had in a row," Tuba City coach Kim Williams said of the Chinle, Hopi and Ganado slate. "I'm just so thankful that my assistants helped me prepare for this tough stretch."
In Saturday's win, the Warriors used a four-guard rotation to end Ganado's 20-game win streak.
"The thing about my little guards is they can jump," said Williams, whose team improved to 15-6 overall and 4-2 in the 3A North Region standings. "There were a couple of times that Ganado shot over us but we made the adjustments."
Senior forward Jayda Chee led the Warriors with a dozen points while guard Larissa Yazzie added 10.
"We came out aggressive," Williams said. "Our uptempo and going to the basket was key."
In addition to Chee and Yazzie, the Tuba City coach said seven other girls scored.
"That's always a plus," she said. "In the times that we fell short in our other games we didn't have that many players score so the bottom line is we have to use everybody."
Tuba City trailed 7-6 after one quarter of play before settling for a 15-15 tie at the break. The Warriors got some separation in the third with Yazzie and Chee combining for 13 points for a 32-27 edge.
In the final stanza the Williams-coached team kept the momentum on their side, pulling out the six-point win.
"They were confident," Williams said, while noting that Chee wanted the ball even though she prefers to have her guards handle the dribbling duties.
"Jayda is my forward and she's not supposed to have the ball but she wanted it," the Tuba coach said. "She wanted the ball and she helped set up her teammates."
Ganado coach Mike Bitsuie said the Warriors played a superb game and they came out with a great game plan.
"We battled, we played our hearts out and we tried but they just wanted it more than we did," he said. "They made more plays than we did. They got ahead in that fourth quarter and we couldn't catch up."
Bitsuie said early foul trouble plagued his team as guards Abigail Benally and Deana Curley were saddled on the bench.
"They picked up four fouls so they had to sit out," he said. "Our reserves had to step up and they did great but Tuba is a very good team. They're very quick."
Bitsuie also lamented their free throw shooting woes as they went 3-for-10 at the charity line.
With his two guards being limited, the Hornets had other players pick up the slack on the offensive end with senior Jayla McIntosh scoring 13 while post Michelene Coleman added 10.
As for Tuba ending his team's winning streak, Bitsuie said this is good for his team.
"If we take it the correct way, like I want the girls to, and keep it positive we should be OK," he said. "We just have to keep our heads up. It's a type of deal to where we have to regroup and rebuild. We have to take this as a positive and learn from this game."
With the loss, Ganado dropped to 21-2 and 5-1 in league play as they hosted Window Rock on Tuesday night. Results for that contest were not available at press time.
Tuba City follows Ganado in the 3A North race with 4-2 heading into Tuesday night's game with Page, a team they beat 53-49 earlier this season.
"If we were consistent I would feel better," Williams said when pressed about their position among teams in the conference.
"That's been our struggle, we've been inconsistent at times," she said. "We're trying to work on consistency. If we can get that down we can do very well and go far."
---