Tuba City guard sparks win over Lady Scouts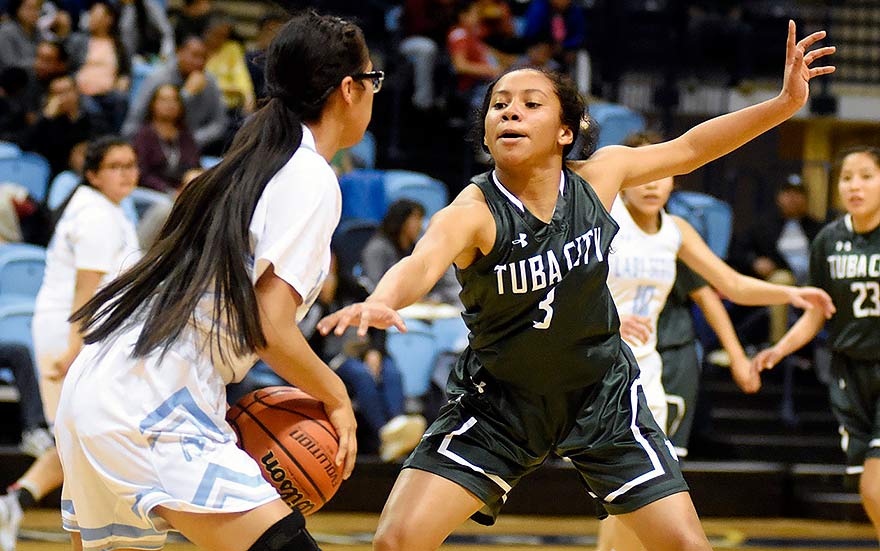 FORT DEFIANCE
Backup guard Mikeya Sheppard gave the Tuba City Lady Warriors the spark they needed to earn another road victory in the always tough 3A North.
Sheppard finished the game with 17 points, leading the Warriors to a 60-52 triumph over Window Rock at the Bee Holdzil Fighting Scouts Events Center as Tuba City improved to 16-7 overall and 6-4 in league play.
"I think I did pretty good today based on the other games we've played," Sheppard said.
With her team trailing 9-7 late in the opening quarter, Sheppard made her presence known by making a couple of layups for an 11-10 Tuba City lead.
"We kind of had a slow start so when coach put me in she wanted me to produce and help the team out," Sheppard said.
In the second, Sheppard added five more points and when she didn't score she got the rest of her teammates involved as the Warriors had nine other players contribute at least two points.
"She had a lot of one-on-ones," Tuba City coach Kim Williams said of Sheppard. "She's got a quick step so that was to our advantage."
And with Window Rock (11-14) forgoing their zone defense and playing Tuba City man-to-man, Williams felt that scheme played to their advantage.
"Normally they go zone on us but our strength is man," she said. "I know individually we were able to isolate and one-on-one with them."
Nonetheless there was some cause for concern as Window Rock's man coverage offered some hope as the Scouts pulled within 56-50 with just over two minutes left after trailing by as much as 13 at the start of the fourth quarter.
A pair of three-pointers from senior Asia James (12 points) got the Scouts going as her second trifecta pulled her team within 55-46 with 4:42 to go.
---