Winslow girls stun Ganado with comeback win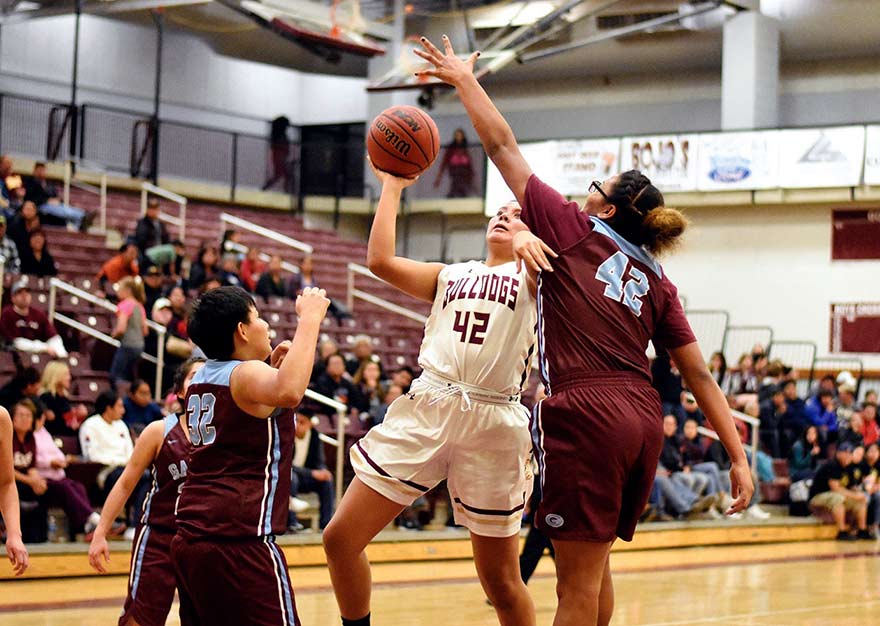 WINSLOW, Ariz.
The Winslow Lady Bulldogs had their lowest scoring output of the season on Monday night.
It didn't matter as the Bulldogs rode out the momentum to steal a 36-34 victory over Ganado in an entertaining game.
The No. 6-ranked team looked like they were in trouble, trailing Ganado 34-30 with 1:32 left, but their defense changed the complexion of the game as they improved to 8-3 overall for the season.
With its zone press, Winslow forced four turnovers as they cashed in on three of those extra possessions to stun Ganado.
"We tried to do something else to get us an edge and it worked for us," Winslow coach Jerron Jordan said of the late defensive tactic.
Brianna Little got the rally going as she was on the receiving end of a Ganado turnover. The Winslow junior sprinted down the floor and on a lay-up attempt she was fouled.
Her three-point play brought the Bulldogs within 34-33 with 49.7 seconds left that prompted Ganado coach Mike Bitsuie to burn one of his timeouts.
The Hornets tried to run a designed play but Little stole the in-bounds pass and she assisted freshman guard Kylie Begay on a basket as Winslow took the lead for good.
The Hornets (9-3) turned over the ball two more times but they still had a chance after Winslow forward Andrea Willeto split a pair at the free-throw line with 7.1 seconds left.
Ganado sophomore Abigail Benally heaved a shot from near midcourt and on the ensuing rebound Jaedin James' putback came up short.
"I have relentless kids who don't quit," Jordan said. "We just kept battling, battling and battling. We got to the free-throw line and we made some clutch free throws."
Jordan said the game could have gone either way and he gave Ganado a lot of credit for putting his team in a bind.
"Coach Bitsuie has a great bunch," he said. "He's a great coach and my hat's off to them. They did a phenomenal job. Both teams fought extremely hard but at the end of the night I was really proud in how we didn't quit, even though we were down a possession."
Bitsuie said his club played well for the first 30 minutes of the contest but their inexperience played a factor in the last minute-and-a-half.
"I thought we played very well tonight," Bitsuie said. "We did struggle offensively. We missed a lot of shots but, hey, we did very well tonight for the first 30 minutes.
"In that last minute we started falling apart due to turnovers," he said. "I used my timeouts but we just have to do a better job at closing and that comes with experience."
Bitsuie said they expected Winslow to apply pressure late in the contest but in those moments his team buckled.
"They made steals and they came back," he said of Winslow. "We did shy away with the pressure they presented but I think it's all about experience. The more we play and the more we get into these situations it will make a better competitor out of us. Next time we'll do a better job at handling the ball."
---