Yellowman, Coleman lead Ganado to Rehoboth Invite title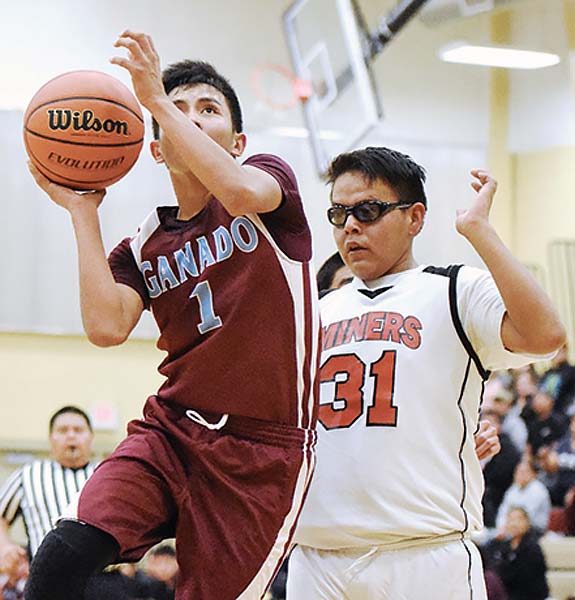 REHOBOTH, N.M.
Heating up around the three-point line is nothing new for the Ganado boys' basketball team.
The Hornets had that luxury early on as Jamaal Coleman garnered enough attention in the championship at the Rehoboth Invitational on Saturday as Ganado survived a late rally from Red Valley/Cove to post a 52-47 win.
At 6-foot-8, Coleman had a few players converge on him every time he touched the ball as Ganado built an early 30-14 lead midway through the second quarter on a three-point shot by junior guard Timothy Benally.
"The game plan was to go inside," Ganado coach Jeremiah Rector said. "That was the plan from the get-go. It doesn't matter who we play, we want to play that inside-outside game. They were collecting on our big man and in return it left our guards open for some threes."
Michael Yellowman, Ganado's other potent three-point threat, lit up the scoreboard, as he netted 11 points in the opening quarter. Yellowman went 3-for-3 from downtown and added a long two-point shot as Ganado led 22-7 after the first quarter.
"I just kept shooting but I was doing it for the team," Yellowhair said.
After scouting the Hornets during the tournament, Red Valley/Cove coach Lee Zhonnie warned his players about Yellowhair's ability to knock down open shots.
"We talked about this last night (Thursday) and I told him that he was going to come out firing three-pointers," Zhonnie said Yellowhair. "Nobody believed me and he did some damage in that first quarter."
After his first quarter outburst, Zhonnie said his club did a good job of containing Yellowhair for the rest of the game.
---