Fighting for those who can't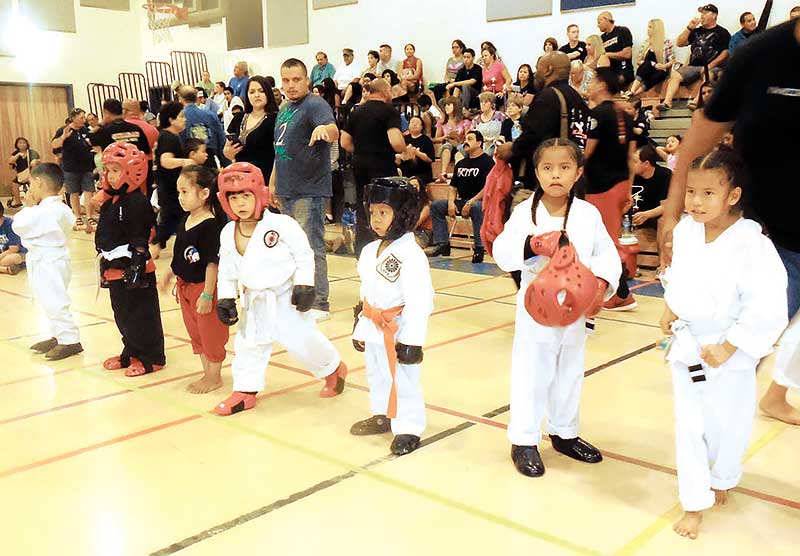 Through karate, two young Navajo sisters share culture
WINDOW ROCK
After moving to California and away from Navajo, two young Navajo girls find their passion in karate.
Arvin, Calif., 86 miles west of Los Angeles with a population of 20,298 is home to Kaitlyn Begay, 6, and Kaylee Begay, 5.
"We fight for those who can't fight," said Kaitlyn in a telephone interview with the Navajo Times.
She and her sister have been learning a variety of techniques and meeting new friends while competing in the sport of karate.
During a recent tournament in the Bakersfield area, Kaitlyn received a metal for participation while younger sister Kaylee won matches against two experienced Filipino kids, earning her the second place medal.
"This is their first tournament, and we are really proud of them," said mother Terra Begay, adding Kaylee cried when she was awarded her medal.
"This sport is new to us, and we didn't know what to expect," said their mother.
Kaitlyn brought home a flyer one day from school back in March and since they were interested in trying out, Terra Begay said they (her and her husband) thought it would be good for the girls to try something different and to stay physically active.
After attending their first practice and experiencing the physicality of the sport, the girls enjoyed learning moves and different techniques.
Terra Begay said during the girls' first practice with experienced orange and green belt fighters, a boy did a practice punch on Kaylee and she cried, but that didn't last long. She soon learned a few counter moves.
"Oh man, I was scared in the beginning," said Nikolai Begay, father to the girls, "to see my girls competing in a physical sport like karate."