Defense propels Monument Valley in win over Wingate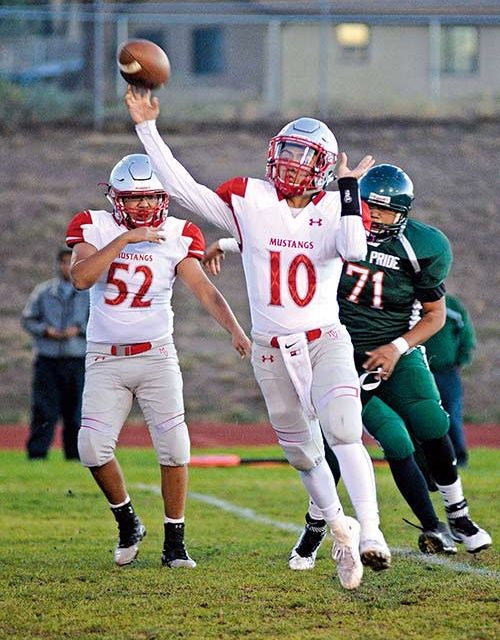 FORT DEFIANCE
Monument Valley head football coach Bryan Begay said the Mustangs' defense was key to their victory as they crushed the Wingate Bears, 56-6, in an interstate ball game in Wingate last Friday.
The game ended with 1:41 remaining in the third quarter, due to New Mexico's mercy rule. Monument Valley, 5-0, puts its unbeaten record on the line this Friday, when the Mustangs travel to Page, 3-3, to meet the Sand Devils in an important Class 3A North Region ball game at 7 p.m.
Begay said it was a good win for Monument Valley. He said the Mustangs started out quick, but had some mishaps dropping the ball. He said the Mustangs stepped up.
"The defense really did a good job in the first half in putting the offense in good position and getting turnovers," Begay said. "In the second half, the kickoff return was huge. We returned the ball for a touchdown to begin the second half. The offense put the needed points on the board."
Begay said he was happy that everyone who suited up got playing time and all players ended the game in good condition.
"We got great execution and quarterbacks Cauy Nelson and Jonah Hale did a great job trusting their teammates," he said. "We just finished the game and now we can get ready for Page. It wasn't the best game we've played all year. It was good for us to come out and compete. We've got some things we need to clean up before our game on the road next week."
---