Dogs blank Warriors, up record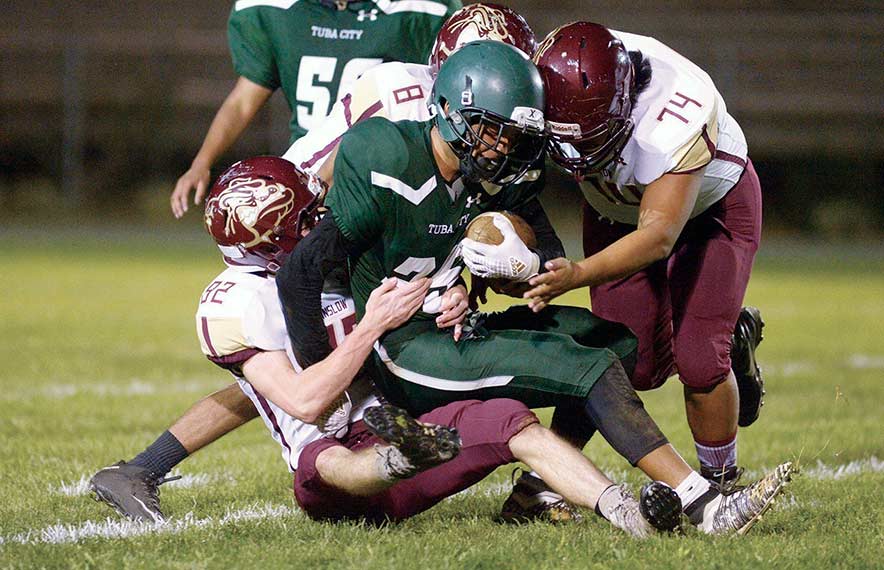 TUBA CITY
As is the case in five previous games, the Winslow football team controlled the line of scrimmage on both sides of the ball.
The Winslow linemen allowed their playmakers to make plays en route to a 43-0 victory over the Tuba City Warriors as they upped their record to 5-1 overall.
"Winslow is a really polished team," Warrior coach Vincent Lee said. "Winslow is a very physical and strong team. Their interior line on both offense and defense is by far the best we've seen all year. They were able to dominate us because they were physically big and strong. They played aggressive."
Winslow coach Brandon Guzman acknowledged his team's ability to dictate the game in the trenches but he was also praised the Tuba City squad for keeping a tight rein on his explosive team.
"I want to credit to Tuba City," Guzman said. "I think they did a good job tackling us. We have had big runs against Chinle, Monument Valley and Page. Tuba just sat and they played responsibility football. They did a good job of sending their linebackers to the point that we didn't have those big plays.
"We didn't have the big long runs for Mason Scott and, you know, Mason is our workhorse," he said. "He's over 900 yard rushing now this year through six game but Tuba did a good job tackling."
Scott rushed for 123 yards on 16 carries for two TDs, including one for a reception. Junior Robert Wilbanks added two rushing scores as he went 94 yards on seven carries.
Junior Aiden Kislingbury also carried the ball seven times for 78 yards and a TD. Defensively, Kislingbury returned a block punt for a 35-yard score.
"Our special teams didn't help much," Lee said. "But our defense has done some stuff we haven't done all year. Our linebackers, our defense linemen played their gaps so we got a lot of stops."
Unlike Winslow's brawny line, Lee said they have nothing but underclassmen manning the interior on both sides.
"In the trenches we're young but our guys are fighting," he said. "We're just not physically at the same level as some of these other teams like Winslow. That is a very good line and my hats off to them. We were not able to match their physicality."
The Bulldogs will resume 3A East play by hosting Show Low on Friday. Earlier this year, Winslow dropped its season opener to region foe Blue Ridge by a 41-21 count.
Guzman said he's excited about finishing out region play and with the way they are playing he likes their chances entering the last four weeks of the regular season.
"We have a good group of kids," Guzman said. "We have 21 seniors and I'm just real proud of them. They've done a good job for us because when they started high school football they weren't the best group. From freshman year to senior year they've really developed. They're playing really good football so I'm happy with their performances so far.
Guzman said if they can maintain the line of scrimmage they can compete with everybody in the 3A East.
"We're not going to necessarily dominate because Snowflake and Show Low have some big teams but it's going to come down to whoever blocks the best, whoever tackles the best usually wins the football game," he said. "And if we can do that with our big kids (Leander Keems, Britt Alcott, Cameron Wilbanks and Braden Williams) we should be able to hang with them."
Tuba City, meanwhile, will travel to Page for its 3A North Region opener on Friday. The Warriors might be down a few players with injuries, as they had to resort to having their third-string quarterback finish the game.
"Injuries are going to be an issue this week," Lee said. "We might have had some concussions but we don't know yet. They're going to be evaluated and if they do have concussions that means they're going to be out the whole week and that's going to be tough for us."
As for the other teams in the region, Lee feels that they match up well with Chinle, Ganado, Monument Valley and Window Rock.
"I think we're going to be competitive with them," he said. "I think we'll be able to move the ball and sustain drives against our region foes. Defensively, we're going to be able to make some stops.
"It's just a matter if our guys can execute," he said.
---