Rez golf tourney sees large turnout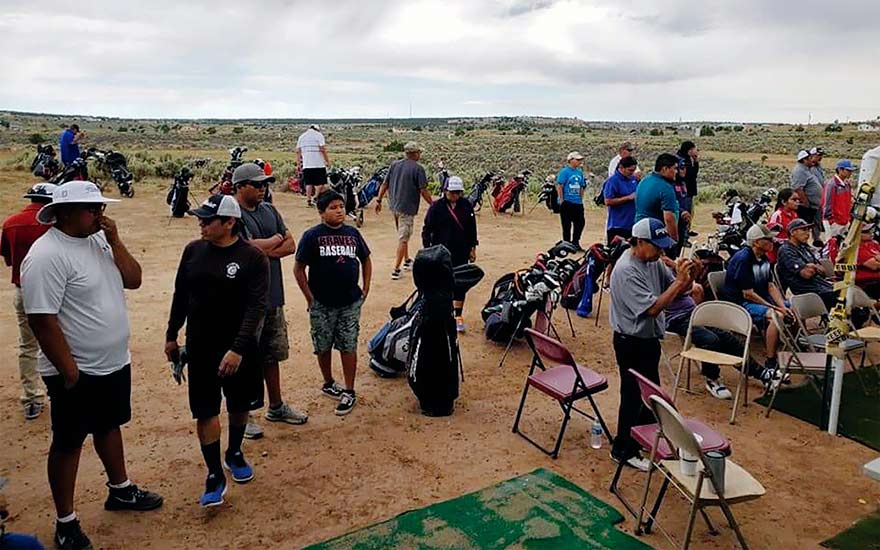 WINDOW ROCK
With 92 golfers taking part, the organizers of the 10th Annual Rez Golf Tournament had their plates full on Saturday.
"It's one of the better events we've had all these years," said Fred Yazzie, one of the organizers of the Rez Golf tourney. "We had a full lineup with 41 teams."
With the sheer numbers, Yazzie said Saturday's tournament became a record-setting year for the annual event, which is held at the now well-known Wagon Trail to Lonesome Pine Golf Course in Steamboat, Arizona.
"There were so many golfers out on Saturday and that was neat to watch," said Yazzie, while noting that a writer and photographer from the Los Angeles Times were there to cover the event.
"That is something that we dreamed of when we first started this golf course," he said. "We're starting to see more and more people come in and that is what happened on Saturday."
At last year's event, Yazzie said they had 68 golfers entered but this year that number swelled as the organizers placed five teams at each hole on their 9-hole golf course.
"Everything went smooth," he said. "Everybody really enjoyed themselves so it was a good day."
The winners of the 41-team tourney went to Albuquerque father/son duo Robert and Eric Frazier after they put together a flawless round of shooting.
The pair collected their third consecutive title and finished with a total of 61, which was five shots better than the Norman and Dwight Smith team.
"It means a lot to us," Eric said of winning the title. "That tournament is not like any tournaments we've played in. It's played on dirt and it's on the Navajo Reservation. We live in Albuquerque so we wanted to come back and play in it again."
Eric said they made only one birdie throughout the contest and even though they won the tournament by five shots they had their work cut out for them.
"It was just a lot of grinding," he said.
---