'My little bulldog': Young gymnast embraces sport, demand for practice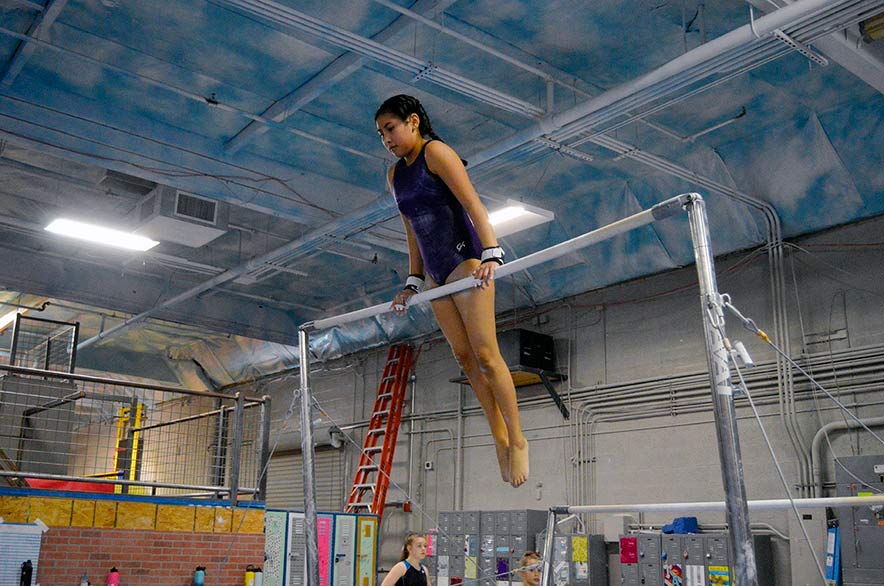 By Candace Begody
Special to the Times
MESA, Ariz.
When Naomi Burbank was three years old, she turned her mother's living room into her own personal gym. She created her own little obstacle course and would jump and tumble around on her mother's furniture.
"One day, I even caught her walking on a fence," said Tami Burbank, Naomi's mother, who is originally from Fish Point, Arizona.
"She would jump off the couches," Tami said. "I knew I needed to get her into an activity."
At first, Tami enrolled Naomi in dance.
"My mom put me in ballet and tap dance," said Naomi, an eighth-grader at Fees College Preparatory Middle School, "but I don't like to dance so she signed me up for gymnastics. I tried it and it was a lot of fun. I really like the routines and I just kept getting better at it."
Naomi has been training and competing in gymnastics ever since.
Today, she competes with the Desert Devils team out of Mesa and participants in all four women's events in the junior Olympic division including the floor routine, balance beam, uneven bars, and the vault.
The floor routine consists of dance and tumbling movements, and includes jumps, somersaults, handstands, cartwheels, among other moves – all performed without an apparatus.
On the balance beam, gymnasts perform a routine on an 8-foot long, 4-inch wide balancing surface and perform moves like handsprings, cartwheels, handstands, leaps, jumps, walkovers, and kicks.
"The beam is very balance-focused," said Hans Degnan, head coach for the Desert Devils team and Naomi's coach for the past five years. "There are some harder tumbling skills, on a higher and narrow surface. It is a very difficult event."
The uneven bars consist of swinging, casting, circling skills, dismounts, and other moves on a steel-framed apparatus, where the bars are placed at different heights and widths, allowing the gymnast to move from bar to bar.
Last, but not least, is the vault – Naomi's favorite event.
"The vault is a power event," said Degnan, where "she runs as fast as she can, hits the table, does a skill off the table."
It's not as easy as it sounds.
Gymnasts charge down a runway as fast as they can, jump onto a springboard that springs them onto the stationary table-like apparatus, and while in the air, gymnasts then perform their movement.
Movements can range from combination of a front handsprings, roundoffs, flips, and back handsprings, among others.
But one of the most basic – yet important movements – is executing the landing without any additional steps or errors, what gymnasts refer to as "stick it."
Each event has its own basic requirements and if those are met, points start at a 10 and from there, deductions can be taken based on execution, skill, technique and form, according to Degnan.
Progress does not come easy in this sport.
"It is one of the hardest sports out there," said Degnan, who competed with the Arizona State University's men's gymnastics teams before turning to coaching. "Coming here every day, doing what we do, it gives you a lot of mental focus, a lot of drive to continually better yourself.
"The conditioning regimen and the flexibility in itself is extremely difficult," added Degnan, "but it is also huge time commitment. These ladies train four hours a day, five days a week, easily over 20 hours a week. During competition time, in addition to the practice, they compete on the weekends."
Competition season goes from January to April. Naomi's most recent competition, the second meet of the season, was last month at the 10th annual Arizona Grand Invitational in Phoenix. She placed first in the vault, fourth in the uneven bars, and sixth overall.
"She is just a super hard worker," Degnan said of Naomi. "You can tell she loves to be here. She loves to train and workout and learn new things. As long as you have the passion and love for the sport, it can take you anywhere."
So far, Naomi has competed in meets in the Phoenix metro area, but competitions in Las Vegas and Hawaii are also scheduled.
Needless to say, the sport can get expensive.
According to Tami, team leotards alone range from about $700 and traveling with her daughter to competitions, paying for food and hotels out of their own pocket, adds up.
To help cover the costs, the mom-and-daughter duo supplement their current income by selling arts and crafts.
"Even Naomi makes buttons and sells them," said Tami, adding that she is looking into getting Naomi sponsorships to help cover costs.
Both Tami and Naomi have committed themselves to the sport. Her entire life is planned around practice and competitions. She even uses her physical education and elective credits toward practicing.
"Today, she is doing what she loves," said Tami. "She knows what she wants. She sets her goal and when she accomplishes that, she says, 'I want to do more, I will do more.'
"As long as she wants to do it and as long as she keeps her grades up, I am there and I am for it," added Tami. "She's developed a very good work ethic, she pushes herself, and she is very strong. She is my little bulldog."
---