Preserving identity: Youth see importance of keeping culture, language alive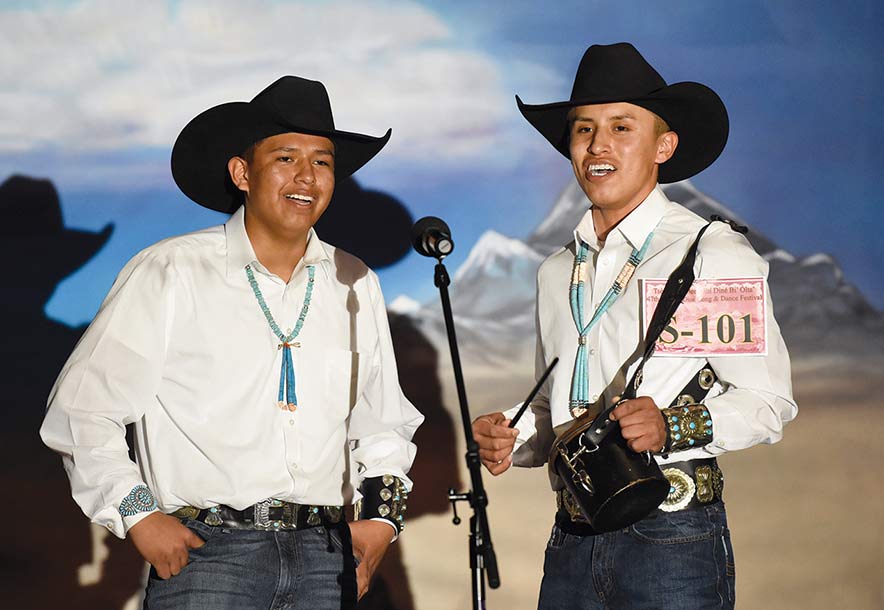 ROCK POINT, Ariz.
The singing from Taylor Begay and his little brother Dylon Begay engulfed the gym at the Rock Point Community School and the audience was so moved loud cheers began.
The boys were dressed in traditional attire, sporting felt hats, and were drumming on hand drums.
They were at ease and comfortable on stage, that was clear. The brothers were there to compete in the 47th annual Diné Song and Dance Festival.
The event is described as a festival but is actually a competition. Primary, intermediate and secondary schools all are allowed to compete.
The participants can compete as singers and groups, duos or even solo.
The Begay brothers came all the way from Blanding, Utah, to compete. They're originally from Red Mesa, Utah, and go to San Juan High in Blanding. Taylor is a junior and Dylan is a freshman.
However, this event was more than just a competition for them. It's a way to celebrate Navajo identity.
"I believe Navajo culture is important because it's the identity of the Navajo Nation people," Taylor said. "If we lose that then we don't have an identity. We'll be a lost society such as other societies out in the world who have had their cultures extinguished by other cultures or races."
A big part of Navajo culture is k'é and Taylor, without being prompted, acknowledged all the young men who are part of the group as his brothers.
Taylor, 16, gestured to the other four and said, "We're all brothers."
Dylon Begay is Taylor's younger brother. The other young men – Adam Black, Ke-yon Frank and Conner Blackhorse – are a mixture of clan and cousin brothers.
But nonetheless they're all brothers and classmates at San Juan High School.
All five of the young men understood how important it is for them to learn their roles as Navajo cultural carriers.
"It's a great honor but it's quite the job," Taylor said. "As a young person learning my culture, I have to know what this is and what this goes for and what these do. But it's really fun."
Taylor understands it can be challenging for younger people to learn their roles during cultural events but to push past that discomfort of the unknown.
"I think more young people should get involved and learn their ways that was once hidden," Taylor said. "Don't be afraid of what other people will say – they're just scared. From my experience a lot of people don't know what it is and they've never seen it. But once you showcase it then they're more involved."
This is why they like to showcase parts of Navajo culture. Taylor also enjoys the perks that come with competing in events.
"The reason I like to perform and compete is because the interaction and I get to meet new people," Taylor said. "I've got to see new places. It's a fun experience."
Taylor hopes that seeing someone their age performing will encourage other young people to get more involved in their communities and to learn about their culture.
"Learn your ways. Learn where your people come from. Learn who you are," Taylor said. "Because way back when, somebody was trying to extinguish that or eliminate that from your people or from your family."
It's important for Dylon Begay to help preserve the Navajo language.
"I don't want the Navajo language to die. I don't want it to become a dead language," Dylon said.
Dylon gave the example of the ancient Greek language, which is considered a dead language. A dead language is defined as "a language that is no longer spoken by anyone as their main language," according to the Cambridge Dictionary.
Other dead languages include Latin and Sanskrit.
This is why Dylon continues to learn the Navajo language.
This is also a worry for 15-year-old Adam Black.
"It's important to participate in Navajo culture so our culture doesn't die later on," Black said, "so we can keep it living."
Being able to participate in cultural events like the festival has also taught Black that there is a lot of diversity in Navajo communities when it comes to culture.
"We can see different variations here and there," he said.
Preserving the language is also super important for Conner Blackhorse and is why he continues to compete in these types of competitions. He also enjoys showcasing his culture and honoring the people who taught him.
"My dad and my grandfather taught me about the different ways of Navajo culture," Blackhorse, who is a senior in high school, said.
He hopes other young people will also start to learn about the Navajo language and culture.
Ke-yon Frank, a sophomore, was also taught the Navajo culture by the men in his family.
"My dad he taught me everything I know, all these ceremonies" Frank said proudly.
Thanks to his father, Frank is a culture carrier for three different ceremonies – Ndaa', Yei Bi Chei and Fire Dance.
Frank is very honored and happy to know these ceremonies.
"It makes me proud that I'm carrying on these traditions," Frank said. "It's making my family proud that I can do this and helping them."
Frank hopes others their age will also continue to learn the Navajo language and culture.
"We can help by learning these ceremonies," Frank said.
---