Navajo Times to honor All-Stars April 9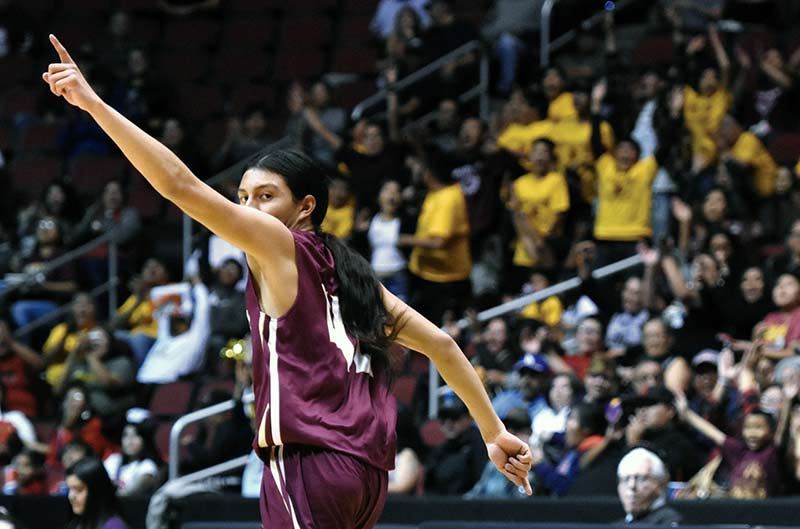 WINDOW ROCK
With the spring sports season in full swing there are a few loose ends that we have to tie up concerning the previous five months.
As always the Navajo Times reached out to our area coaches for nominations as we get ready to close the final curtain on the 2017-18 Winter Sports season.
With the help of my esteemed colleague Sunnie R. Clahchischiligi we feel like we came up with a fair list of All-Stars.
On Monday, April 9 we will honor these individuals at an awards ceremony at the Phil Thomas Performing Arts Center in Shiprock. This event is free and open to the public.
The doors will open at 9 a.m. with the first photo session beginning at 10 a.m. All athletes named to the all-star list are encouraged to bring their uniform tops.
Following the photo session we will go directly to the awards ceremony and at that time we will name our Athletes and Coaches of the Year.
Information: 928-871-1130.
Girls basketball
Dawnique Ganadonegro, Alamo Navajo
Cle Nah Pay Yazzie, Alamo Navajo
Felicia Suttle, Alchesay
Samantha Quigley, American Leadership Academy
Tiffany Quigley, American Leadership Academy
Brandy Alcantar, Bloomfield
Stacey Begay, Chinle
Amanda Antone, Chinle
Kortnee Begay, Coconino
Daliah Begay, Crownpoint
Neola Toledo, Cuba
Alyssa Toledo, Cuba
Monique Ware, Flagstaff
Mikaila Kayaani-Lee, Flagstaff
Ashley Edison, Flagstaff
Kaitlynn Hinton, Fort Thomas
Robyn Olivar, Fort Thomas
Ashley Antone, Gallup
Leona Smith, Gallup
Journey Gillison, Gallup
Amber James, Ganado
Janaya McIntosh, Ganado
Camille Uentillie, Ganado
Madison Chappell, Holbrook
Jaeda Honani, Hopi
Talia Ockerman, Kirtland Central
Haile Gleason, Kirtland Central
Shinae Wagner, Many Farms
Hannah Murphy, Miyamura
Tayla Nez, Monument Valley
Briana Gillis, Monument Valley
Jazlyn Lane, Monument Valley
Ervianne Cly, Monument Valley, Utah
Jamika Nelson, Monument Valley, Utah
Jordan Louis, Navajo Pine
Taina Sandoval, Navajo Prep
Shundiina Fisaga, Navajo Prep
Hannah Begay, Newcomb
Lelisa Watson, Page
Jacey Salabiye, Page
Mikala Benally, Page
Myka Taliman, Page
Alexis Long, Piedra Vista
Haillie Blackie, Piedra Vista
Cheyenne Harrison, Pine Hill
Maurie Daniels, Pine Hill
Amaya Yazzie, Piñon
Codi Flores, Portales
Meaghan Cheromiah, Red Mesa
Ashley Begay, Red Mesa
Halle Lizer, Rehoboth
Kennedi Chapman, Rehoboth
Christin Bahe, Rock Point
Lara Begay, Rock Point
Hunter Garcia, Santa Fe Indian
Iris Emery, Santa Fe Indian
Kylie McKinley, Shiprock
Tia Woods, Shiprock
Jalynn Smith, St. Michael
Delila Nakaidinae, St. Michael
Sydney Terry, St. Michael
Ali Upshaw, St. Michael
Audrey Harrison, To'Hajiilee
Alexis Toledo, To'Hajiilee
Kalian Mitchell, Tohatchi
Samantha Belone, Tohatchi
Krystal Benally, Tohatchi
Janiece Comanche, Tsé Yi' Gai
Lakoda Jim, Tsé Yi' Gai
Autumn Byjoe, Tuba City
Kourtney Posey, Tuba City
Valiyah Yazzie, Valley
Nizhoni James, Valley
Anna Gorman, Valley Christian
Venessa James, Window Rock
Haley Talkalai, Window Rock
Jana Solee, Window Rock
Dellena Payton, Wingate
Justine Butterfield, Winslow
Brianna Little, Winslow
Alexis Leekela, Zuni
Boys basketball
Harley Upton, Alchesay
San Juan Slick, Alchesay
Tyreck Cosay, Alchesay
Tanner Brooks, Aztec
Mason Berges, Blue Ridge
Darrien Burnette, Blue Ridge
Corey Endfield, Blue Ridge
Cooper Burbank, Chinle
Angelo Lewis, Chinle
Chance Harvey, Chinle
Anthony James, Crownpoint
Kobe Talgo, Fort Thomas
Malachai Rogers, Fort Thomas
Zakarri Fields, Gallup
Justin Curley, Ganado
Zaden Salabye, Greyhills
Robert Burries, Globe
Tyrell Nelson, Holbrook
Terrance Kelly, Holbrook
Trey Lomayestewa, Hopi
Steven Baker, Hopi
Matthew Fields, Joseph City
Latrell Kinlicheenie, Joseph City
Jacobson Begay, Joseph City
Bryson Dowdy, Kirtland Central
Jariah Setzer, Kirtland Central
Nathan Enoah, Kirtland Central
Jorrell Mirabal, Magdalena
Richie Chavez, Magdalena
Lionel Nez, Many Farms
Gymon Todacheene, Many Farms
Pablo Martinez, Many Farms
Gabriel Lee Jr., Miyamura
Presley Nelson, Miyamura
McKendrick Yazzie, Monument Valley
Roland Catron, Navajo Pine
Garrett Bia, Navajo Prep
Tyler Pete, Navajo Prep
Deondre Begay, Newcomb
Deontay Begay, Newcomb
Kelkenny Watchman, Newcomb
Colby Lapahie, Northwest
Lane Dempsey, Page
Jonah Larson, Page
Jarrett Graham, Piedra Vista
Shanden Todacheeny, Piedra Vista
Terrell Todacheeny, Piedra Vista
Joseph Ladon, Pine Hill
Enrique Segay, Pinon
Brian Denny, Pinon
Sean Diaz, Ramah
Garrett Benally, Red Mesa
Hunter Pipkin, Red Resa
Quentin Friday, Red Mesa
Kevin Henry, Rehoboth
Dylan Descheny, Rock Point
Isaac Salabiye, Rock Point
Al Case Jr., San Carlos
Michael Antonio, San Carlos
Christian Nosie, San Carlos
Arvin Begay, Shiprock
Cota Nahkai, Shiprock
Gerald Ben Jr., St. Michael
Cordell Cook, Thoreau
Cordell Platero, Thoreau
Bryan Chee, Tohatchi
Trevor Platero, To'Hajiilee
Jayshawn Guerro, To'Hajiilee
Jacob Trujillo, Tsé Yi' Gai
Tristan Yazzie, Tuba City
Laramie Semallie, Valley
Cordell Lasiloo, Valley
Tristan Nez, Window Rock
Leon Alonzo, Wingate
David Juan, Wingate
Ricardo Villanueva, Winslow
Landers Shelendewa, Zuni
Wrestling
Christian Robison, Aztec
Josiah Griego, Aztec
Logan Thorpe, Aztec
Zane Chapman, Aztec
Luke Whitley, Bloomfield
Michael DeHerrera, Bloomfield
Lane Rightmire, Bloomfield
Keene Todacheene, Camp Verde
Nathan Wagner Jr., Chinle
Juan Curley III, Chinle
Tyler Esquivel, Chinle
Mark Loera, Cibola
Traedan Allison, Farmington
Dante Norberto, Farmington
Kowyn Becenti, Farmington
Zackary Small, Farmington
Joseph Baca, Gallup
Neveah Young, Gallup
Laken Wauneka, Ganado
Toby Yazzie, Ganado
Tristan Benallie, Ganado
Tony Shirley, Ganado
Richard James, Ganado
Kurstain Martines, Grants
Pope Mariano, Grants
Toa Sanchez, Grants
Jalen Platero, Kirtland Central
Meras Madrid, Kirtland Central
Ian Thomas, Kirtland Central
Nancy Rodriquez, Miyamura
Yele Aycock, Miyamura
Shandiin Largo, Miyamura
Enrique Diaz, Miyamura
Drake Guerro, Miyamura
Elisha Begay, Monument Valley
Winston Mike, Monument Valley
Tyler Tsingine, Monument Valley
Arika Peacock, Monument Valley
Tanner Tsinigine, Monument Valley, Utah
Cleve Atene, Monument Valley, Utah
Tyler Howe, Newcomb
Aanor Begay, Newcomb
Kameron Whitewater, Page
Hayden Gracia, Page
Christian Penrod, Page
Dorian Daw, Page
Taylor Nez, Page
Wes Rayburn, Piedra Vista
Nick Rino, Piedra Vista
Steven Torres, Piedra Vista
Jesus Espino, Piedra Vista
Calvert Tsosie, Piñon
Dylan Blackwater, Red Mesa
Roland Begay, Red Mesa
Karl Bigman, Red Mesa
Cauy Ute, Shiprock
Sapphire Williams, Shiprock
Princess Altisis, Shiprock
Jenelle Redhouse, Shiprock
Latrell Ben, Shiprock
Clay Nez, Tuba City
Jacob Coin, Tuba City
Tarris Begaye, Tuba City
Jimmizan Redhorse, Window Rock
Shawny Sam, Window Rock
Martin Byjoe, Window Rock
Kayla Chee, Window Rock
Erin Lewis, Wingate
Melayna Patton, Wingate
Carlos Ration, Wingate
Cody Ramone, Wingate
Christopher Martin, Wingate
Deseree Bryant, Wingate
Anfernee Becenti, Wingate
Marquez Hathale, Whitehorse
Ronnie Chico, Whitehorse
Ali Foster, Winslow
Michael Densmore, Winslow
Preston Betoney, Winslow
---