Owen St. Clair becomes first Native American on NFHS sports board of directors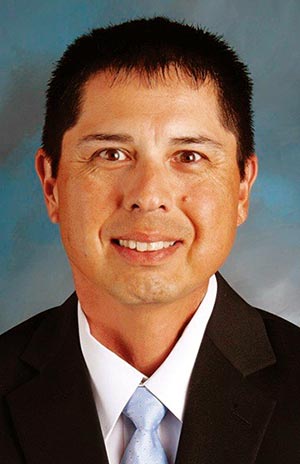 WINDOW ROCK
Owen St. Clair has become the first Native American selected to the National Federation High School sports board of directors.
St. Clair, a Navajo / Pawnee, is currently Fremont County School District No. 14 Superintendent of Schools / Wyoming Indian Schools in Ethete, Wyoming. He has lived on the Wind River Indian Reservation throughout his entire life.
St. Clair replaces outgoing board of directors member Dr. Anna Battle, formerly of Winslow, and now Superintendent for the Tempe Unified School District.
St. Clair said the NFHS has an at-large board member on their board of directors. He said every four years it rotates through the different sections in the United States that make up member states that belong to the NFHS.
"It was Wyoming's rotation in the schedule," St. Clair said. "The at-large board members had to be either a minority or a woman and currently serve on the Wyoming High School Activities Associations board of directors. This is a 4-year term. I was selected during the past school year."
St. Clair said the selection on the board of directors surprised him. He said Ron Laird, commissioner of the Wyoming High School Activities Association, approached him 1.5 years ago about an opportunity to serve on this board of directors.
"Only one other person from Wyoming has served on this board and that was over 50 years ago," he said. "My term on the WHSAA board of directors was supposed to end this past school year, but the current board of directors suspended the rules to allow me to serve on the NFHS board of directors. I am very much appreciative of the WHSAA board of directors and to Ron Laird for the support of confidence in this role."
---