Consistency paying off for local team ropers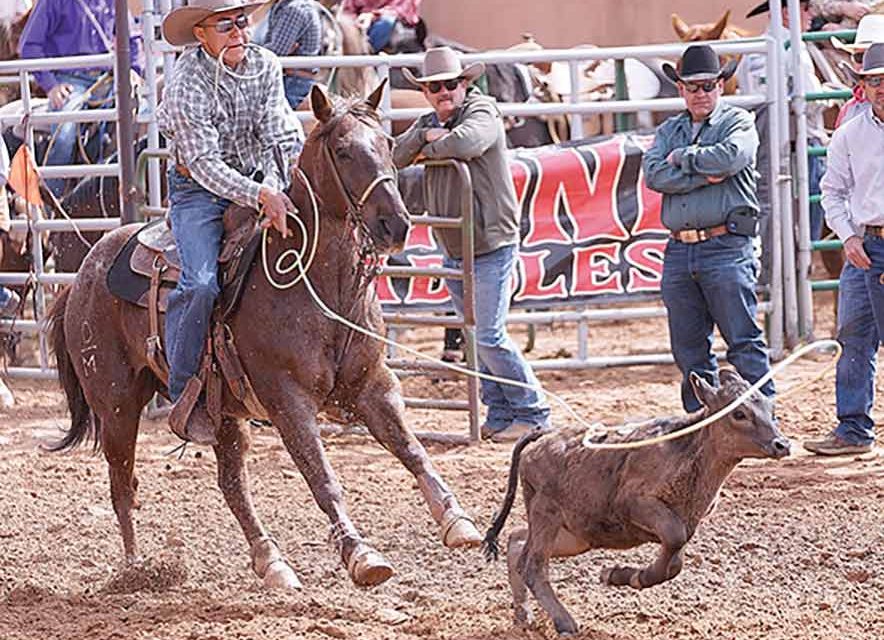 CHURCH ROCK, N.M.
Of all the team ropers in the New Mexico High School Rodeo Association, Dylan Rector and Laramie Martinez have become the most consistent.
They are leading the year-end standings with 84 points each as the pair posted a first place run of 6.82 seconds in the opening round and a third place effort of 8.04 seconds in the second.
"I think we did good," said Martinez a Diné from Aztec, New Mexico. "I mean, we caught both of them; we did the best we could do out there."
The pair placed second in the average race with an aggregate of 14.86 seconds.
They finished behind the team of Lyvan Gonzalez and Cason Hatley as the pair turned in two runs in 14.6 seconds.
Since the rodeo season started last fall, Martinez said they have yet to win the average title at the seven rodeos they've competed in.
"It's kind of surprising that we haven't done that, but we've been catching all of our steers," he said. "We've maybe missed one or two this year. Other than that, we've been catching. "With only two rodeos left this year, the Piedra Vista junior is expected to make nationals with his heading partner.
"We're excited about going," he said. "This is my first qualification at the high school level. I made it the junior high finals my seventh grade year and I ended up third in the world in the (boys) breakaway."
Martinez said he's known Rector since they were little. It wasn't until a couple of years ago when they started to socialize more with one another.
"We started to hang out a lot, and now I consider him my brother," he said. "He lives in Blanco New Mexico and we rope quite a bit at our place in Aztec, so we talk all the time."
Martinez said his heading partner has been doing a great job and in a few rodeos Rector has had to safety up.
"He likes to kick it over and get one more swing," he said. "He want to make sure he catches because if we miss and the other team catches they're going to get even with us."
Martinez was referring to the Gonzalez/Hatley pair as those two cowboys have earned 74 points each for second place in the season standings.
"They're a really tough team," he said. "We just got to keep doing what we're doing and hope for the best."
And while the pair is in the driver's seat for a state title, Martinez said they have to stay consistent if they want to win the coveted year-end saddles.
"It'd be cool if I can help Dylan win a state title because it's his last year," he said.
In addition to team roping, Martinez also competes in the calf roping. At the Gallup rodeo, he didn't earn any points.
He had a no time on Saturday, and on Sunday he turned in a 20-plus second run as he missed placing in the top 10.
"It's up and down," he said. "I mean, the calves haven't been the greatest all year. You don't know if they're gonna run or walk out. It's just the luck of the draw. You just gotta do your best. You can't blame yourself or the horse. The calves are just uneven and you gotta do the best you can."
---