Dennison drops to 9th in barrel racing at WNFR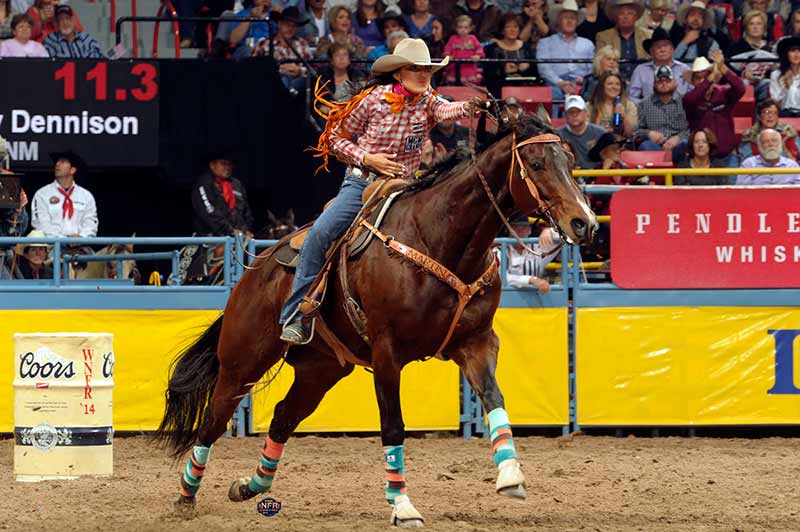 WINDOW ROCK
After an impressive start at the 2014 Wrangler National Finals Rodeo, Navajo cowgirl Kassidy Dennison has dropped to ninth place in the average race.
Through six performances at the Thomas & Mack Center in Las Vegas, Nev., Dennison has an aggregate of 94.84 after dropping a barrel in both the fifth and sixth round.
Nonetheless the Tohatchi, N.M., cowgirl did placed second in the second round with a 14.31 run and in the next round she covered the clover leaf pattern in 13.94 seconds for a first place finish.
Dennison credited her 9-year-old gelding Eagle for helping her turn corners as the pair has banked $34,000 thus far in the 10-day event.
"He's pretty special," Dennison said on Saturday night during the buckle award ceremony. "He's nine years old and he's originally from Indiana."
In the team-roping event, Tuba City cowboy Aaron Tsinigine finally earned a check as a first-time qualifier with veteran team roper Clay O'Brien Cooper. The pair won the sixth round with a 4.00 run after recording four previous runs with penalties.
"This first round (win) means everything to me," Tsinigine said to Kadee Coffman, the CBS Sports Net commentator. "I've been watching this on TV ever since I was a little kid and I finally get to stand here with Clay O'Brien Cooper, which makes it all feel good.
"I don't feel like I'm a rookie," he said, "because I watched this rodeo a million times so I know what's going on."