MV Cougars looking for successful season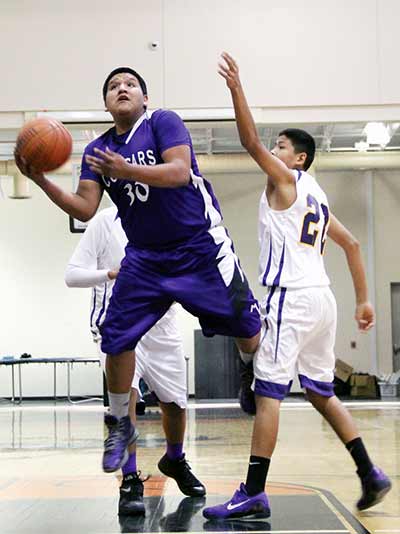 FARMINGTON
The Monument Valley (Utah) Cougars are not the same team they were last season.
This year they're bigger and stronger and, if you ask them, have a good chance at making another run for the Utah High School Activities Association 1A boys' basketball state title.
Monument Valley head coach Delbert Dixon said he has high expectations for his team after seeing how they performed at the Navajo Prep Classic last weekend where they finished in third place after defeating Navajo Prep, 60-54.
"Considering last year's team, I think we're a lot stronger, we're a better team and we're more of a up-tempo team," he said. "I told them it's going to be taking state this year."
Some of those players behind the strength and disciplined team Dixon sees are captains Sergio Morales, Kurtis Holliday and Daniel MaaFala.
The three were contributors to last season's team that finished third in Region 1A-19 and reached the quarterfinals of the state tournament.
Morales leads from the top of the key as a point guard and is last season's top 10 all-region player.
He said he believes the team will make it further than the quarterfinals.
"We can take this game and keep on going and win more games and make our way to state," Morales said. "We have a good chance at winning state. We got a good team and we got a lot of good shooters."
Monument Valley defeated the Kirtland Central junior varsity in the Navajo Prep tournament before losing to the Durango JV in the semifinals.
For their first three of four games of the season, Dixon said it says a lot about where his team is this early in the season.
"Right now I think we're doing pretty good considering a second game jitters and stuff like that," he said. "There's about four of five guys on the team that can shoot the lights out any night. This year we're just hitting the court running."