Locals win average titles in high school rodeo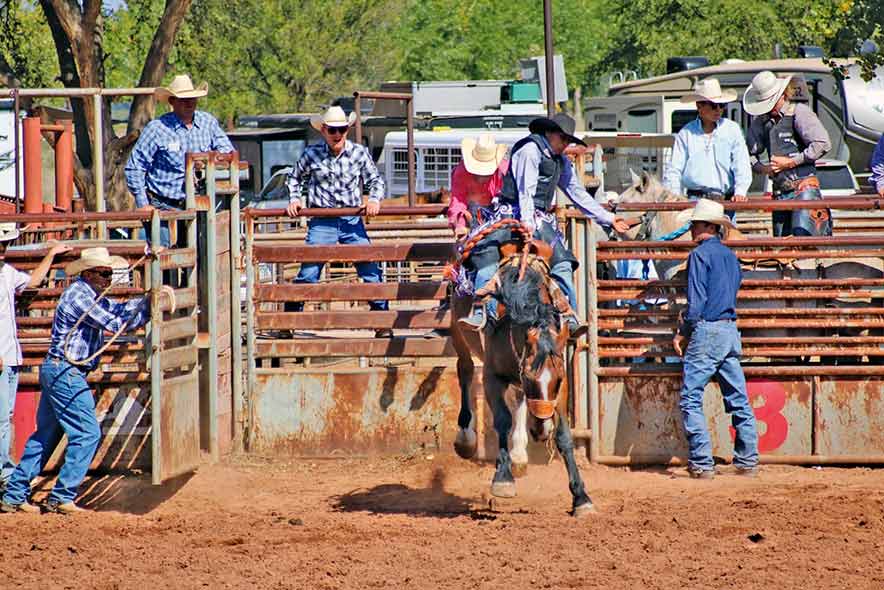 WINDOW ROCK
After earning no points in her last high school rodeo, Kadin Jodie felt the need to redeem herself.
The Mulholland Well, New Mexico cowgirl won the average in the breakaway event in Fort Sumner, New Mexico over the weekend.
The Crownpoint High sophomore placed first in the opening round with a 2.87 effort before ending the two-day rodeo with a fifth-place finish on Sunday in a New Mexico High School Rodeo Association sanctioned event.
"It feels good to win my first high school rodeo buckle," Jodie said. "It took me three rodeos to finally win this."
Thoreau cowboy Oistin Charleston was another event champion as the Rehoboth Christian junior finished first in Saturday's rodeo.
"It was fun," Charleston said of his 35-point ride. "It was just like a rush. It got my adrenaline running but it was kind of hard to get a spurring motion on him."
As for Sunday's round, Charleston said he "double grabbed" his horse before the buzzer and recorded a no score.
As the only rider to cover a horse this season, Charleston is holding down the No. 1 spot in the season standings with 10 points.
"The horses are real difficult to ride," Charleston said. "They're a step up than your normal horses. They're pretty rank, something close to the PRCA. They're really big tough horses."
After two no-scores at the previous high school rodeo, Charleston said he was pleased that he got his first horse covered as he is looking forward to the rest of the season.
Jodie, meanwhile, has competed in three NMHSRA rodeos and in her debut with the association she finished as the reserve champion earlier last month during the Landmark High School Rodeo in Mesquite, New Mexico.
At that same arena three weeks ago she didn't fare as well as she was assessed a 10-second penalty in her first run, which was followed by a no-time in the second round.
"I just had a bad weekend," she said of her try earlier this month. "I broke out that first day and I got pushed out so I didn't get any points."
Nevertheless, she didn't dwell on that. She looked like a savvy veteran despite being one of the fresher ropers in the circuit.
"This past weekend put me back up in the standings," she said.
By her estimation, Jodie said she's sitting in the top four among a strong field of ropers.
"It's going to be tough because everyone is aggressive," she said. "You have to be consistent if you want to make nationals."
In both of her runs, Jodie said she had the luxury of being placed in the second section as she had a chance to see her two draws perform.
"The calves were fresh but I got a chance to see them run," she said. "I knew I had to let my calf move first; otherwise I would have broken out."
In her first attempt she timed it right but in her second run she was a tad off.
"I was a little bit late and he took off," she said. "I went further down the arena to catch him."
Other top performers include Diné team roper Faron Candelaria Jr. and his roping partner Calvin Taylor Jr. (See separate story)
The two ropers won the average with a pair of first-place runs.
In the goat-tying event, Crownpoint cowgirl Tyra Tsosie placed eighth in Saturday's rodeo with a 9.18.
Results for Sunday's events were not posted at press time.
---