Rock Point cowgirl eyes national title on trusted horse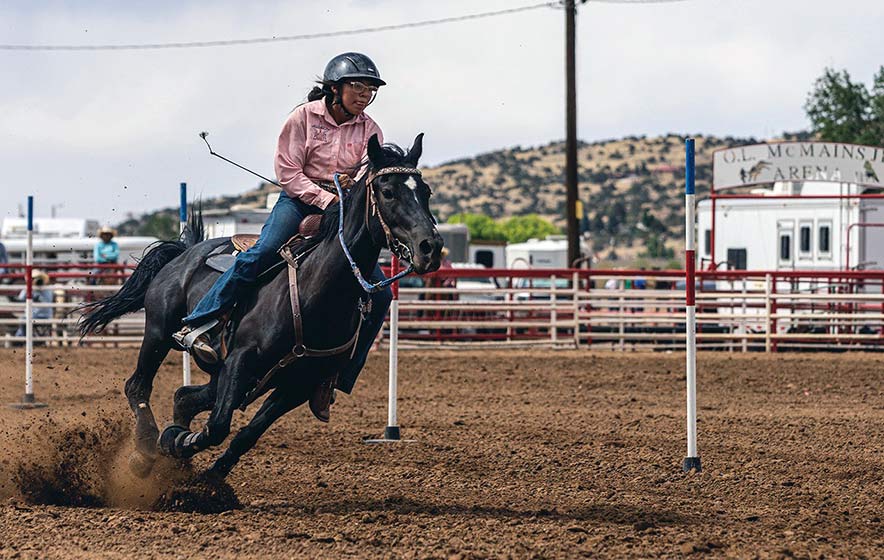 GRANTS, N.M.
Oodessa Barlow continues to count her blessings.
The Rock Point, Arizona, cowgirl stumbled upon an unproven horse that the family bought for a few hundred bucks.
"She's just amazing," Eugene Barlow said of his daughter's horse, Journey. "She's like a gift. It's one of those things to where we paid a couple hundred for this horse and she's won five saddles and at least 30 buckles."
The Barlow family purchased the horse from Robbie Taylor Sr. of Chinle. According to Eugene, the Chinle rancher tried to sell Journey to other people but they passed on her.
"They were saying she's too small," the Barlow patriarch said. "She also had a gash on her right front leg and she still had stitches, so everyone passed on her.
"We took a chance on her and the gash eventually healed," he added.
Eugene said they were looking for something that Oodessa can ride around their Rock Point farmstead, but instead they found a diamond in the rough with Journey.
"She's one of a kind," Eugene said. "You know, she's part Arabian, so she's really ornery and she doesn't like to be around other horses, but she's amazing."
And although she's small in stature, Eugene said his daughter's horse has a lot of heart.
"We have a lot of horse that are bred this way and bred that way, but I wish they had the same heart as her," he said.
Oodessa purchased Journey in 2018 with her mom Irene Littleben, and when they first got her she didn't know how to do poles, barrels or goat tying.
Fast forward four years, the pair recently captured the state title in the pole bending event in the Arizona Junior High Rodeo Association.
They did it dominating fashion as the home-schooled cowgirl won the year-end title with 152 points with second-place finisher Lexie Miller of Sonoita, Arizona, racking up 107 points.
"We really understand each other," Oodessa said of the connection she has with her horse.
Eugene added this perspective, "I think it's more because of her size."
"She's so small and when she turns those corners she's pretty fast and that's what I see," he said. "She's so narrow and to me that makes a difference (against) these bigger and faster horses."
At the state finals last month, Oodessa nearly won the event straight across, earning first-place runs in the first and second round before placing second in the third round.
Her three-run aggregate totaled 62.319 seconds.
"I tried to tell her to make some safe runs at the finals, and she disobeyed my orders," Eugene said. "I saw some poles (sway) when she was coming back, but she ended up winning it, so it's all good."
With the state title in the bag, Oodessa said she wanted to challenge her horse in preparation for next week's National Junior High Rodeo Finals, which will be held in in Perry, Georgia, at the Georgia National Fairgrounds.
"I went against my dad's wishes, but my horses does better when we're aggressive," she said.
She's going to use that same mentality for nationals as she is set up to get her first run on Sunday night. Her second run won't take place until the end of next week when she competes on Saturday morning on June 25.
"I want to come in first," she said. "I want to make the short round and make three nice runs and finish first at nationals."
Eugene said he likes his daughter's odds at bringing home a national title in her second straight qualification. Last year she went to Des Moines, Iowa, and she did not make the top 20 for the short round.
"She has a good chance this year," he said. "Last year it was kind of my fault. I wasn't there and I told her to do a safe run but doing a safe run at nationals is not going to pay.
"You gotta be able to thread the needle to get into the top 10, top 5," he added.
Oodessa said she's looking to shoot in the low 20s with all of her runs.
"That is what I'm aiming for," she said. "I got into the high 20s at the Arizona junior high finals. I'm going to work on getting closer to my poles, and just pushing her on the way back."
---