Segay becomes Ariz.'s top qualifier for nationals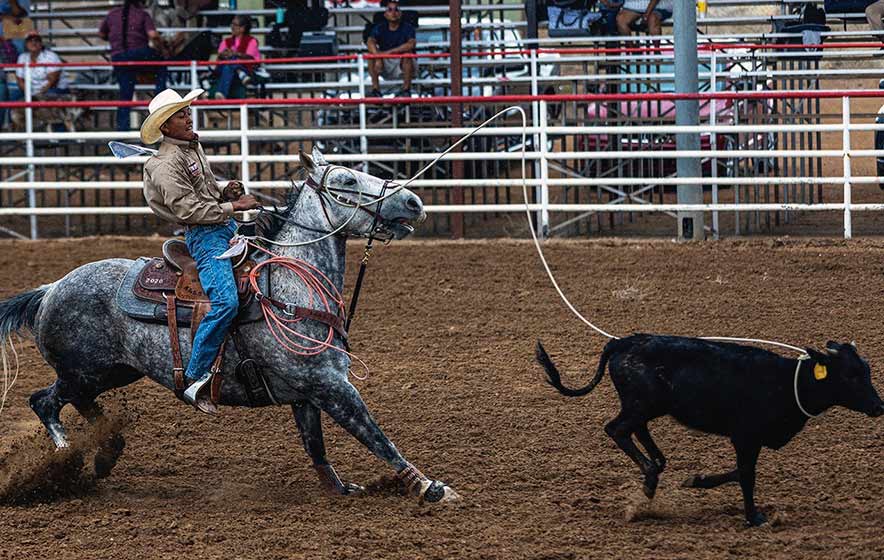 GRANTS, N.M.
A year after finishing as the reserve state champion, Colby Segay flipped the script in his final season competing in the Arizona Junior High School Rodeo Association.
The Fort Defiance cowboy captured the state title in the boys' breakaway, winning the year-end with 127.5 points.
He beat out Phoenix roper Ryker Sarchett by a mere 7.5 points while Page's Kaleb Nez took third with 90 points. Las Vegas, Nevada, cowboy Kash Jepson was a distant fourth with 78 points.
"I did really good this year," Segay said. "I placed in every rodeo, and I won the average at most of the rodeos, so it worked out good.
"I felt like I was ready for it," he added. "I was more motivated to win that state championship."
Segay, who completed his eighth grade year at Tséhootsooi' Middle School, is Arizona's top qualifier for next week's National Junior High Finals Rodeo.
This is second consecutive trip to nationals with the finals starting on Sunday and ending on June 25 with the short round performance at the Georgia National Fairgrounds in Perry, Georgia.
In addition to boys' breakaway, Segay also got qualified in two other events as he placed third in the bull riding and fourth in the team roping.
His parents are Cordell and Vanessa Segay.
"We're very proud of him," his mom said. "As parents, we just support his love for rodeo. We're just overwhelmed with his second qualification with his three events."
The Segay matriarch said her son was very consistent throughout the year as he emerged on top of the season standings.
"There were about three, four contestants that, you know, juggle between first and fourth place," she said. "He led from the beginning and he dropped to second and then third."
But at the end of the season, Colby found the momentum he needed to ride out the season on top.
"The last three rodeos he won those rodeos and he moved back to first place," she said. "The competition on the Arizona side is very competitive, so he just stayed focused. Not only him, but his horse too. He has a good mount on him."
The trusted mount he uses for roping is Mickey, a horse that he's had for three years. He also has a painted horse named Jesse.
"My horses help out a lot," Colby said. "They're the ones that are the real athletes out there, getting on the ground. They help me get my accomplishments and I'm really grateful to have them."
The fourth generation cowboy was looking to win a second state title in the bull riding as he racked up 98 season points.
Event winner JR Merritt of Taylor, Arizona, won it with 131.75 points.
"Last year I made it to nationals, so I was gonna work harder to get that year-end title," he said of bull riding. "I just came up short."
Nonetheless, he rode most of his bulls while earning some average wins.
As for the team roping, Segay roped with fellow bull-rider Sean Bastin of San Tan Valley, Arizona, to earn his first qualification in that event.
"Last year I started it, but I didn't go all the way," he said. "This year I finished it and my partner is a good roper. He's also a bull rider too. We're pretty good buddies."
Colby also competed in the ribbon roping, goat tying and chute dogging and with those six events he came close to winning the boys' all-around title.
All-around winner Nolan Anderson of Casa Grande, Arizona, amassed 542 points while Colby finished with 507 points.
"He had a really good state finals," Vanessa said of her son. "He placed in all of his events and he won the all-around."
Going into the state finals, Colby said he was sitting third in the all-around race and he saw it as an opportunity to make some points.
"They were giving out double points so I had to push myself," he said. "I had to work really hard to get up in the all-around standing and ended up as the reserve all-around champion."
With national experience, Colby said he looking to bring home some hardware at the conclusion of next week's finals.
"I know what the competition is like and it's going to be tough," he said. "But I believe I can be up there with them and getting on top."
The soon-to-be freshman said he couldn't do all this without his immediate family, which includes paternal grandparents Andrew and Cornelia Segay and maternal grandparents DJ and Violet Ben.
"My support system has been very good," he said. "Both my grandparents have come out and supported us (sibling included). They watched us rodeo and they've been a lot of help."
As for his parents, Colby said, "they're good teachers and they got me to where I'm now by raising me right."