Tohono O'odham cowboy wins INFR in his debut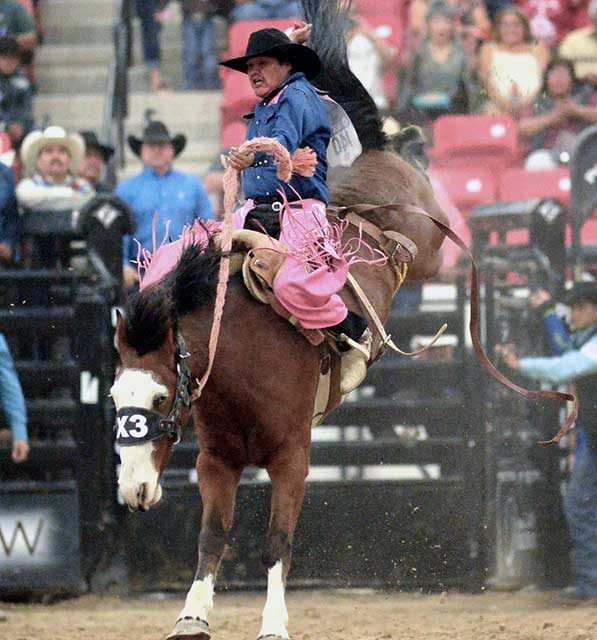 LAS VEGAS, Nev.
Six months ago, saddle-bronc rider Jay Joaquin had no plans of buying his membership card for the Indian National Finals Rodeo.
For a good part of the year the Tohono O'odham cowboy concentrated on winning the College National Finals Rodeo, which was held in Casper, Wyoming, in mid-June.
At the urging of top INFR brass, Joaquin bought his card and competed in the Navajo Nation Rodeo Association. As the year-end winner, he earned his first INFR qualification and made good in his debut.
Joaquin won his first world title by riding four draws with an aggregate of 305 points at the South Point Arena & Equestrian Center.
"Winning this was not at the back of my mind six months ago," Joaquin said. "I just got back from the college finals and I got a bunch of support from the INFR to buy my card. Everything just panned out for me."
Coming into the INFR, Joaquin said the plan was to ride all four of his stock as he won the average race rather comfortably with reserve champion Kaden Deal a distant second with 289 points.
"I wanted to be as consistent as possible," he said, adding that winning the title had not hit him late Saturday night.
"I had a real good year and I had a lot of support from family, especially from my parents and my brother Sky," he said. "They have been supporting me all year and I am just the happiest bronc rider right now."
During the weeklong rodeo, Joaquin's best score came in the third round when he rode "Big Nose Kevin" for a first place check of 81 points.
"I had him at an NNRA rodeo in Ramah and we put together a 72-point ride," Joaquin said of the Beshbetoh Bucking Horses product. "He had a lot better trip for me here. He was a lot of fun and he got me a go-round win."
With an 11-point lead heading into the final performance, Joaquin said he had his work cut out with "Emma," the horse he drew.
"He was pretty tricky from the get-go," he said. "He had big jump to the right, three bucks in and I was ready for that. I rode the best I could and he was tricky to mark out and I am a world champion."
---