Newish Kirtland Central team heads to state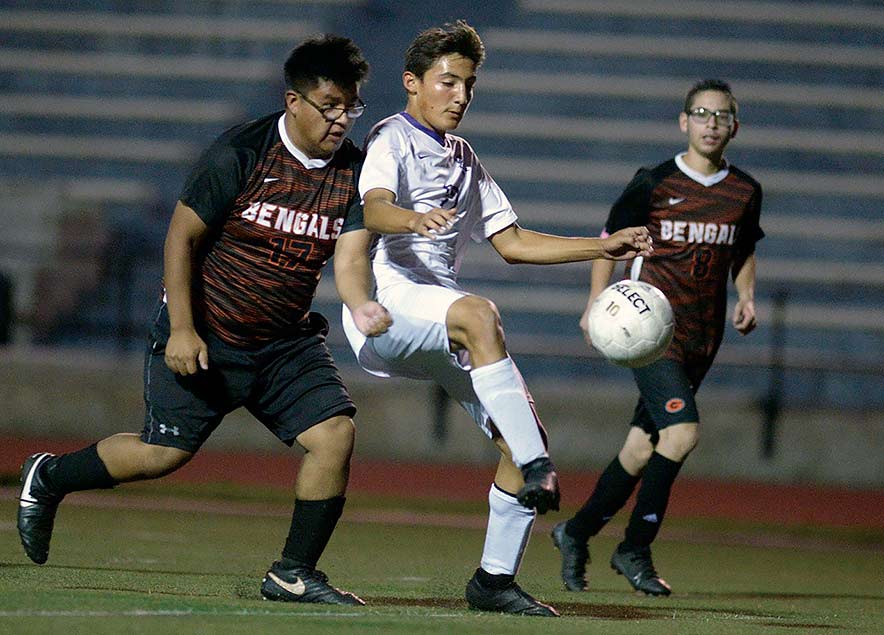 By Michael Peretti
Special to the Times
KIRTLAND, N.M.
Five years ago Kirtland Central did not even have a boys' soccer program, But this weekend they head into the first round of the state soccer playoffs as the highest-scoring team in the state.
The Broncos enter the Class 4A state soccer tournament as the No. 9 seed, and will travel to No. 8 Lovington Saturday for the first-round playoff game at 11 a.m.
"We feel fantastic," KC head coach Lionel Camacho said. "Because we are new we didn't like our seed, because if we win we will have to play the No. 1 team (Albuquerque Academy), but I think the entire state has flip-flopped and it is anybody's game."
Camacho said that he feels anyone at state has a shot with all of the teams in the top 12 capable of coming out on top.
"I don't think any of the teams one through 12 are weak," he said. "They are all good teams."
The Broncos (17-3) have won their last four games by a combined score of 20-0 and enter the playoffs with 118 goals scored while only allowing 19.
He said that he felt the team should have gotten a higher seed and possibly a home playoff game, but he understands that being new to boys' soccer they may have been overlooked.
"None of these players have ever played in a state game," he said. "Hopefully the experience I have from coaching the girls' team will help."
Camacho said that Lovington (13-7) is a team similar to Farmington, a team that has players that can put the ball into the net.
"They are very well-rounded," he said of his team. "Our only weakness is we lack experience."
Camacho said that it will be a nerve-wracking experience for his players, but he hopes that they will thrive with excitement rather than come out nervous.
"We are a little banged up from district play, we have a few that are not at 100 percent, but everyone is fine," he said. "We are real proud of the boys. I couldn't ask for a better group."
Camacho added that this team is not only athletic but also smart in the classroom. He said 13 of his players have above a 3.0 GPA and have learned to balance school and sports well this year.
Meanwhile in Class 3A, it took awhile for the Rehoboth Lynx to get going on the season but as they prepare for their first-round state playoff game the team is ready to go.
"For me and the team, we are very excited," Rehoboth head coach Braden Homan said. "We had a rough start to the season but we have come along."
Homan said that the team had injuries and ineligibility problems at the start of the season, but they are almost at full strength headed into the postseason.
Rehoboth, the No. 12 seed (8-9), will travel to No. 5 Hatch Valley (9-9-1) Friday for the first round playoff game at 3:30 p.m.
Homan said that he does not know much about the Bears, with this being his third year as head coach at Rehoboth and the team having never having played the southern New Mexico club.
"But we are going in with a lot of positives," he added. "We told the kids that at state you have just got to give yourself a chance."
Homan said he is happy with where the team is at and to have any success they are going to have to rely on their defense.
"It is going to take a conservative defensive effort," he said. "And then you just have to let things like scoring goals and finding offense come natural. The harder side of the game is playing defense and making sure the other team doesn't score."
For the Lynx, they have eight juniors, and he said that this will be a new experience for some of them, but playing in the state tournament last season will hopefully keep them from being overwhelmed.
---