Canyon de Chelly Invitational: Page harriers capture individual crowns, boys win team title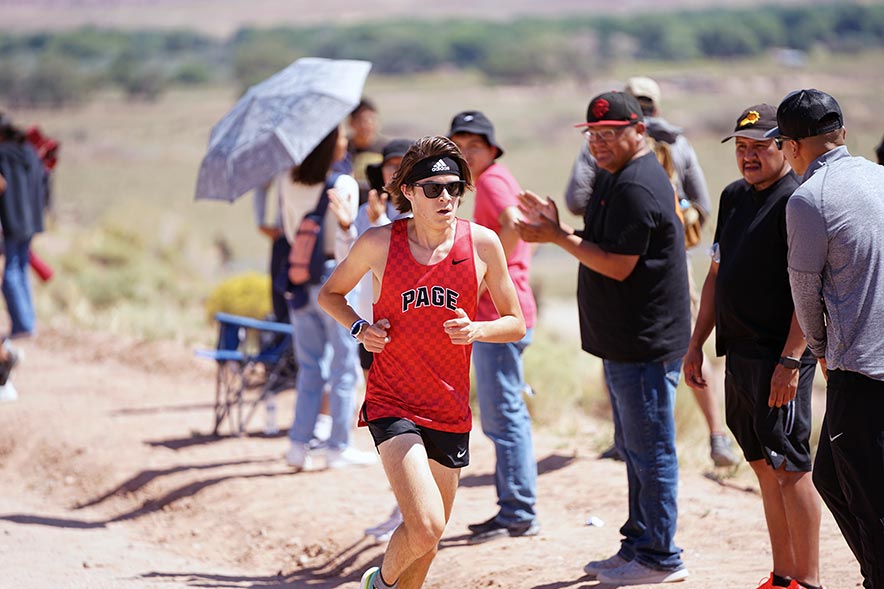 CHINLE – Third-year Page coach Tim Martin has a couple of runners to build around for his boys and girls cross-country teams.
The two standouts captured the individual crowns at last Saturday's Canyon de Chelly Invitational in Chinle, with senior Jade Reid and sophomore Symond Martin dominating their respective races.
"They both put in good summers," the Page coach said. "Jade lives about an hour away from Page, and she came to our practices. I mean, we practiced four times a week, and she came in a lot.
"They're running as good as they can be, and we would want them to win a state championship," he added. "They were both in the top 10 last year at state and, you know, they wanted to be one of the best, so they trained all summer."
Reid won her 3.1-mile race in 20 minutes, 36 seconds, held at the Chinle Flea Market.
"You know, I feel really proud of winning this race," she said. "Last year, I didn't finish the course. I cramped out, and I wanted to show people that I can run this course.
"It feels pretty good to come out and run again," she added.
In last year's race, Reid said she "conked out" about the two-mile mark, trailing race winner Temyra Bia, who recently graduated from Chinle High last May.
"When running, it does come out," the Page runner said of having some doubts. "I just had to defeat it and conquer it. That is what my mom and dad always tells me. Every time a negative thought came into my mind, I just had to keep pressing on."
And while she's striving for a state title, Reid said she wants her senior season to be more about having fun.
"I love running so much, and I just want to have fun out there," she said. "You know, with all the training I've been doing, I want to show people what I can do, but the bottom line is I want to have fun."
The Page harrier easily outdistanced the field, with second-place finisher Janessa Segay finishing 23 seconds back. The Chinle runner turned in a 20:49 effort, while Hopi's Rylee Koopee took third at 21:20.
Reid was one of two Page harriers to run Saturday's varsity race as junior Kristin Harris took 47th.
"We lost a lot of good runners," Reid said. "They're wanting to play other sports, and they're really good at those sports. They just want to focus on it more.
"Our team is small, and we'll do what we can do with it," she added.
In the boys race, Symond covered the loopy course at 16:24, looking to set a new PR. According to his dad, Tim, the younger Martin shattered it by over 40 seconds.
"I've really improved since last year, and my times are getting really, really good," Symond said. "My practices have been really good for me."
Symond led from start to finish, extending his lead at the latter part of the race with Piñon's Antwan Clement taking second at 16:58, two seconds faster than Tohatchi's Briley Dauphinais time of 17:00.
"For the first half, I was just trying to stay in front," Symond said. "In the last half, I started to push it a little bit. I wanted to create a little bit more of a lead on that very last hill."
With his win on Saturday, Symond is a perfect 2-for-2 as he captured the Summit Race at the Peaks Invitational on Sept. 2. At that elite race, he toured the 5K race in 16:35.30 and won by five seconds over Northland Prep's Yohanes Van Meerten.
"I went in it telling myself that I could win it," Symond said. "I just had to stay up with the leaders, and in the last half-mile, I just kicked it in."
At the Chinle meet, the Page boys placed two more runners in the top 9 as the Sand Devils secured the team title with 71 points. Holbrook came in a close second with 79 points, while Piñon placed third with 85 markers.
The Sand Devils got a ninth and 10th place effort from freshman Nyall Prather and sophomore Maximus Reid. To complete the team score, Page got a 24th-place finish from senior Elijah Reed and a 34th effort from senior Bryce Williams.
"We're starting to roll right now," Tim Martin said of his boys squad. "Symond is probably the only one that ran the whole summer, and the other kids are catching up, but one through six, we're pretty strong."
The Page coach said the team kept a watchful eye on Holbrook as the Roadrunners were paced by the sixth- and 14th-place finish from sophomore Ian Masayesva and senior Kenneth Nez.
"We were focusing on Holbrook," Tim said. "They look like a really strong team up north, so that is who my second pack of guys were keying off of because Holbrook is pretty solid."
For its next two meets, the Sand Devils will see some tough competition at Saturday's Ojo Rojo Invite, followed by the Carlsbad Grit & Challenge meet in southern California on Sept. 23.
"We're gonna see some really good competition there," Tim said of the Ojo Rojo Invite. "If Symond is going to run with the front pack, he's gonna have to PR by about 40 seconds to run with those guys. I think he's ready for it."
As for the meet in California, the Page coach said they're looking forward to running against different competition.
"We're going to get out of the state and run near the ocean," he said. "There's going to be some solid California teams there, so it'll be a lot of fun."
---