MV repeats at Farmington tourney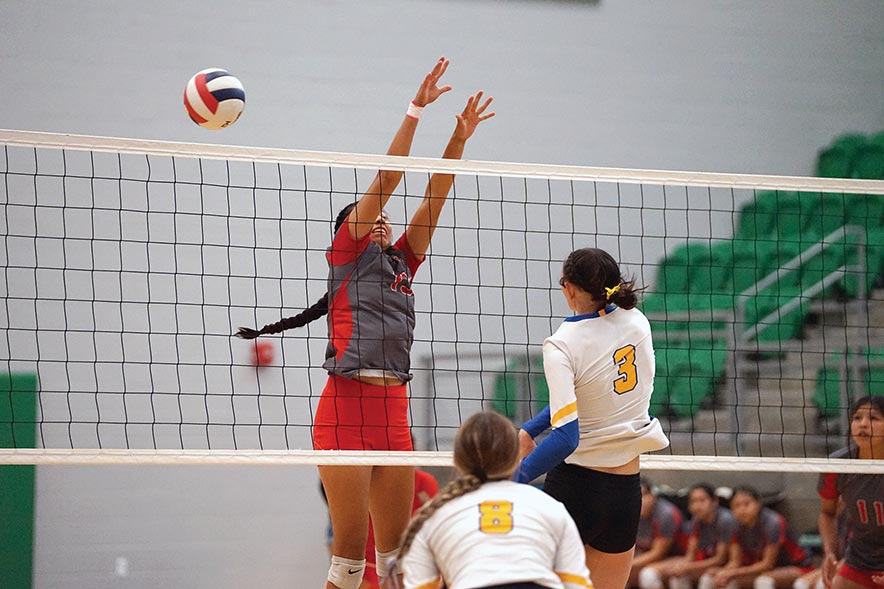 FARMINGTON – The annual Farmington volleyball tournament has become synonymous with the Monument Valley program.
The Lady Mustangs have won the tournament numerous times over the past few decades. Veteran coach Rennell Gilmore has won it as a player, and since taking over the program, she's coached MV to eight titles in the previous 11 years.
"We didn't come here during the Covid year, but we did win it the year prior, and we took it last year," Gilmore said. "It's kind of hard to keep track of it when you keep rolling."
The Mustangs captured its recent crown Saturday afternoon by sweeping New Mexico Class 5A Santa Fe in straight sets in the gold bracket. The scores were 25-20, 25-22 and 25-23.
In the tournament, MV swept Farmington, Bloomfield, and Grants in pool play action before beating Piedra Vista in straight sets in the power pool and earning the No. 3 seed of the gold bracket.
The Mustangs beat No. 2 Farmington in four sets for the right to play top-seed Santa Fe in the finals.
Gilmore credited the team's experience for its late triumph as she carries 17 girls on her varsity squad, including eight seniors and nine underclassmen.
"Half of my roster is from last year's squad, so everybody is familiar with each other," she said. "We've gotten compliments with people saying we're coming in with an army, so I feel like we're ready."
With a veteran squad, Gilmore said they expect to do more as the Mustangs reached the Sweet Sixteen round last season in the 3A playoffs.
"We only had one senior last year, and the girls are well aware of the expectations," she said. "A lot of people expect a lot more from us. They all know it, and that's something we've talked about at the beginning of the season."
The Mustangs return an all-star cast that includes setter Kaleigh Manygoats, middle hitters Kaleilanamaria Maiava and Tehya Yazzie, and outside hitters Niaomi Benally and Melanie Kescoli.
"Our hitters can hit all the way around," Gilmore said. "They can hit left, they hit middle, so I really don't want to give them a certain position.
"We also of have our DS and our opposite in Ashlyn Singer and Juliet Mitchell," she added.
She said those players would help carry the team and teach some newcomers what it means to play for the MV program.
"It's nice to have a lot of upperclassmen to help guide them and show them the way," Gilmore said. "Our seniors have definitely taken their roles seriously."
Even though the Mustangs has been one of the elite programs in the area, the MV coach said she doesn't want them to rest on those laurels. She wants them to continue to work hard and push for a playoff spot.
"There's always work that needs to be done to get where we need to be," Gilmore said. "We need to keeping working on stuff so that we can get better. They're aware of what our previous teams did before, but since I've coached, every new team always wants to be better than the previous year."
Gilmore said her team will be tested this week as the Mustangs enter the two-day Snowflake "Be like Nat" Volleyball Invitational.
"We're very excited to play because in Snowflake," she said. "You know, Snowflake won last year for our conference, so it'd be nice to meet up with them. There's a lot of other good teams that go that are not part of our conference as well, so it's always nice to see the other teams too."
---