Chinle's top female runner finds good fit at Arizona college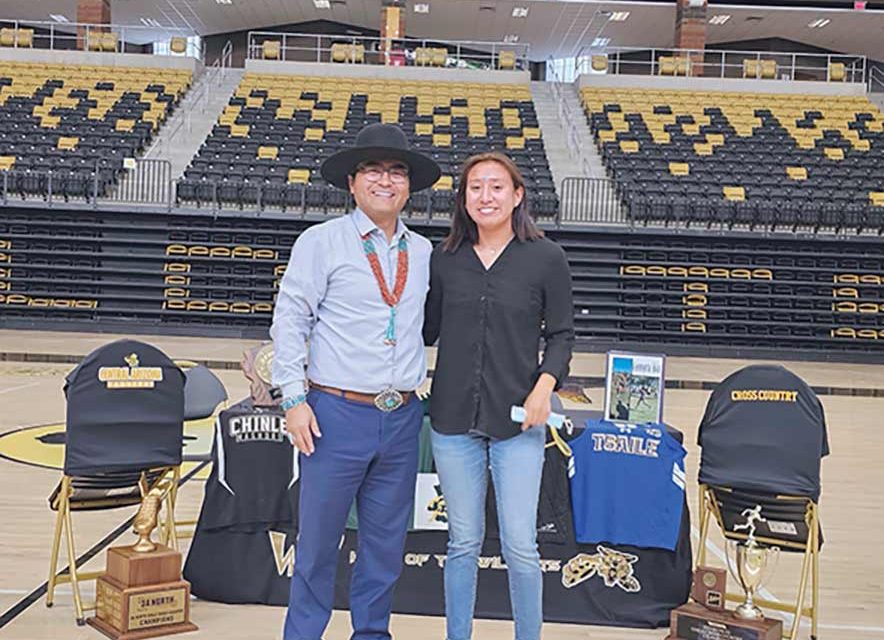 CHINLE
Last Thursday, one of Chinle High's best runner signed her letter of intent to run cross country at Central Arizona College.
"It feels really exciting and I'm kind of nervous right now, but other than that I feel pretty good about it," Temyra Bia said.
Bia has been to state twice for both track and cross country. She was also part of the 2022 basketball team that finished as the reserve champion.
Of all the sports, cross country is her favorite though she couldn't say why. She's been running since the first grade and she believes the Navajo culture gave her an added push.
"Running has taught me patience and being strong for yourself mentally and physically," she said.
She has won awards and prizes in both the academic and sports setting through the years. Her recent signing to run collegiately is the latest string of awards.
Bia chose to sign with CAC after speaking with head coach Johnathan Harmon, who is also Diné. Bia felt a bond with the coach after touring the campus in Coolidge, Arizona, She felt it was the best choice for her. It also offered programs for her studies to become a nurse.
Bia's signing ceremony coincided with a visit from Navajo Nation President Buu Nygren, who was a keynote speaker for Chinle's senior class.
After Nygren gave his speech to the class, encouraging them to peruse their dreams no matter the typical hardships the rez will throw at them, he did a Q & A session with the students. During this time, he agreed to take pictures with Bia and wished her well on her future endeavors.
Chinle assistant track and field coach, Bryan Begay, who is also Bia's uncle, said that this was a proud day for the family.
"I'm very excited, ever since she was a baby I think this was my vision for her and her sister, Tumayah, as well," Begay said. "The district has made this into such a big event to send her off to something a lot bigger that we have always prepared for all our lives."
Begay believes one of Bia's greatest strengths is her persistence, something he saw in her since she was little. Raised in the Navajo culture, Bia would run every morning to pray to the Holy People. Begay's mother had taught him to run, even when she herself is unable to, restricted to a wheelchair, so Begay ran for her. Now with his nieces, he'll tell them to run for their grandmother, run in prayer for their family.
Since then, Bia had grown to love running, and watching her, Begay was certain she was going to capture a scholarship one day.
Bia is also very competitive, where she wants to be first in sports and is always pushing herself to be better. Being competitive also spread into her academics so that she is always turning in her homework and getting top grades.
She has also grown to be a leader, stepping up and speaking for her team whenever necessary. She would stand up for her younger sister, and now she does the same for her teammates. She'd motivate her teammates and bring them together as a team, but will also remind them of their training and what it means to be a team player.
She is a humble individual who lets her actions speak for her. The family has taught her to be a good sport, to help raise each up fellow athletes and not let rivalry and criticism ruin the sport. Begay knows there are a lot of troubled youth on the rez who use sports as an outlet, people do not know their story and has no right to criticize kids who are having a tough time during a game. Bia doesn't break people down, but helps support them and Begay hopes she will be a role model for other native kids, not just for Navajo.
Begay congratulates his niece and wishes her well, hoping that what he taught her will help her at the next level and maybe even later in her life. For him, teaching kids' important lessons that will help them not only in sports but also life is the most important thing a coach or teacher can do for their kids.
"It's kind of emotional for me as well, to let go of somebody so close to you, but I'm excited to see what the future holds for her," Begay said.
Harmon said he is looking forward to working with Bia in the fall. He is excited for her as he too is originally from Chinle. He said bringing in a top runner from his hometown was "awesome."
Harmon has been keeping up with Bia's achievements for almost a year after seeing her at the 2022 state cross country meet. He was impressed by not only her performance, but also by her leadership, how she was continuing to push her teammates and cheering her on, things that he believed help Chinle win the title.
"I'm very blessed to have her in our program," Harmon said. " Very excited to be able to coach her and be a part of her initial journey in college with running and her education."
---