Crownpoint siblings having a productive spring rodeo season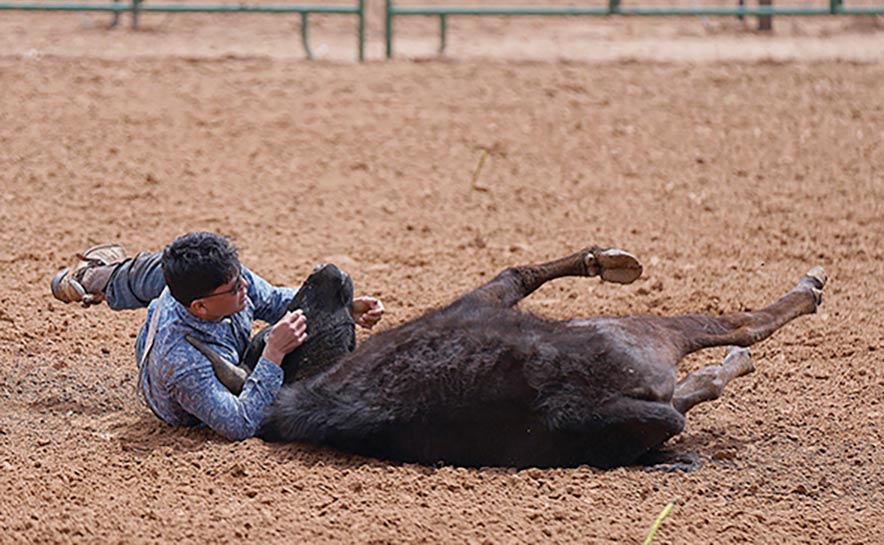 CHURCH ROCK, N.M.
The spring rodeo season of the New Mexico High School Rodeo Association has been a productive one for the Tsosie rodeo family.
Twins Tyra and Tydon Tsosie made significant gains in the season standings as both siblings entered the Gallup rodeo in second place in their respective event over the weekend.
And although they gave it their best efforts, they had some mixed results during the two-day rodeo held at Red Rock Park.
Out of a possible 20 points, Tydon earned 10 points by winning the steer wrestling event on Sunday afternoon with a 6.94 second run.
"It was good, but it could have been better," the Crownpoint cowboy said of his first place run. "I thought I could have been faster, but I had to bring my steer around."
In Saturday's performance, he turned in a no time as he missed his steer after his foot got caught in the saddle's stirrup.
Tyra, on the other hand, earned seven points in the goat tying event as she placed fifth in Saturday's round with a 9.68 run. She followed that up with a 10th place finish on Sunday with an 11.24 effort.
"I fell over both days," Tyra said. "My dismount is not where I want it to be, but I feel like I've become more consistent with my ties. I put a lot of work into that and I've really improved on my ties."
The twins older brother, Tylon, has also made some gains as he is sitting fourth in the steer wrestling standings.
"He's been doing good, he's getting down better," Tydon said of his older sibling, who had to doctor out this past weekend due to an injury.
"He got hurt, but he should be fine once he gets back," he said.
With two rodeos left, Tydon has amassed 112 points while Tylon has earned 39 points.
Tydon trails event leader Zane Cline by 13 points. During the Gallup rodeo, Cline won the average title and earned 19 points to push his season total to 125 points.
"We've been going back and forth between rodeos," Tydon said of his chief rival. "He won the first three rodeos and I think I won the last four."
His hot streak include wins at Lovington, Hobbs, Artesia and Las Cruces as Tydon was awarded the average title in three of the four rodeos.
At Artesia, he won the first round with a 5.85 run and he added a third place run of 10.99 seconds, but that rodeo didn't award an average winner.
"It's just catching and throwing," Tydon said of his productiveness. "It's riding up to the steer and getting a good catch and just throwing them down every time."
The NMHSRA will close out the rodeo season with the Farmington rodeo on May 13 to 14 followed by the state finals on May 25 to 29 at the Lea County Fairgrounds in Lovington, New Mexico with the top four contestants making nationals.
"I'm feeling confident because I'm catching more," said Tydon, who will be making third straight trip to nationals. "I've only missed two steers this year, so I've gotten better."
With her so-so weekend, Tyra dropped one spot in the season standing to third place with 101 points. Like her twin brother, she is expected to make a return trip to nationals.
"I'm excited to go back," she said. "I want to do a lot better than I did last year."
With it being her first trip to nationals last summer, Tyra said she let the environment get to her.
"I didn't do very well, so I hope to be more solid," she said.
Before the Gallup rodeo, Tyra trailed event leader Wacey Trujillo by 11 points. By virtue of winning the average title, Trujillo bumped her year-end total to 124 points as she earned 19 points.
Trujillo took first and second, respectively, with runs of 6.86 and 7.31 seconds in Gallup.
Behind a pair of third-place finishes, Codi Reed overtook Tyra in the season standings with 103 points.
---