'Lucky to be a Native woman', 8-year-old wins Little Miss Indian crown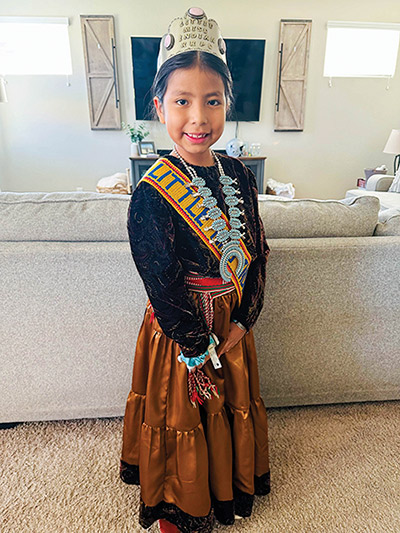 WINDOW ROCK
Madison Sherman has always wanted to be a princess.
Last November, she entered the Little Miss Indian Rio Rancho Public Schools pageant and won. It was the school district's first elementary-level Native American pageant.
The 8-year-old was hoping it would be a good time. She didn't think she would win because it was her first pageant. So receiving the crown was a big surprise.
"I just wanted to be a princess, and I wanted to do fun things for the schools," Sherman said.
Sherman is a second grader, and she goes to Vista Grande Elementary, where there are a lot of kids from different cultures. She is a proud Diné who is Honágháahnii and born for Kiyaa'áanii.
She is well-known among the faculty for being bright and outgoing. She is part of the children's choir and the school's cheerleading squad and often volunteers to help with fundraiser drives. She also enjoys drawing and playing music.
Last year, she entered a drawing for an art show at the Indian Public Cultural Center. Sherman won a prize, and upon seeing her spirit, one of the judges recommended to Sherman's mother, Denika Sherman, that her daughter should compete for Little Miss Indian.
Even though no one in the family had ever competed in a pageant before, Madison Sherman was always willing to try new things and told her mother she wanted to do it.
"Madison is always wanting to promote change," Denika said. "She has all these different aspirations, so we figured this would be a great platform for her to do that."
Read the full story in the April 27 edition of the Navajo Times.
---