Defending N.M. 3A state champ remains hopeful for fall cross-country season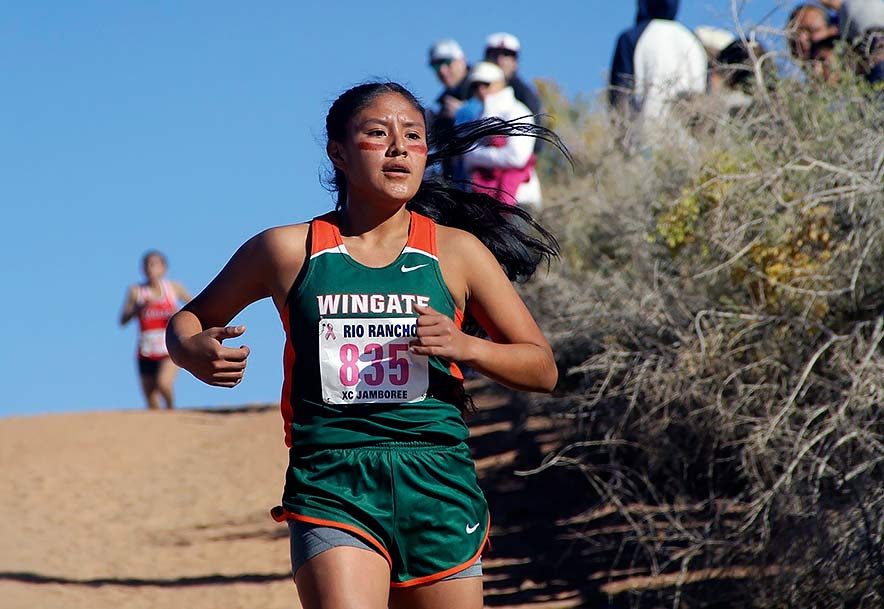 WINDOW ROCK
Varsity runner Jewels Leslie came in first at the New Mexico Class 3A state championship last year with a time of 19:34.8 in the 5K-race.
At the time she was a junior, and she said she felt really good about her senior season. Then the coronavirus struck.
Leslie was in the midst of track & field season when Wingate High School closed its campus in March, and the Navajo Nation went into lockdown.
With the school year getting a late start, Leslie will begin virtual classes in mid-September. She and other students will be receiving laptops and a backpack full of school supplies to help continue her education. Although it is late in the year, Leslie is still hoping that there will be a cross-country season.
"Personally, I think it would be alright, especially since cross-country is an outdoor sport and the crowds aren't really big on races," Lesley said. "I feel like everybody will be good at the social distancing, especially if the courses are so big so that people will be spread out."
Leslie has been listening for news from the school and the New Mexico Athletes Association (NMAA). She has read the guidelines for possible cross-country races; one potential rule is the possibility of runners wearing a mask while they race.
"I understand the guidelines for it and the safety reason," Leslie said. "But I think it's going to be very difficult to run in a mask because it's hard to circulate your own air, especially if you're wearing a mask. And some runners that I know have asthma, and we [as runners] need air to breathe.
"Our oxygen intake is a lot, especially when running, and I feel like it plays a big part in a race, and I don't really agree with it, but that's the guideline as far as I know," she said.
With track meets being canceled earlier on in the spring season, Leslie felt like she was unable to reach her full potential or beat her old records. The pandemic affected her training agenda. She had planned to go to training camps over the summer, but they were forced to close.
Former Wingate coach Donavan Jackson has been working with Jewels ever since her freshman year. They first worked together during her first track season, and Jackson could tell she was one of the best.
"She has a runner mindset," he said. "Also her work ethic is what makes her stand out from her peers, not just in athletics but also in her academics."
Jackson said what makes Leslie unique is that she can strategize while on the run. She is able to analyze her position, her opponent's abilities, and when and where would be the best places for her to make advances.
After three years, though, Jackson has retired from coaching as he is going to pursue his Ph.D. in Seattle.
"Going to be a weird year for me as well," Jackson said, comparing his upcoming college semester to that of his old students at Wingate High. "But hopefully it [the pandemic] will get better."
Until he moves, though, he has been helping Leslie by sending her running tips and keeping her mileage in order. He has also been helping her select potential colleges and finding ways to get her to stand out despite the ongoing pandemic.
"I want to get recognized farther for school and hopefully get a scholarship somewhere," Leslie said. "I really planned on utilizing the opportunity, especially right now, I feel like if it were not to happen. It would be very difficult to reach out to college."
Although wanting to keep her dream school to herself, Leslie admitted that she aims to attend either a Division I or Division II school and to study health. She hopes to one day become a pediatrician to help others.
Jackson said it's been challenging to know where Leslie stands since there are no races, no challengers for her to compete against. Training in a group usually helped mediate this as the cross-country team would work together to become better runners.
"The team helps me a lot truthfully," Leslie said. "Because I run a lot of times with the boys and the boys challenge me whenever we run at group practices and I feel like I didn't have the extra push I needed and it was all mentally myself and just trying to push myself every time I would run."
With school coming back into season soon, Leslie hopes there's a chance that sports will also return. Earlier, the NMAA had announced that there will be a sports season in September, but they had pushed the start date back. As of now, the tentative start date for cross-country is Oct. 5 with the state championships scheduled for Dec. 4-5.
"It has been hard on her because there has been a lot of unknowns," Jackson said. "But she has remained incredibly motivated and has continued to work out on her own…the great thing is she hasn't allowed that [the virus] to stop her."
Despite being stuck at home, Leslie continues to go for early runs, spend time with her encouraging family, and soon will be returning to her classes online. It hasn't been easy, but lately, she began running 6 to 6.5 miles, more then she has been running earlier this summer.
"My motivation is that I love running, and if I really want to accomplish my goals, it is going to take me and no one else to make them happen," she said.
---